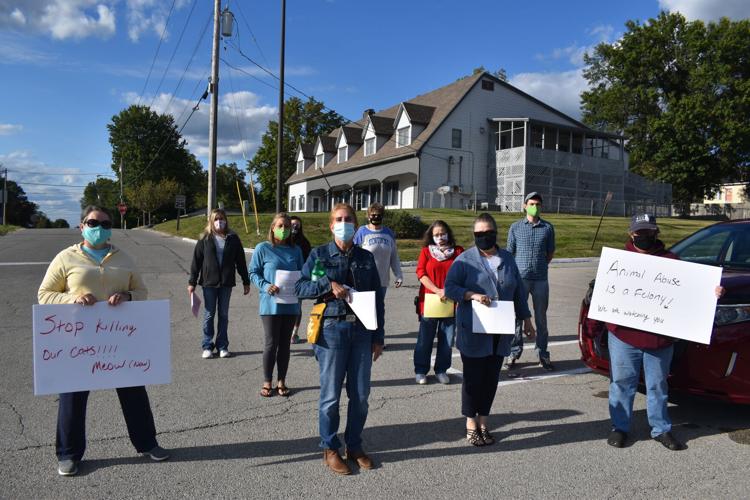 Editor's note: This article was updated on Monday, Oct. 5, at 6:22 p.m. to add information regarding a Crime Stoppers reward for the case as well as confirmation that two dead cats have been confirmed to have poison in their bodies.
One cat with a broken neck. Another dead from poison. Another found dead from trauma.
These instances, and others, have led residents of the neighborhood around Elkhorn Drive in East Frankfort and other concerned citizens to believe that someone in the area is intentionally hurting and even killing cats.
Even more, they claim to know who is responsible. And they've been taking matters into their own hands, as around 10 met Saturday evening at the Save A Lot parking lot in East Frankfort to walk through the neighborhood and alert residents of the alleged cat killings.
But the Frankfort Police Department has not confirmed any foul play, and asked the group to give them time to do a "thorough investigation." 
Trudi Johnson, who helped organize the event, described the FPD's guidance to her as asking her to keep outcry to a "mild roar."
The flyer the citizens passed out to neighborhood residents reads:
"WARNING: It is strongly suspected that a person in the neighborhood is killing animals by poisoning and breaking the necks of healthy cats, kittens, and dogs. This person seems to be luring animals with food onto their property and the neighbors for this cruelty."
On Facebook, several people have posted photos of the house of the "suspected" person.
Johnson and others seemed certain that someone was intentionally harming the cats and that she knew the identity of that person. She and others who congregated described the person's alleged behavior as "sick." 
"We know who it is," Johnson said. "He cleaned his mulch up today because he had filled it with glass to cut their feet. We just want this to stop." 
The police are not as certain — and their numbers don't exactly match up with Johnson's.
Johnson said there had been five dead cats and five were missing, but the official count, according to Assistant Frankfort Police Chief Lynn Aubrey on Saturday, was three cats dead and one missing.
Aubrey said that of the three dead cats, two appear to have been hit by cars. Two were confirmed to have ingested a type of poison.
One cat appeared to have its neck twisted backward in a photo widely shared by those upset about the deaths. Aubrey said that the cat's body was sent for a necropsy and the results indicated it was hit by a car, and that it had poison in its body.
Many of these cats, according to Johnson and Aubrey, were TNR (trap, neuter, return) cats that roamed the neighborhood. Of those, quite a few have been fed by elderly women who Kim Thompkins, one of the participants on Saturday, said were "terrified" of the alleged cat abuser.
"Trespassing onto other people's property and leaving poison to cause a painful death? That is scary and sociopathic," Thompkins said. "One of the ladies was scared to come out of her house this evening for fear of retribution." 
Thompkins also said that plates of potentially poisoned food have been placed throughout the area. She provided photos of the plates.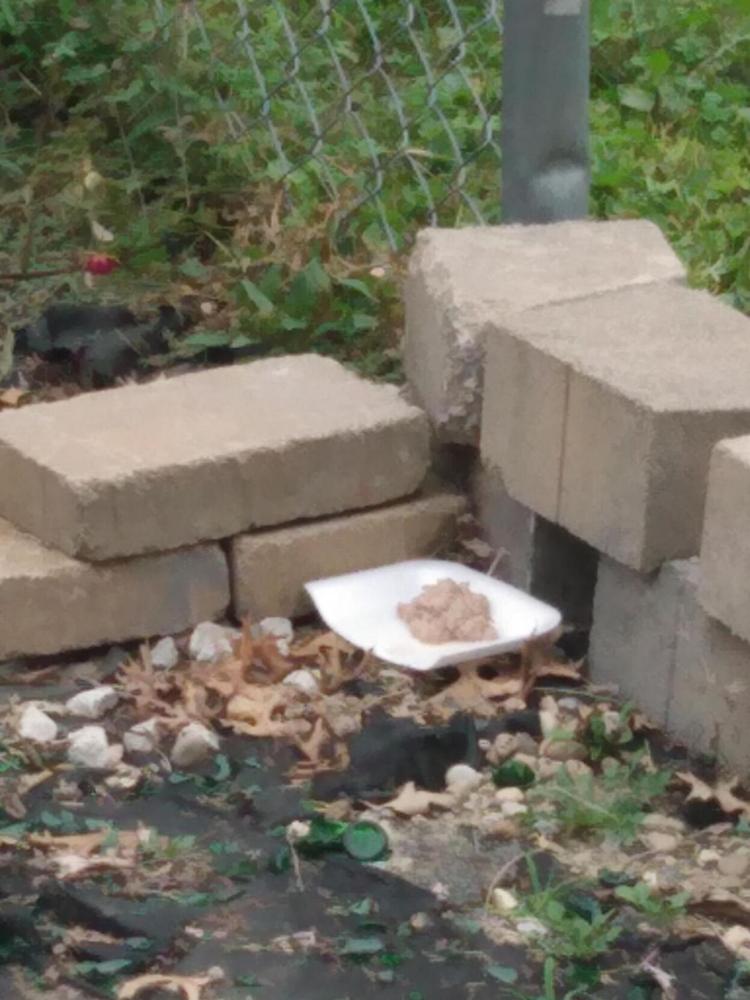 "Styrofoam plates with something that looks like oatmeal and smells like tuna were put on four different properties," Thompkins said. "… Cat feces were also put in food bowls on some properties."
Johnson said that there is a $2,500 reward for information that leads to an arrest, but she would not disclose what organization was offering that reward. Aubrey said on Monday that Frankfort Police had not offered a reward themselves, but that Frankfort Crime Stoppers was offering up to $500 for information that leads to the arrest and successful prosecution of the case.
Aubrey also stressed that the police are conducting an investigation independent from the noise of social media. 
"We appreciate the care and concern of our citizens for the welfare of these animals," Aubrey said. "We want to do a thorough investigation and ask that they give us time to do this."