Gale Templeton became a fan of DockDogs in 2014. Now her 5-year-old border collie, Clint Sheepwood, is a DockDogs world champion.
"Ever since 2014 when I fell in love with his father, Flank Sinatra," Templeton said about how long she's been interested in the sport. "That's when I saw DockDogs, and I knew that's what I wanted to do."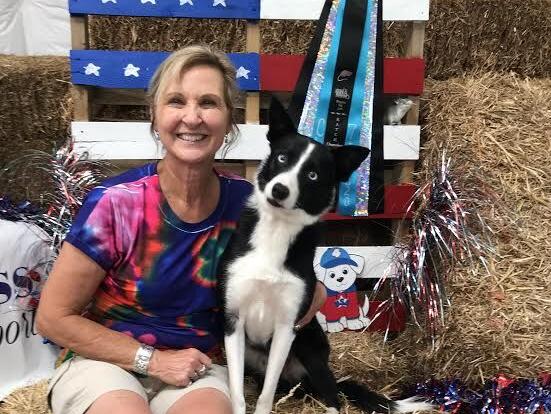 DockDogs is a water sport competition for dogs. There are four disciplines — Big Air, Extreme Vertical, Speed Retrieve and Iron Man.
Clint Sheepwood won his world championship in the semi pro division of Big Air, which is basically a long jump for dogs. The competitors run and jump into the water after a throw toy is tossed. The distance is judged from the end of the dock to where the tail set of the dog breaks the water's surface.
Extreme Vertical is a variation of the high jump, Speed Retrieve is a timed event, and Iron Man is a combination of the other three disciplines.
DockDogs competition is open to all breeds, including mixed breeds.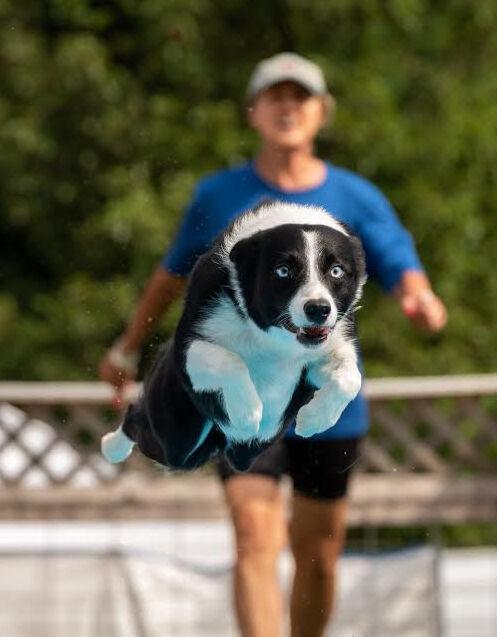 "It doesn't matter how small a dog is," Templeton said. "They have different classes, and a jump of 10 to 12 feet off the dock might win. One year a woman brought an English bulldog."
Templeton and her husband, Scott, own Tin Woof Inn in Frankfort, which, according to its website, is a boutique boarding facility for pets. The Templetons also own Tin Woof Inn in Ashland, which opened in 2014. The Frankfort location opened in 2019.
Both locations are the only sanctioned DockDogs affiliated facilities in Kentucky, and classes are offered at both facilities.
The Frankfort location has a 20-by-40-foot pool and a 40-foot dock.
Dogs are invited to the world championships in Dubuque, Iowa, based on competitions during the year.
This year's world championships took place Oct. 12-17.
Clint Sheepwood's winning jump was 21 feet, 9 inches, a personal best.
Templeton had been involved in dog sporting events prior to DockDogs, mainly agility, but she's taken to the water sports.
She has two border collies who have been to the world championships. Clint Sheepwood has competed at worlds four times, and Sting has gone three times.
"DockDogs has grown by leaps and bounds," Templeton said.
This year's world championships drew more than 700 competitors.