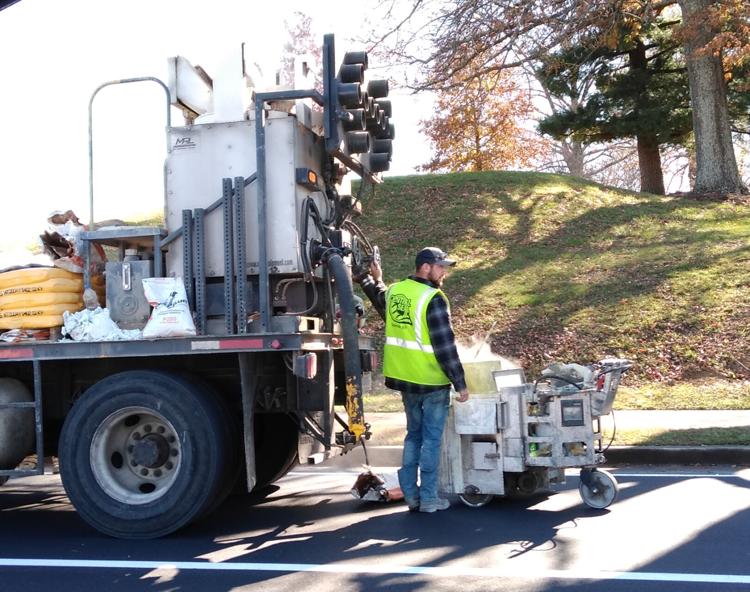 Months of banging and clanging down East Main Street hill came to an end this week after the downtown artery was resurfaced and restriped.
TIGER Grant Project Manager Chuck Knowles urged motorists to be aware of the new lane configuration, which includes a center turning lane and one lane in each direction bracketed by bicycle lanes on each side.
Last month, Ann Street was added to the TIGER Grant project and the Frankfort Plant Board agreed to replace a 100-year-old water main. The waterline work began the first week in November and is expected to be complete by the end of the year. At which time, the street will be resurfaced.
"In addition, the lane configuration on the portions of East and West Main streets between East Broadway and Ann Street has been changed," Knowles added in a Wednesday email to stakeholders.
The new lane configuration on East Main Street hill came about after a group of outdoor enthusiasts lobbied the Kentucky Transportation Cabinet. Members of WalkBike Frankfort made phone calls and sent emails asking that bicycle lanes be included in plans for the corridor.  
"This is an important walking and biking link between the downtown-South Frankfort area and the east end of town," Brent Sweger, board member of WalkBike Frankfort, told The State Journal on Thursday.
He said the group first identified this necessary improvement in its very first Walk Bike Master Plan back in 2007.
"Unfortunately, our timing was off and we just missed the resurfacing and striping of East Main then," he added. "Fortunately, 12 years later, teamwork between the city, state and us made it a reality this time around."
Sweger said with the new lane configuration the road is safer for motorists, cyclists and pedestrians.
"The bike lanes also provide an important buffer between vehicles and pedestrians on the sidewalk," he said.
"Walking on the sidewalk used to feel very tight and dangerous because of the retaining wall on one side and the fast vehicles on the other. The traffic will now be at least 5 or 6 feet from pedestrians."