Gun violence is the leading cause of death for children in America and one local organization is determined to erase that statistic.
On Tuesday, the Frankfort Moms Demand Action for Gun Sense group were on hand for a joint signing of a proclamation naming Friday as National Gun Violence Awareness Day by Judge-Executive Huston Wells and Mayor Layne Wilkerson.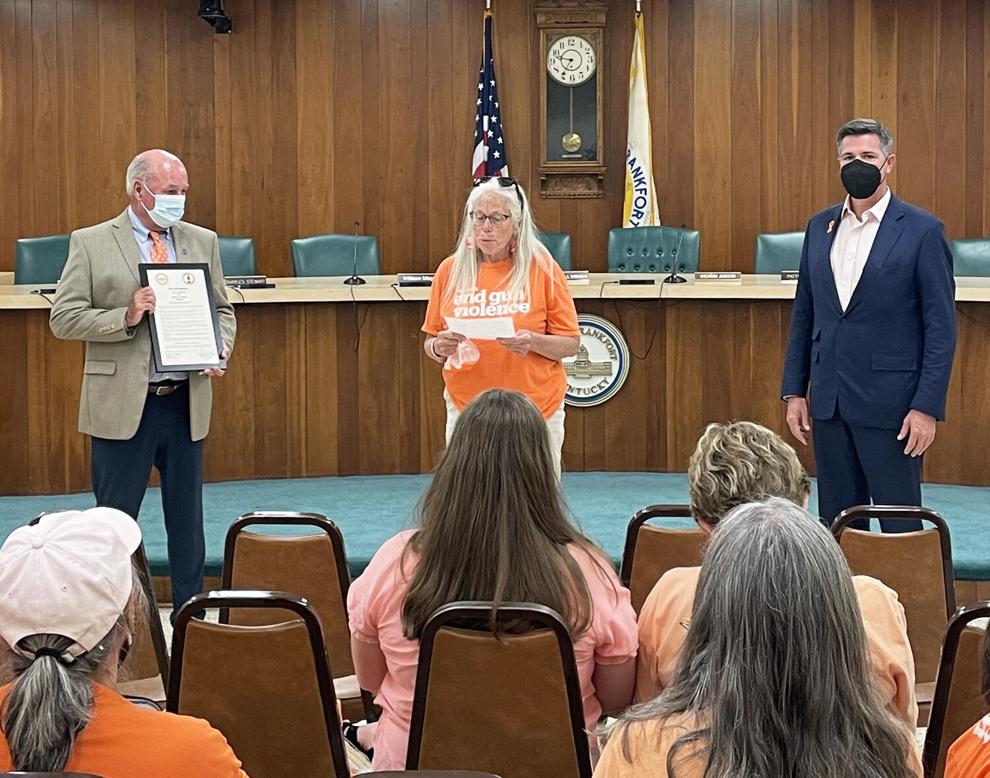 According to the proclamation, Americans are 25 more times likely to die by gun homicide than people in other high-income countries. In fact, more than 230 U.S. residents are shot and wounded each day and more than 13,000 gun homicides and 23,000 gun suicides are recorded each year.
"While mass shootings — like the ones at the grocery store in Buffalo and the school shooting in Uvalde — receive the most media attention, we know that every day 110 people in America die because they have been shot," Cathy Hobart, group leader, explained, adding that two-thirds are suicides and most of the rest are homicides.
"Many more are shot and injured. Intimate partner violence, road rage, bar fights, gang fights, white supremacist ideology, people driven to acts of desperation all too often result in death and injury because of easy access to guns. No other peer nation puts up with this. Only in America," she said.
Statistics show that Kentucky has 728 gun-related deaths per year with a rate of 16.1 deaths per 100,000 people — making it the 15th highest of the 50 states.
"Together, we'll work to make this country safe for everyone," Hobart told those in attendance. "From intimate partner violence to police violence, gun suicides, gun homicides and unintentional shootings, we demand a bold plan that must address it all."
The proclamation says that protecting public safety is elected leaders' highest responsibility and "support for the Second Amendment rights of law-abiding citizens goes hand-in-hand with keeping guns away from people with dangerous histories."
In conjunction with others across the country, Moms Demand Action encourages local residents to wear orange this weekend in honor of the victims and survivors of gun violence.
"Orange symbolizes the value of each person's life. We wear it as we demand a future free of gun violence," Hobart stated.