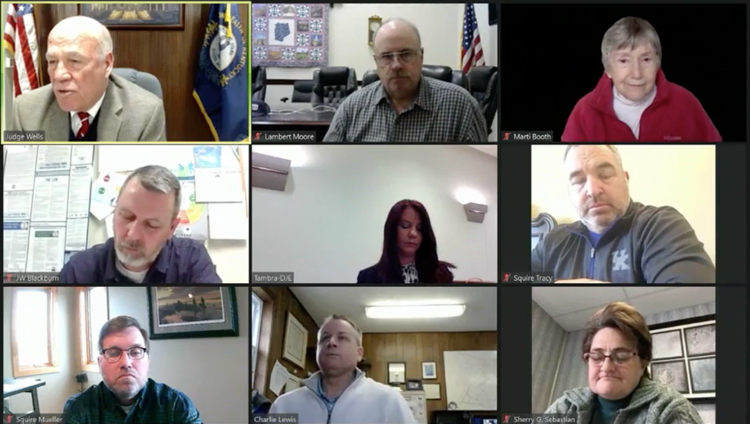 The Lakeview Park work session was held to discuss a request for proposals (RFP) that the court is sending out to develop a master plan/feasibility study for the park. Several magistrates, particularly Michael Mueller and Scotty Tracy, have expressed strong interest in building a large events venue at the 132-acre park off Steadmantown Lane and U.S. 460.
The work session item began with a slideshow presentation from Franklin County Parks and Recreation Director Charles Lewis, who pointed out several park improvements since 2015, including a new splash pad, a dog park, volleyball courts, a pavilion and a disc golf course.
Judge-Executive Huston Wells, who said that the county had recently developed and acted on a master plan regarding Lakeview Park, also referred citizens to a survey on the Franklin County Parks and Recreation website where they can provide input on what they would like to see there.
Tracy, after the slideshow, asked what in the park currently draws people from surrounding communities into Franklin County.
"What at Lakeview Park is a destination?" Tracy asked. "… What do we currently have at Lakeview Park that would entice people to come stay in Franklin County and spend money here?"
Mueller said he had spoken with Franklin County Schools Superintendent Mark Kopp, Frankfort Independent Schools Superintendent Houston Barber and Kentucky State University President M. Christopher Brown about the potential for a bigger project at Lakeview Park.
"They're excited about the potential of creating something special for our community," Mueller said. "They've thrown around things like performing arts centers and maybe things that K-State could host … . I'm super excited about getting this RFP out and seeing what comes back."
The only strong voice against a potential large project at Lakeview Park was Magistrate Marti Booth, who voted against a request for proposal (RFP) to seek consultants to develop the new master plan at the court's last meeting.
"I am against the master plan," Booth said. "We have spent money on it every year since I have been a magistrate, and I have been for it … . I don't think it's worth the money."
Magistrate Sherry Sebastian called the plan "progressive and proactive" and said that she was excited about what could come from the planning process.
Wells, in discussing hopes for a large facility, indicated that it could necessitate a tax increase of some kind.
"I want to say let's do it, but it takes four votes to increase taxes — which it's going to take in some form or fashion — to implement items from the master plan," Wells said. "They're going to be expensive."
Wells said that the county Parks Committee would have a meeting regarding the Lakeview Park RFP on Wednesday at 2 p.m. The meeting will be aired on the Fiscal Court's Facebook page.
Appointments
Two appointments were approved by the court: Charlie Burnette to the Farmdale Sanitation District Board and Darrell Sanderson to the Frankfort/Franklin County Planning Commission.
Burnette's appointment was approved without opposition. The prior appointee, Barbara Polly, resigned from the board after one meeting.
Sanderson's was contested, with several magistrates criticizing the appointment process overseen by Wells. Sanderson was narrowly appointed 4-3.
Mueller, Sebastian and Magistrate J.W. Blackburn all voted no because of a "dearth" of information they received about Sanderson prior to voting on his appointment. Tracy was also critical of the process.
Those four members complained that they were only sent brief material regarding Sanderson's past service on the commission and his employment history, and that the information regarding the commission vacancy — a member resigned in December — could have been relayed to the court in its December meeting before Wells brought Sanderson for approval.
Upon request from the court, Sanderson shared his work experience — which included military service, state government work, business experience and a previous stint on the planning commission — the morning of the meeting. Sanderson previously served in the 2000's on the planning commission for four years.
"We could have all meaningfully engaged with working with our community of 50,000 people," Sebastian said. "With the limited information that was on the board application, which is one of the most significant boards … that brings me to cast a 'no' vote on this today."
Wells defended his choice, saying that the vacancy to be filled is just for six months and pointing to Sanderson's past experience.
"Come on, guys, cut me a little slack," Wells said. "This person applied initially in August and he has experience. This is only a six-month appointment — that gives us time if he doesn't work out to get somebody else.
"I caution us to say to people that 'we've got 50,000 people in this community and we want to see who's going to be on it,' and then when we get an application from somebody we rake them over the coals … . It's not fair. You can't have it both ways. People apply and they hear this. They know it's going to be in the paper that three of you voted against it."
Mueller took umbrage with that characterization, emphasizing court members' right to vote however they want on issues. He also criticized the "lack of information" presented to the court.
"All I'm saying is that there was a lack of information presented to us," Mueller said. "... We don't vote everyone down that you send to us. It would have been easy to give us a heads-up." 
Other business
The final comment of the meeting, which lasted over 4½ hours, came from Wells regarding the length of recent court meetings.
He urged magistrates to contact the office between the release of the agenda and the meeting date to get questions answered before the meeting.
"This is the second meeting in a row that we've gone well over four hours," Wells said. "It's unprecedented … . Let's do the people's business, but it's not a matter of time, it's a matter of substance. I ask the court to please be considerate. Just give us a call. We're here to help and we're all on the same team."
The court also approved a $15,000 donation to the Salvation Army to provide meals to needy Franklin County residents.
The court also approved an expense for the county to publish its codes such that they are more easily available to the public.
Franklin County Attorney Rick Sparks said that the move would allow county law to be indexed publicly "similar to state and federal law."