The pancakes were fresh and the syrup was flowing at the annual Kiwanis Club of Frankfort pancake breakfast Saturday morning.
This is the second year the fundraiser for the nonprofit service organization was held at Franklin County High School. This year's breakfast was co-sponsored by Traditional Bank.
At $6 a ticket, the all-you-can-eat breakfast of pancakes, biscuits, gravy, sausage and more helps support the dozens of projects and events the club organizes each year.
Some of those projects include the Franklin County summer lunch program, the Salvation Army health, wellness and safety fair, Longest Day of Play at Juniper Hill Park, Cub Scout cookouts, goody bags for hospitals and more.
Five of the club's members were honored Saturday for more than 25 years of membership.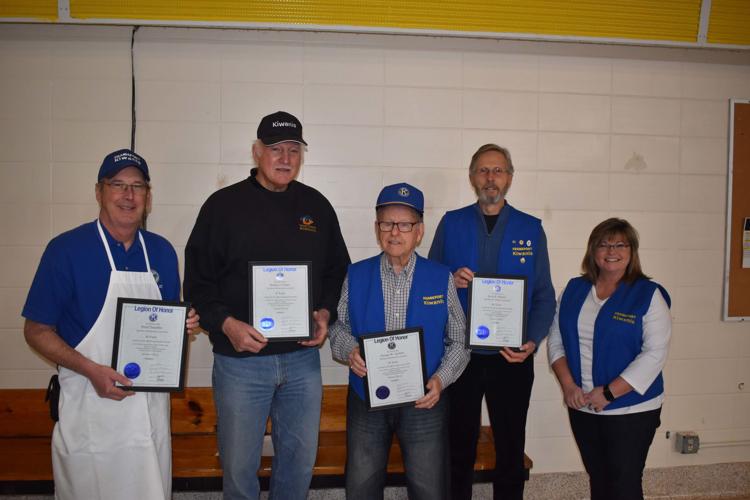 George W. Gayhart was honored for hitting the 45-year mark; Scott Hankla was honored for hitting the 40-year mark; and Warner Caines and Fred Chumbler were honored for meeting the 30-year mark.
Kiwanian Roy McCall could not be at Saturday's event, but he will be honored for being a member for 50 years at a later date.
Each person received a Legion of Honor certificate and pin.
According to Kiwanian and former club President Fred Troutman, once a Kiwanian achieves 25 years of service, a new certificate and pin are given every five years.
Members of Kentucky State University's Circle K Club, a service leadership program sponsored by the Kiwanis Club of Frankfort, also volunteered at the event.
Circle K Club President Calysta Little-Prather, Vice President Amani Wagner, co-event coordinator Miracle Gaines and members Michael McLeod and Mia Symone Lattimore aided in serving food and drinks and helped clear tables.
Little-Prather said the Circle K Club organizes community service projects for all students to get involved in at KSU. The club has 10 members and an adviser.
Troutman said the Kiwanis Club of Frankfort sponsors other service leadership programs like Circle K at other schools, such as K-Kids at Hearn Elementary and the Key Club at Western Hills High School and Frankfort High School.