There's a party going on at the Capital City Activity Center.
It's Thursday morning, just before 10, and the place is abuzz with energy.
In the dining room, tables fill with seniors and others — all of them laughing, talking and cutting up. A man at one table calls out to a woman at another and jokes fly across the room. 
Like there's a bingo game going on, center Director Marchele Jenkins calls a number.
"Table 14?" she calls out.
The seniors sitting around the corresponding table get up and make their way to the front of the room. The din of voices is loud enough that Jenkins has to use a microphone. Every once in a while a loud peal of laughter rings out above the clamor.
"We've got about seven people from Table 14 coming through," Jenkins says through her walkie talkie. Each of the seniors clutches a plastic shopping bag and a list of what they can get as they line up in the doorway.
Before long, the erstwhile residents of Table 14 make their way down the hall of the center. In a moment, they'll start "shopping."
According to their list, this week they'll be able to select one meat item, one deli item, one bread item, one produce item, a gallon of milk, a pizza, a dessert and a bag of crackers, among other items. The items, Jenkins said, aren't there to replace a week's worth of groceries, but to supplement it — to help seniors and others in Franklin County get by.
But the center's food bank, where anyone over the age of 18 in Franklin County can come and get some groceries each week, does more than put food on the table. In many cases, it feeds their souls.
Started around four years ago, the food bank at the Capital City Activity Center was a way to get food to seniors in need, Jenkins said.
According to "The State of Senior Hunger in American in 2017" Feeding America, one in 10 senior citizens in America has food insecurity. In Kentucky, that number is about 11%. Divorced, widowed and separated seniors are two to three times more likely to face food insecurity, and those who are younger — between 60 and 69 — are twice as likely to be food insecure as those who are 80 and older.
And they are the group that is least likely to ask for help, Jenkins added.
"There are a number of food banks around here. And I asked them, do you have a lot of senior citizens, and they don't," she said. "It's a dignity issue. This is a generation of proud people. I thought if we could offer a food bank here, something that gave them a little more control, they might feel more comfortable."
And they were — to a point. Jenkins said at first, they would put out food for the seniors to take. But the response was meager. Members of the activity center would come up to the tables and only take one or two things, not wanting to appear needy or greedy.
To make it more comfortable, she set the food out, grocery store-style, and gave everyone a list of what they could take.
The program gives those who take part in the program a feeling of control and of not being alone, says Outreach and Volunteer Coordinator Dianna Rogers.
"With this, you're shopping and you're with a whole lot of other people. You're not singled out," Rogers says. "They sit out there and have a party. It's a variety of people. Some of them, I think, do it not because money is the issue, but it might be transportation. They come here on our bus and they may be able to come in and get some fresh fruit and they don't have to worry about their daughter taking them or catching a bus to go to the store."
For some, the camaraderie is as important as the food. 
Donald Hedden and his wife come every Thursday. The two met at a dance in Sulphur, in north central Kentucky, nearly half a century ago. Within six months they were married. Now, after a lifetime of working for Franklin County at Lakeview Park, Hedden and his wife come to the center nearly every day for coffee, lunch, programs and, on Thursdays, food.
"Monday through Wednesday there's hardly anybody here," he said. "But on Thursdays, you see it. It's busy. We're here every day. There's bingo and every Wednesday there's a country band. Mondays there's a singer with dancing. We don't dance anymore since my wife had her stroke, but it's good to listen to the music."
Hedden and his friends gather around their usual table starting around 9 in the morning.
"We've known these people for years," he says. "We've got great friends with us at our table. We sit around and joke and cut up. If someone needs something we'll get up and get it — tea or coffee or something."
A lifelong Frankfort resident, he's been coming to the Activity Center for four years. He says he and his wife like coming to the center to get out of the house. The food bank is a godsend for them.
"If it weren't for that (food bank), I don't know what we'd do," he says. "It's not a lot of food, but it helps out … . It makes myself and my wife tickled to death when we get it. Our Social Security check isn't enough to go around, to be honest, so this is a real help. We're happy to get what we can get." 
With luck and planning, those few items can stretch quite a bit. For Maggie Skelton, this week's groceries will stretch for three or four nights, maybe more. She lives with her son and uses what she can get out of the food bank to bring down their grocery bill.
On this particular Thursday, she got a bag of brown beans, some country ham, a packet of chicken breasts, some apples, a box of fried chicken, a cake and a bag of crackers. It's a little bit that adds up, she said.
"That helps me a lot. There are three or four breasts in there, and you can cut them in half to last even longer. It makes me feel good, because you can pick your own stuff and if you don't want something, you can leave it for someone else. It's a blessing. It really is."
As much as the food is a blessing, so is the company, she added.
"Honey, I have fun here," she said. "When I first came here, I didn't say nothing, I was so nervous and everything. But as I got used to people, I just joked. I couldn't keep my mouth shut."
Those at the table and at the center are like family and she enjoys spending time with them every day. From the staff members like Rogers who watch out for her as much as she watches out for them to the women who gather with her around the table, those there are the people who keep her socialized and active.
Staying in touch with others, getting out of the house, moving around and making their own choices — all are things that help seniors not succumb to aging issues, director Jenkins said. Add to it the food and you've got a recipe for healthier seniors.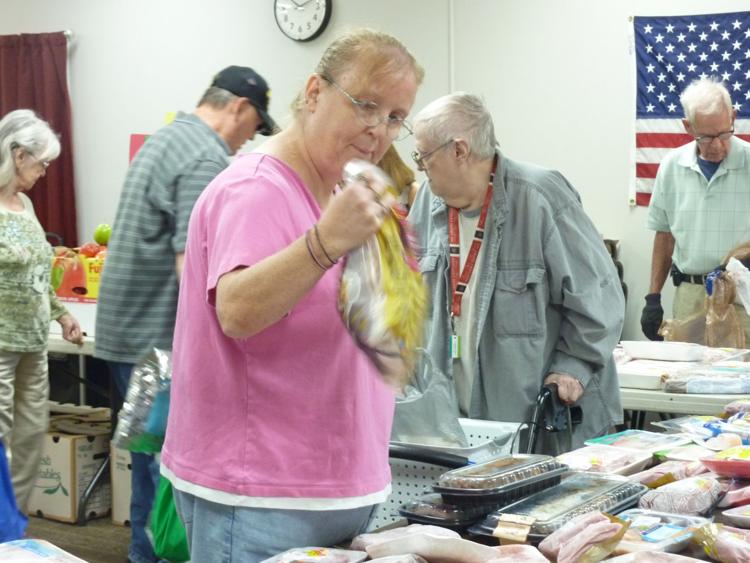 And while there's no telling what food will show up on the tables, the food is still healthier than what they might get without it.
Last week, the center got gallons of milk — 125 of them — and boxes filled with bags of apples. Another donation of snacks means everyone through the line got a plastic grocery bag filled with 20 packets of chips and crackers.
On one table you might find vegetarian chili and kits to make broccoli cabbage cole slaw next to end cuts of deli meat and hunks of cheeses. On another table for meats, you might find ground turkey and ground pork alongside ham hocks, pig's feet and lamb chops. 
The food day distribution program is a God's Pantry Program the center participates in. The center has volunteers who go to the God's Pantry location in Lexington every Wednesday to pick up available food for distribution on Thursdays. Other donations come from Kroger, Panera Bread, Starbucks, Poppy's Bakery, Little Caesar's, Papa John's, Walmart, B's Bakery, Big Lots and other companies across the county.
"One of the other good things about the program is that the food they're getting here is so much better for them," Jenkins said. "They can get fresh produce here. They can get meat here. They can get the things that they need to eat healthy." 
The fallout from the food bank program, and its success, has been that more seniors are using the center other days as well. For members of the center, lunch and all of the programs are free. Transportation to and from the center is free too.
From yoga and tai chi to line dancing and bingo, activities to keep the members healthy and active are also free.
"So much happens around the dinner table. That's where we communicate, learn, have fellowship," Jenkins said. "This is like their dinner table. This is where their needs are being met."