If a picture is worth a thousand words, the one Kyle Vincenzo Lightfoot snapped with three friends while hanging out at a downtown bar late Tuesday night is priceless.
Among the four young, smiling faces captured in the photo is 24-year-old Coty Brumback, a fellow Western Hills graduate who — along with his blue heeler, Baloo — was gunned down in a parking garage on St. Clair Street not long after Lightfoot clicked the shot with his cellphone.
"I left about 15 minutes before the altercation happened. I found out he got shot when I got home," Lightfoot said.
According to police, Brumback had exchanged words with 40-year-old Frankfort resident Antonio Bolling — who was arrested and charged in the case — earlier in the evening.
"At some point when the victim left the street and went to the parking garage, he was followed — him and his friends — by our suspect and apparently the altercation rehashed," Frankfort Police Department Capt. Dustin Bowman said, adding that the dog was shot first.
Lightfoot told The State Journal that when the high school pals were at the Brick Alley nightclub no one was arguing or had any problems with anyone.
"It blows my mind how things escalated so quickly shortly after I left," he said.
Joe Parrish, who runs BlackGate Studios just four doors down from the St. Clair Street parking garage, got to know Brumback from the daily walks he took with Baloo.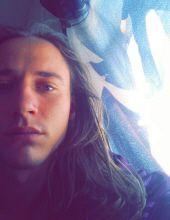 "Coty was a smiling face we business owners got to see often," Parrish added. "He always had a positive attitude."
With it's bright yellow and black sign in the front window, BlackGate Studios is also registered as a Safe Place, a program that provides access to immediate help and supportive resources for youth in need.
It's an important initiative for Parrish, who said he is both saddened and worried about this week's tragic events, which have put the city on high alert.
"The value of another human life just isn't the same as it was, and as a community we have to take that into consideration as we grow and attract new people," he said.
Roughly 36 hours before Brumback and Baloo were killed downtown, 25-year-old Anthony L. Hendrix Jr., of Cincinnati, was fatally shot at a get-together at a pavilion in East Frankfort Park.
And though the homicides were not connected, local elected leaders are concerned.
"When it hits our community, people realize that there is no place that is not affected by gun violence. It can happen anywhere," Mayor Bill May said.
He reassured residents that FPD has stepped up patrols on the St. Clair Mall, an area, he said, that has an unfortunate trend of violence, and is advocating for more foot and bike patrols. But he also urges folks to be aware of their surroundings.
"We can put an officer on every corner and these things will still pop up," May said. "I don't think people need to be worried, but they do need to be aware that people who have been drinking are not thinking clearly."
In early June, a security guard at the nightclub was stabbed in the torso allegedly by a patron he had asked to leave. The victim, who was not identified by police, was transported to the hospital, where he was treated for a non-life-threatening but serious puncture wound.
Police charged Nocomis G. Miner, 47, of Frankfort, with first-degree assault, a Class B felony, in connection with the incident.
Brick Alley owner A.J. Johnson said his "staff and patrons are saddened by the tragic passing of Brumback, who promoted peace and happiness," and told The State Journal that the bar will host a celebration of his life on Friday, Oct. 4, with several entertainment groups planned.
FPD Chief Chuck Adams said the recent deaths are heartbreaking for everyone but stressed that permanent actions to solve temporary problems aren't the answer.
"In these cases the victims' family and friends have lost their loved one forever," he said. "You also have to remember that the poor decisions and horrific actions taken by the suspects involved have cost their families and friends their loved one."
Unfortunately, this week's homicides pushed the number of murders in the county this year to three.
In late July, Kentucky State Police determined that Larry W. Hollon, 51, shot his wife, Donna J. Hollon, 54, at their Green Wilson Road residence before turning the gun on himself. Donna Hollon later died from her injuries at Frankfort Regional Medical Center.
In the past 10 years, there have been 21 murders, and while there were no recorded homicides in three of those years, in 2010 there were five and in 2017 there were six. In the four-year span between 2004 and 2008, only two murders occurred.
"We want the community to realize these events do not define our city," Adams added. "We want to repair the lost feeling of safety."
City Commissioner Scott Tippett understands the community's uneasiness and was "shocked and mortified" to learn that the national epidemic of gun violence had reached Frankfort.
"I think we should all reevaluate how we treat each other and seek to understand our neighbors' circumstances," he said Friday.
While he believes Congress should take the lead and provide assistance to states and municipalities with greater gun safety measures, Tippett said he is committed to fund any needs that will benefit the safety of the community. The police chief said he is also utilizing federal grant money to add additional patrol throughout the city.
Lightfoot, who is still reeling from the loss of his friend, will treasure the "never dull moments" he and Brumback shared and, of course, the selfie he snapped with him Tuesday night.
"We had such an amazing night downtown right before he passed too."