Since 2015, the Kentucky Municipal Energy Agency (KyMEA) has made several promises to the Frankfort Plant Board and its customers.
Promises of more renewables, lower, stable rates and millions in yearly savings. But is that happening?
Background
Nearly five years ago, higher rates from Kentucky Utilities inspired several municipalities across the commonwealth to enter an interlocal cooperation agreement to form a joint public agency in the hopes of finding a new way to provide energy to their communities.
KyMEA was born in September 2015. Today, KyMEA includes 11 municipalities: Frankfort, Providence, Bardwell, Madisonville, Owensboro, Corbin, Berea, Barbourville, Benham, Paris and Falmouth.
Before "going live" on May 1, KyMEA established a board of directors and hired a managing team composed of four members: a president and chief executive officer, a vice president of finance and accounting/chief financial officer, a vice president of market analytics and a director of administrative services and communications.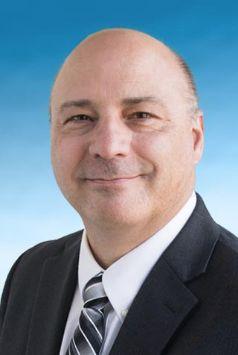 According to KyMEA President and CEO Doug Buresh, the agency is responsible for developing agreements with power suppliers to purchase capacity and energy, among other things as described on its website, kymea.org.
Solar, natural gas, coal and hydroelectric generate power for KyMEA's All Requirements Members, including FPB.
FPB joined the interlocal agreement with KyMEA in June 2015 and became an All Requirements Member in August 2016.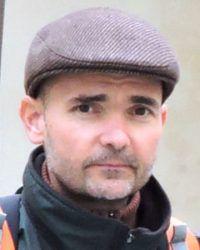 "We all had the sense that when 2016 was beginning that the power supply offered by KyMEA would be like maybe an a la carte menu where they present options and the members could choose what they wanted," said environmentalist and KyMEA critic Andy McDonald. "Then in July 2016, the KyMEA presented an all requirements contract, which meant all power the plant board was going to use was coming from the KyMEA and it was coming from these three power purchase agreements."
The contract would mean the majority of Frankfort's power would come from coal, said McDonald, who also is the director of sustainable programs at Earth Tools Inc.
Envision Franklin County, a group that works with the community on improving the environment in Franklin County, asked the plant board to not sign the All Requirements Contract right away, urging the municipal utility to have an independent study conducted on the contract.
The decision to sign the contract passed 3-2 at the Aug. 16, 2016, meeting. According to the meeting minutes, Board Chair Ralph Ludwig, Vice Chair Rick Pogrotsky and Secretary/Treasurer Dr. Scott Green voted yes. Board members Walt Baldwin and Anna Marie Rosen voted no.
According to McDonald, who is a member of Envision Franklin County, the group decided to fund its own independent study of the KyMEA contracts and presented its findings to the plant board in November 2016. The group once again asked the plant board to do their own independent study, and FPB did.
In April 2017, the plant board hired Energy and Environmental Economics (E3) to analyze the economic and contractual risks and benefits of the KyMEA contracts.
A redacted version of the E3 report to the plant board was presented on June 16, 2017. The 21-page report, which is posted on fpb.cc for public view, instructs the plant board to try to negotiate contract changes with KyMEA. The E3 report also reveals the following:
• KyMEA failed to procure an integrated resource plan (IRP), which identifies the least-cost or best-value resources to meet reliability and public policy goals in the next 10-20 years. If they had done so, more cost-effective and sustainable options could have been explored and the plant board could have participated in the process.
• In 2016, E3 estimated KyMEA would over-procure 41 megawatts (MW) of capacity for 2019. The excess capacity at the time was predicted to cost KyMEA an extra $4 million annually from 2019-2022.
• Although there are issues with the amount of capacity purchased, based on the data available in 2017, E3 projected the cost of KyMEA service to remain lower than the cost of KU service with estimated savings of $8.5 million within the first year.
The following month, KyMEA presented its response to the E3 report, refuting many of E3's claims.
"KyMEA has not published a document titled 'IRP,'" the response reads. "Nonetheless, KyMEA has purposefully accomplished each of the planning steps normally included in an IRP. The power supply planning process was carried out in a manner that is appropriate considering the key factors that distinguish KyMEA from other utilities using IRP processes."
KyMEA also said it would not be possible to allow All Requirements Members to opt-out of certain energy contracts because to negotiate the lowest rates requires the promise of all the members' participation.
KyMEA also addressed the excess capacity.
"KyMEA estimated in January 2017 the potential exposure associated with the possible need to recover capacity costs to be approximately 25% of the amount E3 projects for a 41 MW sale of surplus capacity (i.e., about $1 million, rather than $4 million)," the response reads. "We anticipate E3 may not have considered the margin KyMEA would make on energy that would be sold with the capacity."
In a September 2017 response to KyMEA, E3 said the plant board had three options:
• "FPB can remain in KyMEA and pursue changes to the Interlocal Agreement, the AR Contract, and can work with KyMEA to attempt to generally improve agency conduct and its interactions with members.
• FPB can withdraw from KyMEA and pursue its own power procurement program.
• FPB can remain in KyMEA and not pursue changes (status quo option)."
E3 recommended the first two options and suggested a strategy as to how to move forward with each.
"Pursuing (the third) option is not recommended because of the level of risk that FPB customers will bear under this scenario," the response reads.
After E3 issued its recommendations to the plant board, law firms were contacted to look at the KyMEA contracts.
According to the Oct. 17, 2017, meeting minutes, Baldwin made a motion to hire Reed Smith to review the contracts and provide guidance on the implementation of the contract changes recommended in the E3 report. The motion passed 3-2 with then-Vice Chair Baldwin, Rosen and new member Dawn Hale voting yes and Ludwig and John Cubine voting no.
Baldwin explained that the goal of the analysis was to clarify vague areas of the contract that should be resolved quickly and not when a situation occurs in the future, the meeting minutes state.
Now that the plant board is nearly six months into getting its electricity through KyMEA, The State Journal sat down with the entire KyMEA staff in their Louisville office on Oct. 31. The newspaper also conducted several phone interviews with FPB General Manager and KyMEA Board Member Gary Zheng.
Rosen and Baldwin were also asked to participate in an interview but declined to speak on the record.
The following questions were asked to address the issues of yearly savings and whether KyMEA is planning to incorporate more renewable resources into its portfolio.
Is FPB actually saving money by switching to KyMEA?
Months after the E3 report, savings projections changed to show FPB ratepayers would save 14%, or $6.3 million, on electricity costs in the first year. However, as May 1 drew nearer, those estimates dropped to 8%, or $4 million.
Zheng said estimated savings for individual customers are difficult to predict due to weather and other factors.
"How much you're saving depends on how much you're using," he said. "But generally speaking, we are on track."
According to KyMEA, from now until next June, plant board customers will pay an estimate of $0.06257 per kilowatt (kWh) of electricity.
Data provided to The State Journal from KyMEA shows the total savings, which includes the cost of energy, demand and transmission, is 18.2% lower, or $10.197 lower than KU. KU customers, according to KyMEA, are paying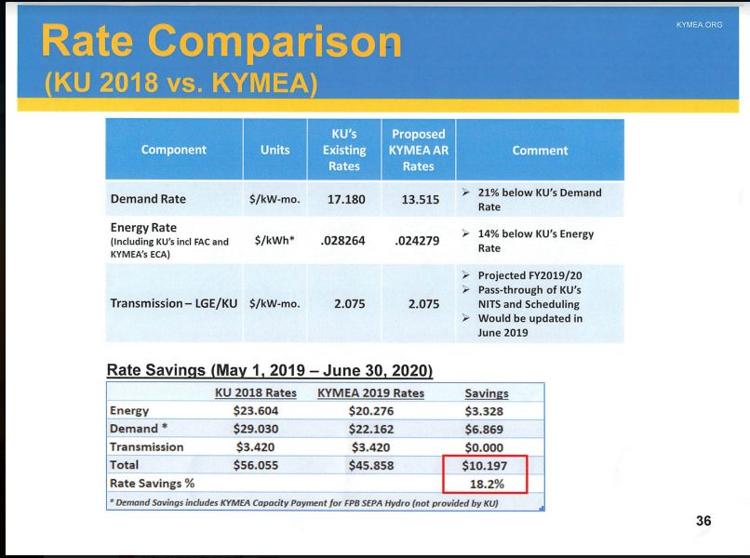 McDonald says while plant board customers are paying less than they would be if they were receiving energy through KU, they're not saving as much money as they could be.
"It's important to note, however, that these 'savings' are relative to KU, FPB's previous supplier, but KU was not the only alternative available to FPB in 2016," McDonald said. "Berea chose not to join the KYMEA All Requirements contract and instead purchased its power from AMP. Berea's wholesale electricity costs are 20% lower than FPB's cost with KYMEA: $0.050/kWh compared to $0.063/kWh."
Looking at the big picture, Buresh said the plant board is on track to save 18.2%, or roughly $10.2 million, from May 1 and through June 30, 2020.
However, since KyMEA is in litigation with LG&E/KU over a transmission access issue, the KyMEA board voted to put back 10.7% of the savings into a rate stabilization fund, so FPB is estimated to take home a first-year savings of $4.186 million, Buresh added. Zheng confirmed this estimate was accurate. 
The rate stabilization fund is used to prevent rate hikes, Buresh said.
In a September column in The State Journal, Rosen wrote: "FPB is also not realizing the promised value from our hydroelectric power, and projected savings after switching from KU is actually much closer to $0 instead of the promised $8 million per year." 
Did KyMEA recently lose millions in a zonal resource credit sale?
Buresh said KyMEA did not resell power supply capacity this year; instead it sold 17 MW of zonal resource credits.
According to McDonald, a zonal resource credit (ZRC) is equivalent to 1 MW of capacity for one year.
"I do not understand the distinction KyMEA is making between capacity and ZRCs," McDonald said.
The money KyMEA made on the sale goes directly back to the municipalities to use how they decide, Buresh said. Those credits sold for $1,697,450 when KyMEA originally paid $92,400.
According to KyMEA, Frankfort will receive $829,944 of the zonal resource credits sale.
It isn't uncommon for utility providers not to use all of the energy contracted out through the electric companies and it's not unusual for that excess to be auctioned off, Buresh added.
However, since KyMEA is a nonprofit and is a public power provider, the money made from selling the excess goes back to the municipalities, which is not something that happened under KU, Buresh said.
Zheng said the plant board has plans to use the excess money they receive from KyMEA to either issue credits to its customers or invest in capital projects, such as automatic metering infrastructure.
According to McDonald and E3, purchasing excess capacity is an industry standard, but that margin is usually within 15%.
E3's calculations in 2017 estimated KyMEA had a capacity need of 267 MW. With the 15% reserve margin, KyMEA should have purchased 307 MW of capacity.  E3 said KyMEA purchased 332 MW to 348 MW of capacity. 
"For the first year of service in 2019, KyMEA has therefore over-procured 41 MW to 65 MW of capacity, depending upon whether reserve margin requirements are considered," the E3 report reads. 
If KyMEA had stayed within the recommended 15% margin, KyMEA could have saved approximately $4 to $5 million annually from 2019 through 2022, according to the E3 report. 
Does KyMEA have plans to incorporate more renewable energy?
For 2020, KyMEA's predicted energy mix is expected to be 70% coal, 26% market and 4% hydro. By 2023, however, KyMEA predicts its energy mix to be 40% coal, 26% market, 9% solar, 4% hydro and 21% undetermined.
The market refers to the MISO market, which is a mix of nuclear, coal, natural gas, hydro, solar and oil.
"The mix of the resources from MISO at any given hour when KyMEA is purchasing energy is unknown as the mix varies by time of day and season depending on which generating units are operating," Buresh said.
As for why KyMEA didn't start out receiving more energy from renewable resources, Buresh and Zheng said it's because sources such as coal are a more reliable power supply than solar or wind.
McDonald says that's not exactly the case.
"Berea got a contract which is cheaper than KyMEA's, and, incidentally, is almost all renewables," McDonald said.
Is KyMEA violating open meetings laws?
In an Oct. 14 guest column in The State Journal, Rosen criticized KyMEA for not having meeting agendas, minutes and meeting schedules on its website.
Buresh said while it is true KyMEA once kept its meeting minutes and agendas on the Kentucky School Board Association portal, KyMEA now keeps meeting minutes and agendas on its own website along with an updated calendar of events, which includes meeting dates, times and locations.
Buresh said KyMEA used the KSBA portal until they could establish their own website. The newest version of KyMEA's website launched the first week of October, according to Buresh. 
The State Journal independently verified that the meeting minutes and agendas along with the meeting schedules are on the KyMEA website at kymea.org under the "About" and "Board of Directors" tab.
The next Frankfort Plant Board meeting is Tuesday at 5 p.m. at the Frankfort Plant Board Administration Building located at 151 Flynn Ave.
The next KyMEA meeting is Wednesday at 10 a.m. in the KyMEA board room at 1700 Eastpoint Parkway, Suite 220, Louisville.
Both meetings are open to the public.