When the ACCESS Soup Kitchen and Men's Shelter had to close in March because of the coronavirus pandemic, the facility still fed the public, passing meals and boxes of food through its doors to those who needed them.
Several other organizations were doing the same.
"It's been amazing to me the way the community has really come together around this, and not just the organizations that normally do this," said James Barnett, executive director of ACCESS.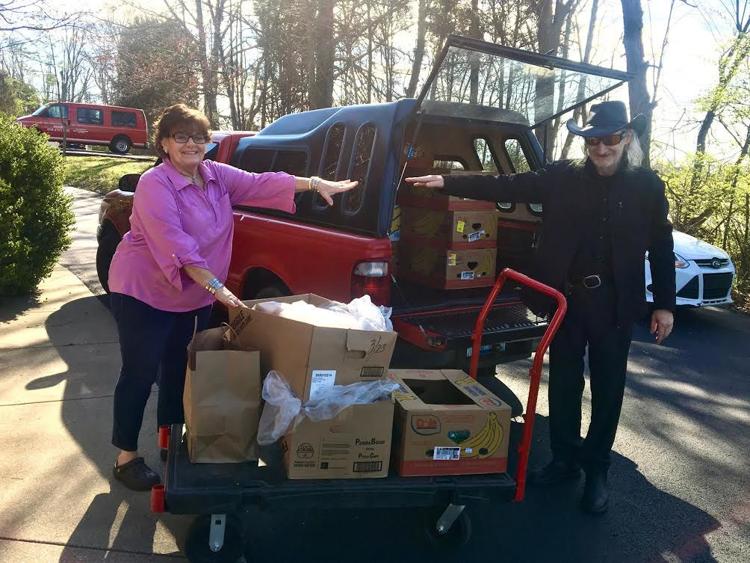 ACCESS reopened three weeks ago, but Barnett said the number of people coming in for a sit-down meal hasn't reached its pre-pandemic level.
"Since we've reopened the number of people who are coming in for lunch is down," he told The State Journal. "I think there are a couple of reasons. Everyone is not getting out like they were before. Most who come are elderly and have pre-existing conditions. With the virus still out there, that's a big concern.
"The second part is during this you've had several organizations and churches come together. It's been a community-wide effort to make sure all people are getting the food they need."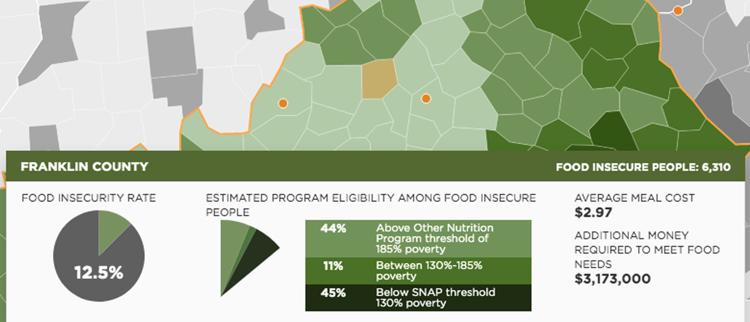 Where their next meal is coming from is a very real concern for Franklin County residents. The county has a food insecurity rate of 12.5% overall, including a 15.9% rate for children.
"The need has increased, don't get me wrong," Barnett said, "but from my perspective I've seen more people put in a concerted effort to deal with it."
Regina Wink-Swinford, president of the Emergency Community Food Pantry of Franklin County, has also seen the community step up.
"We have been blessed by an outpouring of support from the community. Individuals, churches, and businesses have all rallied to help," she said.
"The last two weeks of March were overwhelming," Wink-Swinford added. "Things calmed down considerably though as others pitched in. The government expanded unemployment benefits and sent out stimulus checks. The schools began providing breakfasts and lunches for students in a wide variety of places. Churches and other organizations also expanded their food services.
"If Congress cuts back on SNAP or unemployment benefits as is being discussed right now though, I expect the numbers of neighbors needing help will go up quickly."
The numbers the food pantry were seeing this year before the pandemic were on the rise.
"The first quarter of this year we helped a record number of neighbors, 3,436," Wink-Swinford said. "Last year we helped 10,877 individuals, about a third were children, with a week's worth of groceries (more than 227,000 meals)."
While the soup kitchen is now open, social distancing is being observed with chairs set six feet apart.
"We're serving 125 to 130 meals a day," Barnett said. "That's down from what we were doing, but we're still feeding close to 1,000 a week."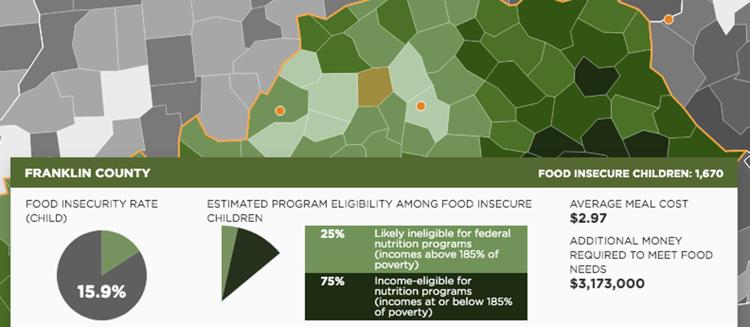 According to a study released by Feeding America, the largest hunger-relief organization in the country, 14.8% of Kentucky's population was considered food insecure in 2018, the most recent year for which data was available. That was the eighth highest rate of food insecurity in the country.
Also, the state's rate of food insecurity for adults 50-59 in 2018 was 17.3%, highest in the United States.
While the rate of 14.8% was the state's lowest level in several years, that progress could be wiped out by the pandemic.
"It is unacceptable that even before the pandemic struck, one in seven Kentuckians did not always know where their next meal would come from," said Tamara Sandberg, executive director of Feeding Kentucky. "Making matters worse is that many of these individuals do not qualify for federal nutrition assistance programs. They have nowhere else to turn but the charitable food sector, which is struggling to keep pace with the need for food assistance.
"We call on partners in government, business, education, agricultural and faith-based sectors to continue working to close the meal gap and end hunger in Kentucky."
The Capital City Activity Center provided 5,797 meals to senior citizens in May, a service that fed 1.2% of seniors in Franklin County.
While COVID-19 continues to pose a threat, Barnett doesn't think people are growing weary of dealing with food insecurity.
"I don't see anybody backing off," he said. "What I see are people working to make sure if a second wave does come that we're ready to handle it.
"I'm proud of everybody in this community. They've put aside their differences and asked 'what can I do?' People want to keep going, make it better, better at getting the food out and better at making sure no one's going without."