Call it mother's intuition, but Tambra Harrod knew something must be the culprit of the shoulder and chest pain and shortness of breath her 18-year-old son, Keegan, was experiencing late last month.
"There seemed to be so many possibilities," she said. "Never in a million years did we think something so severe had happened."
Though she initially thought the pain was a sore or pulled muscle from the new job Keegan had recently started, when it persisted they headed to an urgent treatment center to have him examined. An X-ray revealed he had suffered a ruptured lung or a pneumothorax, which occurs when air leaks into the space between the lung and chest wall and pushes against the outside of the lung, causing it to collapse.
The doctor directed them go to the emergency room immediately because Keegan would likely need a chest tube, which is exactly what staff at Frankfort Regional Medical Center did.
During his unplanned three-day stay in the hospital his oxygen levels were monitored and he endured numerous blood draws and X-rays. Doctors discovered the cause of Keegan's health scare stemmed from a vaping-related breathing illness.
Apparently, he had been using his electronic cigarette more than he had thought.
"He would always downplay the frequency of his vaping," Tambra said. "Because there is little to no smell and the small size of the e-cigs and vapes, we rarely noticed any usage."
At first, she was full of "whys." Why didn't Keegan listen when she told him or sent him articles about the dangers of vaping?
"And then I became angry that something so dangerous to our health was so easily available and being consumed by so many of our youth," she added.
In just the past week, 150 confirmed and probable cases of the vaping-related illness have been reported in 38 states. Seven deaths have been reported and all the patients admitted to using vaping devices.
"He always said, 'It won't happen to me, Mom,'" Tambra said.
But Keegan also fits the prime demographic for the illness. Two-thirds of the cases involve 18- to 34-year-olds and 75% are men.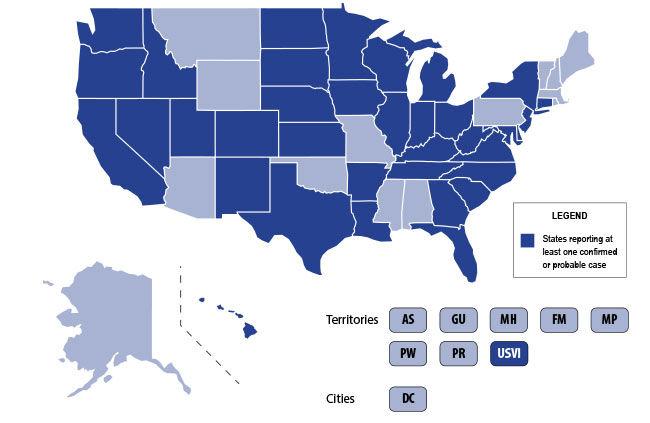 The Centers for Disease Control and Prevention is looking at the nicotine juices and other substances users may be vaping in e-cigarettes to determine how the aerosol might be affecting users' lungs.
Last week, the Trump administration called for a ban on all flavored e-cigarettes due to their appeal to young people. Tambra, for one, would like to see the ban extended to include all vaping products.
"Nicotine is so very addictive and once you start such an innocent habit it is very hard to stop," she said.
Fortunately, since being discharged from the hospital, Keegan has been able to give it up. In fact, after seeing a post Tambra shared on social media about his ordeal, Keegan has been the recipient of numerous messages and videos from both friends and strangers that show them destroying their vaping devices.
"Other than my son being able to walk out of the hospital on his own two feet, that was the best takeaway from this entire experience," Tambra said, adding that she is sharing his story to dispel the stigma that vaping isn't dangerous.
The CDC does not have a specific cause for the vaping-related illness and has not identified an e-cigarette, device, liquid, refill pod, cartridge or substance linked to all the cases. However, it has released an interim recommendation that users who are worried about the health risks refrain from using the vaping products until more information is available.
Tambra has also used Keegan's experience as a teaching moment for her young daughter.
"We have had many continuing conversations. I have told her not to feel pressured by her peers to try it no matter how cool they make it appear and to explain the consequences to her friends by using her brother as an example," she said.
For more information about e-cigarettes, including how to talk to your kids about the dangers of vaping, visit the CDC website.