John Cubine's first meeting since his return to the Frankfort Plant Board almost ended before it got started Tuesday.
Within minutes of the meeting's opening, Richard Rosen, husband of former FPB Chair Anna Marie Pavlik Rosen, approached the podium.
He noted that, according to Frankfort City Commission meeting minutes dated Feb. 26, 2018, FPB Director Stephen Mason's term expired on Sept. 23. Thus, Rosen claimed, the board's only current members are Dawn Hale and Cubine. Rosen suggested that, lacking a quorum, the meeting could not proceed until the Frankfort City Commission was consulted.
"I will leave it up to you as to how you want to proceed or if you want to proceed," Rosen said. "It would seem to me that the city commission needs to sort this out."
The board took a brief recess to address the issue. Less than two minutes later, FPB staff attorney Hance Price returned with a document showing Mason's term actually ends on Sept. 23, 2020. He presented a letter from Mayor Bill May dated Feb. 26, 2018, showing the correct date.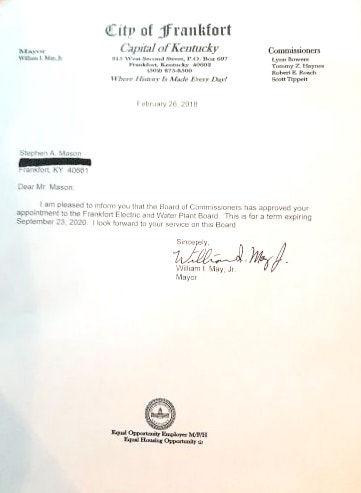 "Based on the documents I have, I recommend we continue with the election of officers and continue with our meeting," Price said. "I don't see any violation of the open meetings act."
Rosen responded: "I would ask then that you go back and get the meeting minutes amended. If you want to proceed, that's fine, but I think those minutes should be corrected for the record."
FPB board members then voted to approve Cubine as chair, Mason as FPB vice chair and Dawn Hale as secretary treasurer.
During the public comments portion of the meeting, Rosen spoke again.
"I have no problem with Hance's ruling on this. I think it makes sense and no offense intended in any way to Mr. Mason," he said. "The point I want to make is to you, the directors, is details are important. When you don't dive deep into the details, mistakes are made.
"And you've recently lost two directors who paid very much attention to details," Rosen added, referring to his wife and former FPB Vice Chair Walt Baldwin, whose terms expired last month without action by May to reappoint them. "But they were outvoted by three FPB directors who did not pay any attention to the details and therefore now we're stuck with a contract with KyMEA that has several flaws that are costing the ratepayers of Frankfort, I'd say, a minimum of $10 million per year."
After Rosen's comments, the three-member board proceeded to discuss agenda items, including updates on SEPA (Southeastern Power Administration), the Kentucky Municipal Energy Agency, safety, water distribution, the water treatment plant and the Network Operations Center.
The board also voted to renew FPB General Manager Gary Zheng's contract for two years with a 4.2% salary increase.