No sooner did Nikki Martin's two daughters start walking and they were dancing. Hailey, 15, started taking dance lessons when she was 3 and Addison, 11, was soon to follow in her footprints, beginning instruction at 2.
For Nikki, there was never a question of which dance studio the sisters would attend.
"I choose Capital City Dance Studio because it felt like home and family," she explained.
Nikki knows from firsthand experience. When she was growing up, she spent more than a dozen years practicing dance at the studio, which has offered classes to Frankfort and surrounding counties for more than 50 years.
Capital City Dance Studio feels like home to many current and former dancers because it too has been passed down to the next generation. Laurie Meyer, who owns and directs the studio, took over the business from her mother, Gina Tincher, who established it in 1969.
"I love that girls I danced with (like Casey Tillett-Lewis) are now instructors for my girls," Nikki told The State Journal.
In fact, all dance teachers at the studio are previous students, according to Meyer.
Eleven-year-old Addison, who, like her mother, loves jazz dancing, also praised the instructors.
"They are so fun but you are still learning while it's challenging," she said. "I am especially excited about being in the middle school classes this year with Mrs. Jamie Carter and Taylor Hackett."
The studio offers a variety of classes ranging from ballet, tap and jazz to lyrical and gymnastics, which are open to both boys and girls from 2-18.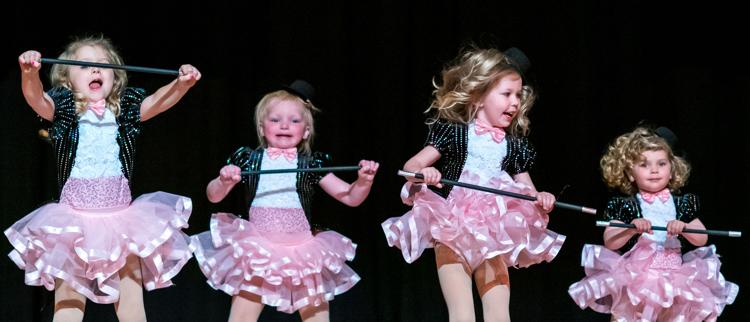 "While technique is essential, we believe it is equally important that our students enjoy the art of dance while cultivating proper skills," Meyer said.
Hailey said her favorite dance is lyrical but noted that she's a fan of all different styles. Last year, she participated in her first production and she is hooked.
"I get so excited and love to see it all come together," the teen said. "I look forward to starting to work on production for this year."
To close out the season, Capital City Dance Studio celebrated its 50th annual recital at Kentucky State University's Bradford Hall in the spring. More than 4,000 folks attended over the five-night event, which featured performances and honored current and past students.
"The greatest thrill is to see students from years past bringing their children and grandchildren to our studio," Meyer said. "I recognize so many of them and it takes me right back to when they were young and a student here."
On the final night of performances, Tincher was presented with a box of dance photographs that parents submitted of themselves or their children as studio students. Many of the photos contained handwritten notes of thanks or shared memories.
Tincher was overwhelmed and honored by the thoughtful gift, but her eyes remain steadfastly fixed on the future.
"We plan to keep the tradition alive for as long as we can," she added. "Frankfort is our community and we are forever grateful for the love and support our students have shown us over the years."