Editors note: This story was updated at 10:15 a.m. Wednesday, March 25, with a statement from Brad Wands, Frankfort Regional Medical Center spokesperson, that based on current CDC guidelines, FRMC is not accepting homemade masks at this time.
Although these are times of uncertainty, some Frankfort residents are certain that there is a need for help and they are springing into action.
Lane Lewis came across a video online on the website www.deaconess.com on on how to make medical masks. Being a seamstress, she decided that was one way how she could help healthcare workers during the coronavirus pandemic.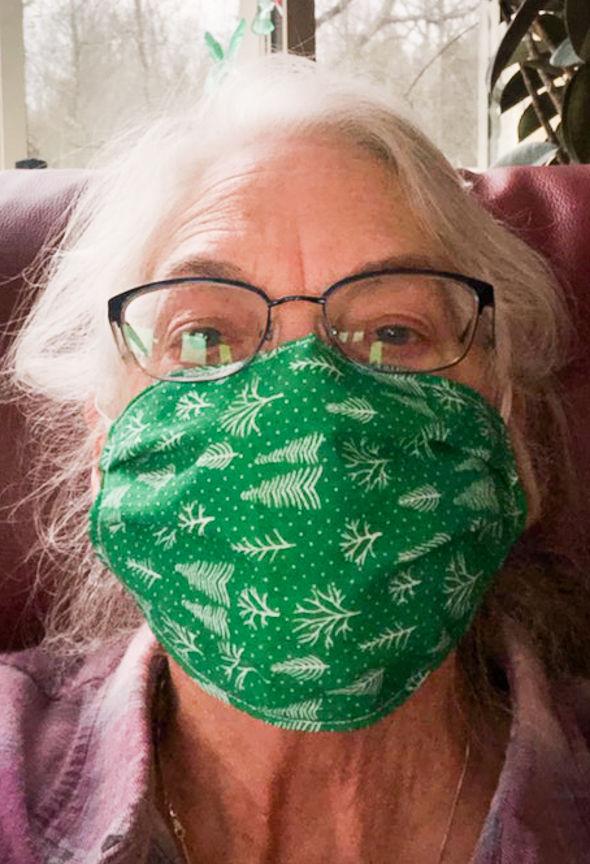 "I have way too much left over fabric from other projects," Lewis said. She's using that fabric to make the masks.
"I'm doing a basic mask with no insulator, but it provides a barrier," she said. "You wouldn't use it in surgery, but maybe if you're cleaning the hallway, it can help as a barrier. Mine is simple and it gives you coverage."
As of Sunday afternoon, she had six made and material for six more ready to go. She said it takes her about 15 minutes to make a mask using a 6- by 9-inch piece of tightly woven cotton fabric and elastic. The tightly woven fabric needs to be washable. 
"There are sites that say (the mask) is no good if it isn't tight fitting," Lewis said.
After she's made the masks she plans first to call Frankfort Regional Medical Center to see if there is a need for them.
"If the hospital is sitting good, then I'll take them to whoever needs them," she said. She plans to contact nursing homes and private doctor offices.
Brad Wands, FRMC spokesperson, said the hospital currently has the supplies it needs, however it continues to assess resources as the COVID-19 situation evolves.
"The hospital is accepting sterile, unopened N95 and surgical masks," Wands said. "We appreciate everyone's willingness to assist in these efforts."
Regarding homemade cotton face masks, Wands said based on current CDC guidelines, FRMC is not accepting homemade masks at this time.
Donations to the hospital should be coordinated through Rusty Pickard, director of supply chain operations. Pickard can be reached at 502-226-7675.
Andrea Gillis-McClain is also helping out by donating gloves and anti-bacterial wipes to local health care providers.
McClain, who currently holds the title of Ms. Bluegrass Frankfort Woman serving on the platform "Let Your Light Shine," delivered two packages of gloves and 50 wipes to Rebound Orthopedics and Sports Medicine and East Side Family Medicine last week. She plans to donate more to medical staff in need and nursing homes.
"I feel in these times, we can all use a little light and promote the power of positivity through our random acts of kindness," McClain said.
McClain is also collecting crackers, peanut butter, canned goods with pop tops, Ramen noodles and more to donate to Heaven's Angel Food for distribution. The food will be handed out to those in need.
Those who would like to donate items can contact McClain on Facebook.
The Frankfort/Franklin County Office of Emergency Management is also calling on members of the community to volunteer in this time of need. Emergency Management posted a form on www.frankfortema.org that those interested can fill out and officials may select them to help as need.
"This information will be used solely by Emergency Management and will allow all assistance provided to be vetted for safety," a post on the Frankfort, Kentucky — City Hall Facebook page read.
The form asks people to describe the kinds of resources they have that can be donated and their availability for volunteering time.
Lewis said she thinks that however people think they can contribute during these times, they should do it.
"Even my 3-year-old grandson has started drawing pictures of rainbows and taping them on the doors in his neighborhood," Lewis said. "This is a horrible thing, but there's so much wonderful that's coming out of it."