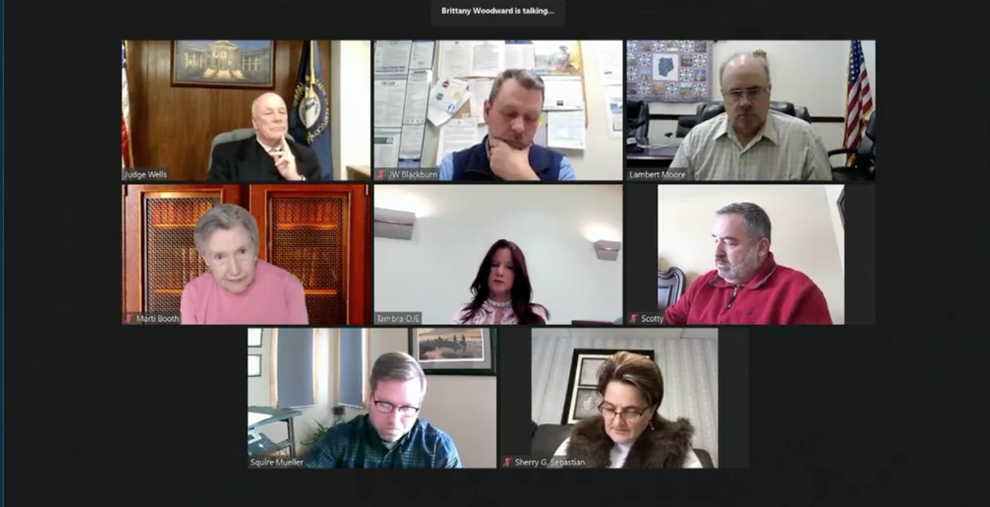 The Franklin County Fiscal Court on Friday committed $5,000 each to 12 small businesses located outside the city limits and in Franklin County.
It also extended the deadline for such businesses to apply for the COVID-related grant funds to March 3 at noon. 
The 12 businesses in receipt of the first round of funds are CLS Printing, Holbrook Towing, West Sixth Brewery-Farm, KB Construction/Kentucky Awning, Natalie Lile Law, Frankfort Snack Sales, Kentucky Gem Cats, Frankfort Chiropractic Office, Dailey's Welding and Fabrication, L&E Repair, Little Market and Miguel's Restaurante.
Seventeen businesses submitted applications, but only 12 were awarded the $5,000 grants Friday. The court initially approved a total of $100,000 in grant funds to be doled out.
"We were very thorough in vetting each application," Ann Northcutt, community development and grants administrator, said. "… I'm really proud to be able to send them this help."
The City of Frankfort ran a similar grant program late last year.
Criteria for businesses to receive the funds are:
• Have a physical business location in the unincorporated area of Franklin County. Home-based businesses are not  eligible. 
• Employ no more than 50 persons. 
• Have been operating and licensed as a business prior to Oct. 1, 2019. 
• Plan to continue operation for at least 12 months after grant funds are assigned. 
• Be in good standing on all state and local licenses, fees and taxes. 
• Not have been previously reimbursed for the same expenses by any other federal, state or local grant or forgivable loan or assessed any additional fees to customers to cover the effects of the pandemic on the business. 
• Accept responsibility for tax reporting on grant funds awarded. 
Other business
The court heard and received the last audit of former Franklin County Sheriff Pat Melton, as well as a new one of Sheriff Chris Quire.
Auditors' findings regarding Melton's fees and disbursements while in office did not receive a response from the former sheriff.
Franklin County Attorney Rick Sparks commented on the frequency of such findings, which have continued to turn up across the years. Melton served as sheriff from 2010 to 2018 before Quire defeated him.
"There are a number of comments in all of the (former sheriff's) audits regarding lack of information and overspending," Sparks said. "It's been a consistent finding from the auditor."
Melton's audits were a talking point during the 2018 campaign.
Sparks said that formal reception of the audits is the first step for the court potentially taking actions to resolve issues — such as overspending — highlighted in the audits.
Sebastian asked what remedies the court could seek for past audits. Sparks said he would need to look into the issue more.
Quire's audits came back clean except for one comment from the auditors about an expense for a Halloween drive-in movie night hosted by the sheriff's office and the county. 
"If his opinion is in our favor, that would be removed from the audit is what I'm told," Quire said. "If that's all we found in the first two audits, I can live with that."
The court heard the first reading of a zoning change that could add 15 subdivision lots between Lakeview Park and Elkhorn Creek. The property is owned by E. Calvert Kelsey Prime Holdings, which owns several properties on East Main Street, a building downtown and the land on which the Louisville Road Dollar General store sits.
Per minutes of the Frankfort-Franklin County Planning Commission's January meeting, the rezoning of 5 acres  near Steadmantown Lane and Lions Way from "Industrial-General" to "Rural Residential" was unanimously approved by 10 of the board's 11 members. 
No magistrates spoke against the zoning change at Friday's meeting.
The fiscal court will hear a second reading of the ordinance amending the zoning designation at its next meeting.
The court hired several park and seasonal employees, unanimously approving each hire.
Moving quickly through a long list of part-time hires, the court paused to acknowledge one familiar name: former City Commissioner Scott Tippett.
Tippett was hired as a seasonal golf employee, but not before a brief comment by Magistrate Lambert Moore.
"I don't know about this guy, but I'll say yes," Moore joked.
Due to an excess in fees of just over $388,000 collected by Franklin County Clerk Jeff Hancock, the court approved a budget amendment to use $175,000 of that money to cover debt service and for the rest to go into a contingency reserve.
The court approved receiving an employee through grant funding to provide employment to a worker who lost their job due to the COVID-19 pandemic.
"This allows us to hire somebody that has lost their job, and to pay them money to do work here with the fiscal court, judicial center and the County Clerk's Office," Franklin County Judge-Executive Huston Wells said. "We're excited about that, and this is not costing us any money."