The Franklin County Health Department announced Thursday an additional 209 confirmed cases of COVID-19 since its last report on Monday.
The county has now had 6,375 confirmed cases of the virus since the pandemic began in March 2020. There are currently 301 active cases in Franklin County.
"Today's total brings September to 979 (reported cases of COVID) and we're still averaging about 60 cases a day," said Brittany Parker, deputy director of the health department. "August we saw 1,079 cases and in January we saw our highest month at 1,205."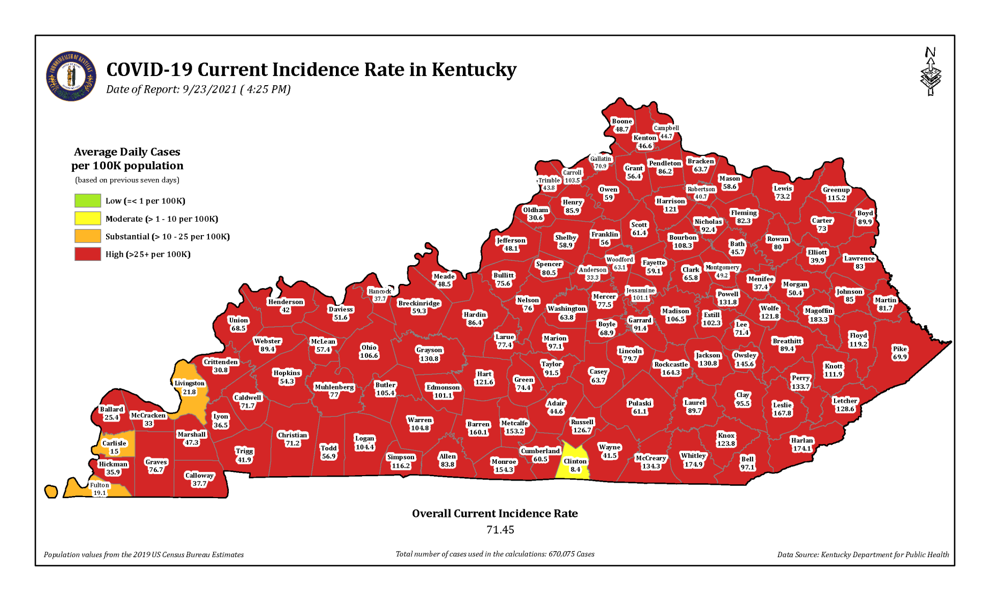 The number of COVID-related deaths has also increased in the county.
"We have been notified of 70 deaths at this time," Parker said. "This is preliminary and may be adjusted as the state conducts their reviews in the future." FCHD reported a total of 68 deaths Monday.
The county's current incidence rate is 56, according to the state website kycovid.ky.gov. The incidence rate is the average daily cases per 100,000 population, and it's based on the previous seven days.
The positivity rate in Franklin County is 9.85%.
Parker reported Thursday the health department has no COVID cases waiting to be worked.
"Our team has worked hard to get all cases notified through mail and phone interview of positive status and provide isolation and quarantine guidance," she said. "For those who need help calculating their isolation/quarantine dates, please use our new interactive calculator on our website at fchd.org."
Free drive-thru COVID testing continues at the health department's Public Health Center on the East-West Connector Monday through Friday.
Testing on Monday, Wednesday and Friday is open to everyone in the community from 7-9 a.m., and no pre-registration is required.
Testing is available for Franklin County Schools K-12 staff, students and their families from 3-6 p.m. on Tuesday and Thursday. Pre-registration is required and can be completed at fchd.org/makotest.