The Franklin County Health Department updated Tuesday's COVID-19 case total from nine to 10 and announced six newly confirmed COVID-19 cases on Wednesday.
"We are actively monitoring 54 community members, as well as 112 active contacts of positive cases," FCHD Deputy Director Brittany Parker told The State Journal.
Since the start of the pandemic, 243 county residents have tested positive for the coronavirus.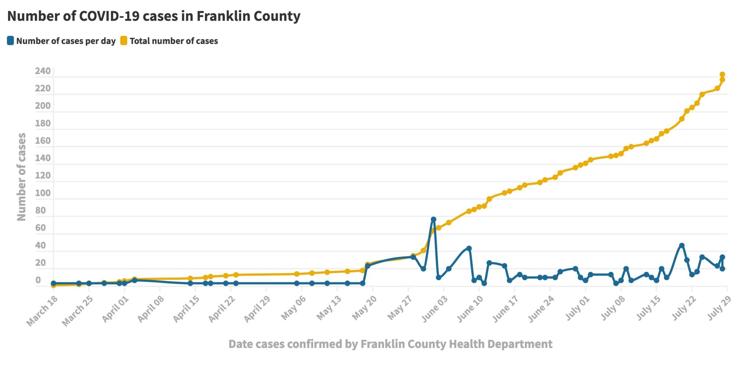 Currently, 13 patients are hospitalized with the virus — three of whom are in the intensive care unit.
Fifty-two percent of patients exhibit coronavirus symptoms; 38% are asymptomatic; and 9% are pending.
Six local deaths have been COVID-19-related.
The next scheduled free testing for COVID-19 will be next Tuesday at the Public Health Center on the East-West Connector from 9 a.m.-noon. Registration for the testing event will be available at fchd.org starting Friday.
Gov. Andy Beshear announced 619 new coronavirus cases, bringing the total statewide case count to 28,727 since the pandemic began.
Seventeen of the new positive cases are in children under 5 years old. The youngest was a four-month-old.
He also reported five new COVID-19-related deaths, raising the total number of Kentuckians lost to the virus to 724.
According to state data, 609,989 tests have been administered. The positivity rate is 5.81%