In honor of Kentucky's ratification of the 19th Amendment a century ago, an artist added on Wednesday a stripe representing the state to a flag that is making stops across the country to recognize women's suffrage. 
"Her Flag" is a collaborative art piece led by artist Marilyn Artus. Female artists from each of the 36 states that ratified the amendment create a stripe that Artus then sews to the other stripes. Kentucky, the 23rd state to ratify the 19th Amendment, is the 23rd state to have a stripe added to the flag. When completed later this year, the flag will be 18 feet by 26 feet.
Artus said that she began working on "Her Flag" in 2017 following the last presidential election and as the country was at odds with itself. 
"I felt like every American needed to step in and contribute in a positive way and this is how I could channel my love of suffrage and country and help America celebrate this anniversary because it's a big accomplishment," she said.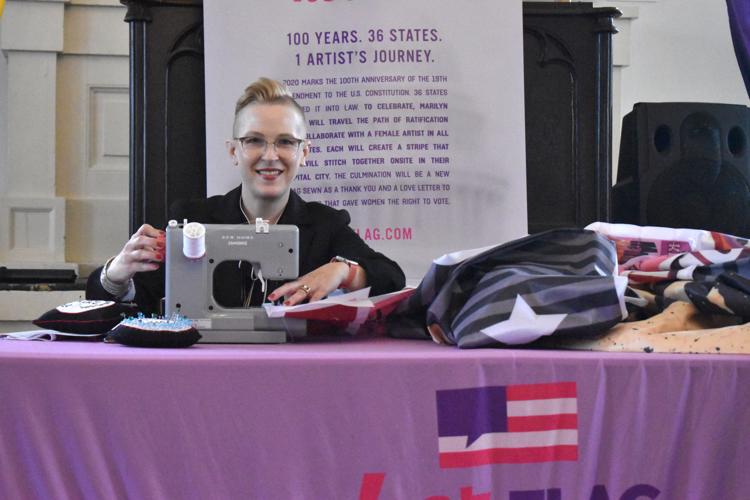 "Her Flag" highlights the struggles to give voting rights to all Americans, Artus said. For many women, especially women of color, they did not automatically get the right to vote after the ratification of the 19th Amendment.
There are still voting issues today, Artus said. In 2018, the Supreme Court overturned a North Dakota law that would not recognize IDs with P.O. boxes at polling places, preventing many Native Americans from voting. Some states are also purging voter rolls.
Artus sewed Kentucky's stripe to the rest of the flag Wednesday afternoon in the Old State Capitol. As she made her stitches, the Women's Suffrage Centennial Chorus sang songs of suffragettes from over 100 years ago. 
Kentucky's stripe was made by Louisville artist Linda Erzinger. Due to a family illness, she could not be in attendance Wednesday.
She previously spoke with The State Journal about the stripe she created using repetition of a smaller assemblage, which includes photographed elements of some of her other works. Items featured include unused or expired blood tubes filled with materials like fabric, Mardi Gras beads, plastic pieces from sponge curlers and wax paper from the back of panty liners. The phrases "Women Vote" and "Elect Women Now" are featured prominently on Kentucky's stripe. 
"A lot of my work is about women's empowerment and it was just one more step forward for women's empowerment, to celebrate our accomplishments," Erzinger said earlier this month on why she wanted to be part of "Her Flag." 
Artus said after she sewed Erzinger's stripe to the flag that the piece has a great message and an interesting use of textures. 
"It's graphic and bold. I think it's a beautiful stripe," Artus said. 
In addition to the stripe, Artus uses a unique pin cushion at each stop. Kentucky's was made by Jenna Gordon and said: "I'm not bossy. I'm the boss." 
The Frankfort-based Women's Suffrage Centennial Chorus stood beside Artus as she sewed in the House of Representatives Chamber in the Old State Capitol. The chorus' performance included parody versions of "Yankee Doodle" and "My Old Kentucky Home," which were popular in rallies and marches supporting women's right to vote.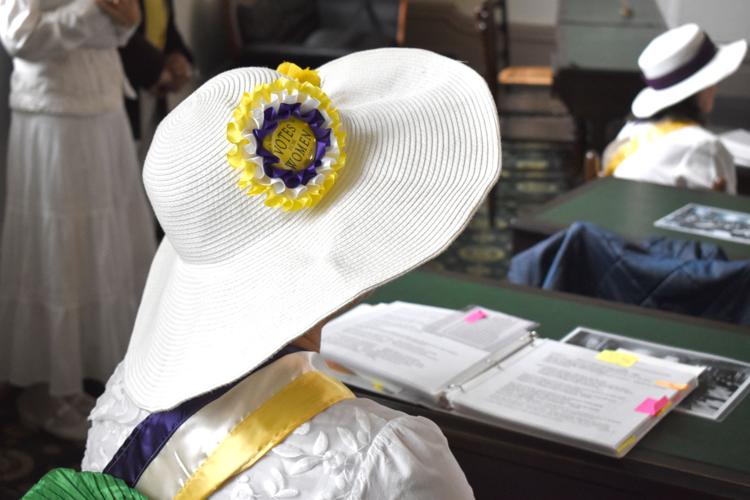 The chorus started in 2018 and has had several performances in Frankfort, including at Fourth of July celebrations, schools and more, as well as appearances outside of the capital city. Member Mary Ann Burch said that the group sings to spread the word about women's history and share it with future generations.
On Aug. 22, the chorus will march in the Kentucky Women's Suffrage Centennial March, and Burch said that the group hopes to have a range of ages represented. Kentucky's representation in "Her Flag" brings women's history to a new audience and shows the commonwealth's role in it, she said. 
"It's heartwarming because that participation by Kentucky in the nation is going to be spread," Burch said. "As we looked at the flag and we saw Texas and Minnesota and other states whose stripes were already on there and ours was added, that's really a moment of pride."