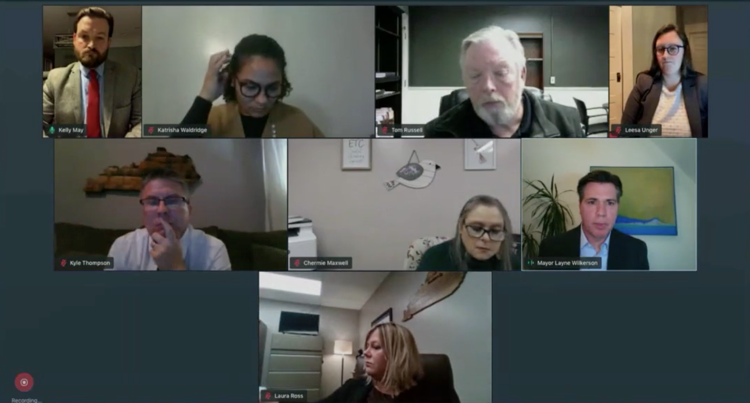 At the first Frankfort City Commission meeting of 2021 on Monday, an almost entirely new group dived headfirst into some of the city's biggest projects.
First on the table for discussion, after the commission received an update from Melanie Van Houten of Josephine Sculpture Park, was the hiring of a new city manager.
Interim City Manager Tom Russell has served since the August firing of former City Manager Keith Parker. Russell also handles emergency management director duties for the city and county.
All commissioners, as well as new Mayor Layne Wilkerson, have expressed support for a wide search for candidates. The most discussed issues regarding the search on Monday were the timeline for hiring and the input process to determine criteria for selection.
Commissioners Katrisha Waldridge and Kyle Thompson expressed support for a speedy timeline during which the commission could hire a new city manager.
"I feel that we need to stick to a stringent timeline, one that is aggressive," Waldridge said. "… I think that anyone should apply for this, but we need to stick to our date of closing and not keep extending it out, so we can get Mr. Russell over back to his role of emergency management director."
Commissioner Kelly May said the commission needs to pick a new city manager "as soon as possible," but pointed out that the city will be considering its budget for the next fiscal year this spring. May said that his discussions with Russell lead him to believe that it might be better to leave Russell in his current position up to that time.
Unger agreed that the commission needs to move quickly, but she also raised the possibility of switching to a different form of government. She cited conversations she's had with residents about that. Frankfort has long had a city manager form of government, in which the city manager leads the daily operations of City Hall.
"I'm a little hesitant to rush on this," Unger said. "… I do agree that we need to get moving on it, but I'm not ready to rush. I know there's also some discussion of whether or not we have the right form of government. I want us to really think about this and talk about it before we move too fast."
Discussion of the matter ended with Thompson and Waldridge asking commissioners to send names of citizens to Mayor Layne Wilkerson for consideration of forming a citizen committee that could provide input on the process for hiring a new city manager.
YMCA
Several members of the commission raised concerns about the city's potential $2.5 million investment in a new YMCA facility. A draft agreement between the city and the YMCA of Central Kentucky has yet to be signed. The city money would help build a new YMCA in downtown Frankfort on the now-vacant Parcel B land where the Frankfort Convention Center once stood.
"I have some issue with an allocation of $2.5 million," Thompson said. "… I do understand our history with the YMCA. I'm a product of YMCA activities, but I want some more assurances not only with timeline but what the facilities will hold."
City staff, including Russell and City Attorney Laura Ross, pointed to wording in the current draft agreement with the YMCA that should the YMCA of Central Kentucky choose to alter the proposed 30,000-square-foot size for the facility, the city would be able to reconsider its funding commitment.
Waldridge, who has in the past has suggested that the city could create its own health and fitness facility that would function similarly, said that she is in support of the YMCA but wants to ensure that it meets the community's needs.
May stressed that while $2.5 million is a lot of money, it's not near the amount that a potentially city-run facility would cost.
"$2.5 million is a one-time (payment) and then we're done," May said. "My concern is that if we don't follow this route, what is the alternative? I feel like this is a $2.5 million one-time investment versus creating our own facility — I would assume that's a much greater financial commitment."
Wilkerson said that he would bring up the commission's concerns in a meeting he has scheduled with the YMCA of Central Kentucky, and directed staff to schedule representatives from the YMCA to speak with the commission about their plans at a future meeting.
The last time such a meeting was held was early 2020.