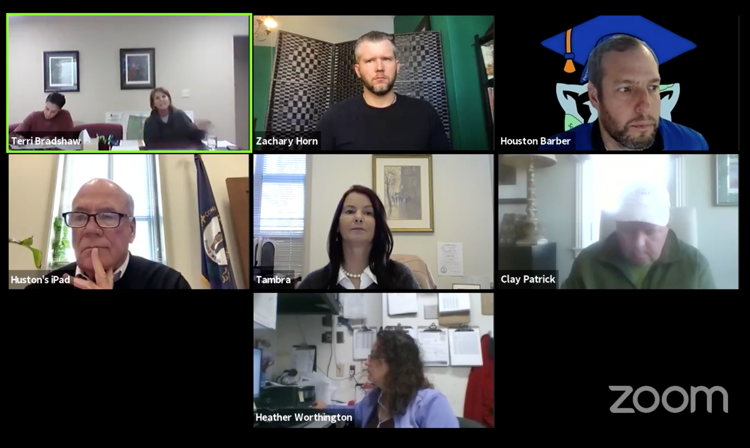 Kentucky Capital Development Corp. President and CEO Terri Bradshaw this week released a set of stark numbers on growth in Frankfort and Franklin County.
In several key metrics, Bradshaw told the KCDC board at its monthly meeting Tuesday, the county places well behind its neighbors, except for largely rural Owen County to the north.
Those metrics include population and housing growth, household income, home ownership and value growth, and property tax rate growth.
According to U.S. Census data that Bradshaw gathered, Franklin County's population since 2011 has grown 3.02%. Shelby and Scott counties have each grown over 15%, and Woodford, Anderson and Henry counties have all grown over 6%. 
Scott and Shelby counties both had smaller populations than Franklin County in 2011. Scott County, which is home to the a Toyota factory, has surpassed Franklin County by more than 6,000 residents. If both continue to grow at the rate they have in the last 10 years, Shelby County is projected to pass Franklin County in a few years.
Since 2011, Franklin County's number of housing units has grown by 73, just 0.3%. That's the slowest among all contiguous counties by a significant margin. Owen and Henry counties each grew by well over 100, with Shelby and Scott recording enormous growth: 1,774 and 3,607 new housing units, respectively.
"That means 3,607 more homes, more families in Scott County that are eating out, that are shopping, buying gas and groceries if you have that many more homes in your county," Bradshaw said
For a county that lags in growth, it also means much lower property tax revenues than its peers are getting.
Bradshaw compared Franklin and Scott's property tax revenues since 2011, estimating that while Scott County's have grown by $36 million, Franklin County's increased by just $745,270. She calculated those figures based on the number of new housing units, median property values and property tax rates in each county.
Bradshaw recommended that the county develop a housing strategy to combat the lack of growth. She said that she had previously asked for funds to create such a plan from the U.S. Economic Development Administration, and is in the process of asking for funds once again.
"We have got to have a strategy that looks at ways that we can fix those issues so we have homebuilders in this community building homes," Bradshaw said.
Bradshaw and multiple members of the KCDC board said that county and city utility policy is a major roadblock to housing developments. Bradshaw said that subdivision developers must pay for a sewage system and, once built, give it to the city.
"The biggest complaint other than planning and zoning to get a subdivision started is the cost of utilities, which is much higher for a developer in Franklin County than they are in other areas," Franklin County Judge-Executive Huston Wells said.
Frankfort Independent Schools Superintendent and KCDC board member Houston Barber said that the numbers reflect a need for the county to better attract industry that brings new residents into the fold.
"It helps for those to understand that the more businesses that move in, the more people want to move in and live in the area," Barber said. "In Scott County, Toyota was the driving force, but then you've got 176 companies that relate to what's going on at Toyota. When you've got more businesses, you've got more people that want to live closer to that area."
Bradshaw said that a sizable number of jobs exist in the county but that a high number of people choose to live in another county and commute to Franklin County.
"We have 23,000 housing units and 46,000 jobs," Bradshaw said. "… We don't have enough housing units to house the people that work here. That's why 18,000 people commute, because we don't have enough housing for them to move to."
Silver linings presented with the data include more than 500 homes bought in Franklin County this year, 115 of those by new homebuyers — a mark much higher than Woodford County with 49. 
New-construction home sales are also up from recent years, Bradshaw said.
Still, most KCDC board members voiced overall concern about the numbers.
"If we don't grow, it's going to be a Catch-22," Wells said. "You can't grow because your tax rates are too high, and you can't change your tax rates because you're not growing."
Wells said that in the county, housing numbers could rise soon if everything works out with a potential new development.
"We've got thousands of acres in the southwest corner of the county, and very soon a new sewer system is going to come into fruition and there's potential for a lot of new development in the southwest corner," Wells said. "We have a lot of potential both downtown and in our county, and it all hinges on whether the elected officials and utilities can come together and make it work for everybody."