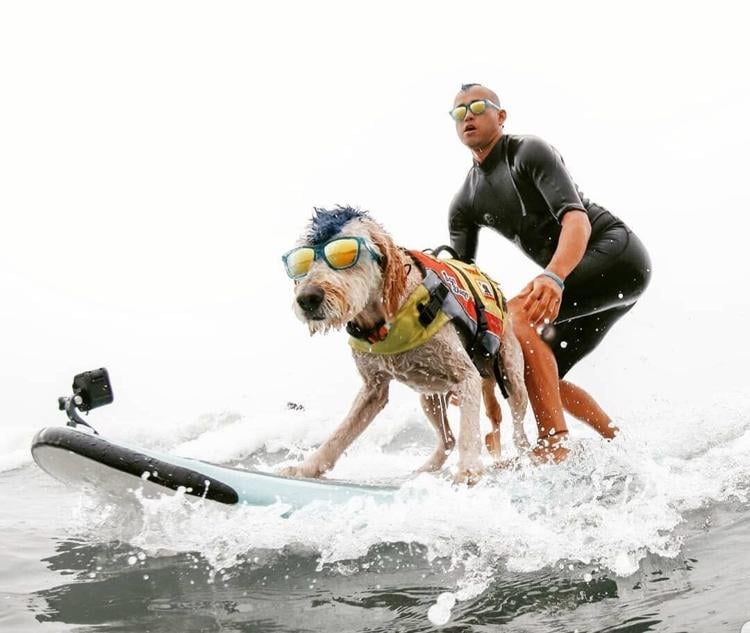 Frankfort native Kioni Gallahue is relatively new to surfing — as is his dog, a Goldendoodle named Derby. Still, the duo's newfound penchant for catching a wave caught the eye of a reality television show producer at Amazon Prime.
The pair will be featured on the streaming service's reality show "The Pack," a contest series similar to the Amazing Race but for human-dog duos.
It started with a spontaneous decision. 
The 1998 Frankfort High graduate had been living in the Atlanta area and working as a bartender for several years; one day, he'd had enough. 
"Drugs and alcohol started to take place and I needed to get out," Gallahue said. "Four years ago, I packed up my truck and me and Derby drove four days to get to San Diego."
Being the adventurous type, Gallahue decided to take up surfing in his new hometown.
He started out with buying a cheap board from Costco, leaving his furry friend within earshot while he practiced his balance. That didn't quite work out how he expected.
"When I was learning how to surf, he kept swimming out and I was like, 'Dude, go play with the other dogs,'" Gallahue said. "Then one time I pushed him on the board and he just rode a wave all the way to the beach … . I was proud, but I was also pissed off because I was trying to learn how to surf and he just beat me to it."
Then, Kioni — who started going by "Kentucky" early in his time in Atlanta — and Derby started hitting the local dog-surfing tournaments. 
Gallahue said that the pair started placing high just a few months after taking up the sport.
At some point, Gallahue made an Instagram account (@Derbycalifornia) for his dog, and started to style both of their hair-dos in eye-catching blue mohawk.
Then the executives from Amazon Prime came calling.
"Truth be told, Kentucky and Derby are the same living creature," Jay Bienstock, one of the show's three executive producers, told the San Diego Union-Tribune. "... Their bond was solid, and you could see that they get a lot of happiness from one another. The fact that they dress alike and have the same hair-do was a bonus. And then there's their names. You just can't write this stuff."
The show was taped last year and pits human-dog duos against one another to complete several challenges that require close cooperation and discipline.
Gallahue gave Derby a lot of the credit for being such a loyal and energetic companion.
"He's very lovey," Gallahue said. "All he wants to do is just hang out with me and go on whatever crazy adventure I end up going on."
Gallahue said that while he and his siblings all live out of state, the state of Kentucky and the city of Frankfort are near and dear to his heart. 
His father passed away in 2007, but his mother, Tess, still lives on a farm near Switzer, Gallahue said.
"My mom is Filipino and my dad is white," Gallahue said. "The Gallahues are from Frankfort. He met my mom when he was in Hawaii with the Army. When they moved back, they gave us all Hawaiian names."
Amazon Prime's "The Pack" hits the streaming service Friday.
"My mom will be happy," Gallahue joked.
In anticipation of the show's release, Gallahue said that he's working on a "Derby California"-branded hoodie — for dog and human — as well as a children's book and cartoon.
"It's going to be an amazing show," Gallahue said. "We're not being intense about it, but we hope to capitalize on the 15 minutes of fame."