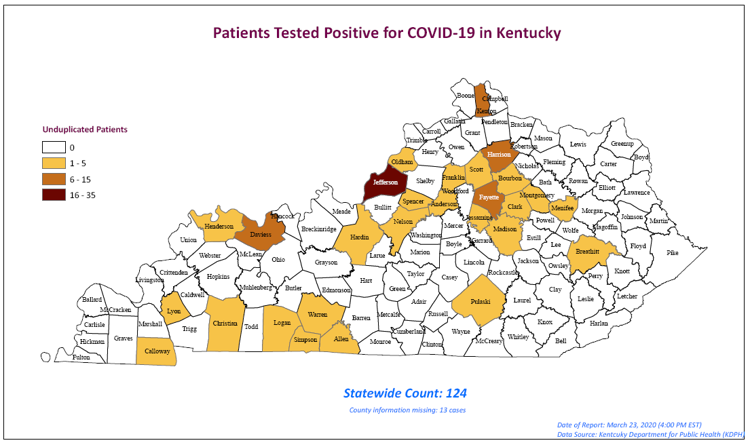 Positive coronavirus cases across the state rose by nearly two dozen on Monday.
Gov. Andy Beshear said at his evening press briefing that Kentucky had 124 positive cases — two of whom are Franklin County residents. He said the number of positive tests will likely continue to rise as more labs are doing testing. Another lab started up on Monday and two were added over the weekend.
However, Beshear believes COVID-19 is more prevalent than testing shows and that the number of cases will escalate quickly in the coming days.
"Just because there is no positive case in your county doesn't mean the coronavirus is not there," he said. "It's in every county."
A fourth Kentuckian, a Lexington woman in her 80s with underlying conditions, has died from the coronavirus.
The governor also announced that security measures will be stepped up at hospitals and health care centers. Local officers and state troopers will be on hand and the National Guard will be added in the near future.
"I just want to make sure if we do see a spike in cases that we can take care of everybody in an orderly fashion," Beshear said.
The state has also added a COVID-19 hotline for those people and business who are not in compliance with state orders.
"This is an opportunity for us to know what you know," he added.
The reporting hotline is 1-833-KY SAFER (1-833-597-2337) is open from 7:30 a.m. to 9 p.m.