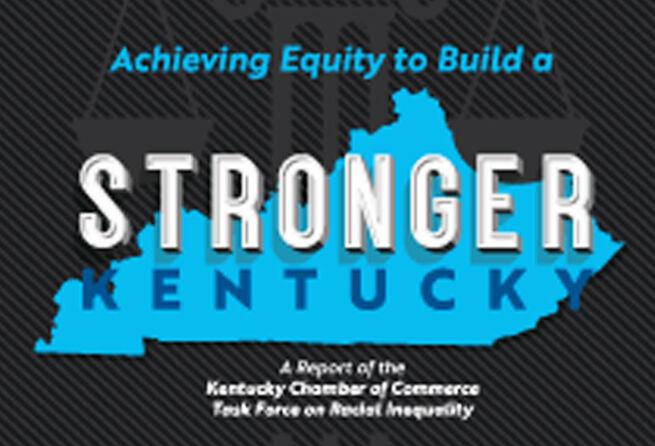 The Kentucky Chamber of Commerce on Tuesday issued a report on racial inequality that lays out the steps required to make progress in the state.
"Achieving these goals will lead to greater productivity for businesses, increased tax revenue to support education and other critical programs and, of particular importance on an individual level, a better quality of life for Kentuckians," the report noted.  "In short, the entire Commonwealth will share in the benefits of achieving equity." 
The task force described the areas of education, criminal justice and economic empowerment as critical elements of building a more equitable society in Kentucky. It also pointed out that the report is the first step in what will be ongoing initiatives of the Kentucky Chamber to identify and address inequities in the state's public and private institutions, policies and programs.
In education, the report includes recommendations to close achievement and opportunity gaps, address disparities in school discipline and increase postsecondary enrollment and attainment for Black students. These include:
• Greater transparency about the problems and public distribution of information about gap-closing efforts that achieve or fail.
• Specific accountable action plans to address the problems.
• Building awareness about postsecondary costs and outcomes.
• Training to mitigate implicit bias.
In criminal justice, the report stated, "There are few areas of American society where racial disparities are as profound and as troubling as in the criminal justice system," and recommended several steps:
• Greater transparency about arrests, convictions and incarceration rates for adults and juveniles.
• Required racial impact statements before criminal justice policies are implemented.
• Programs to improve the chances of success for people leaving prison and other reforms.
The report also has recommendations to move toward equity in economic empowerment. Among them:
• Targeted actions by government to provide detailed reports on the impact of economic development programs, public contracting and business set-side programs and to eliminate disparities.
• Identifying barriers faced by people of color to employment and housing.
• Assisting Black-owned businesses to attain certification.
• Creating a state Black Entrepreneurship Council to guide effective initiatives.
• Identifying employment opportunities for people of color leaving the criminal justice system.
"Learning from the lessons of the past year, Kentucky has an unprecedented opportunity to build a stronger future by making deliberate, sustainable reforms to overcome the racial inequality that has hampered our progress for so many generations," said Kentucky Chamber President and CEO Ashli Watts.
"This is serious work and will require the commitment, energy, and ongoing attention of employers, business leaders, policymakers, elected officials, educators, and committed citizens across the Commonwealth."