One day while driving downtown, Larry Montgomery noticed the armed services monument in front of the Franklin County Courthouse.
He didn't like what he saw.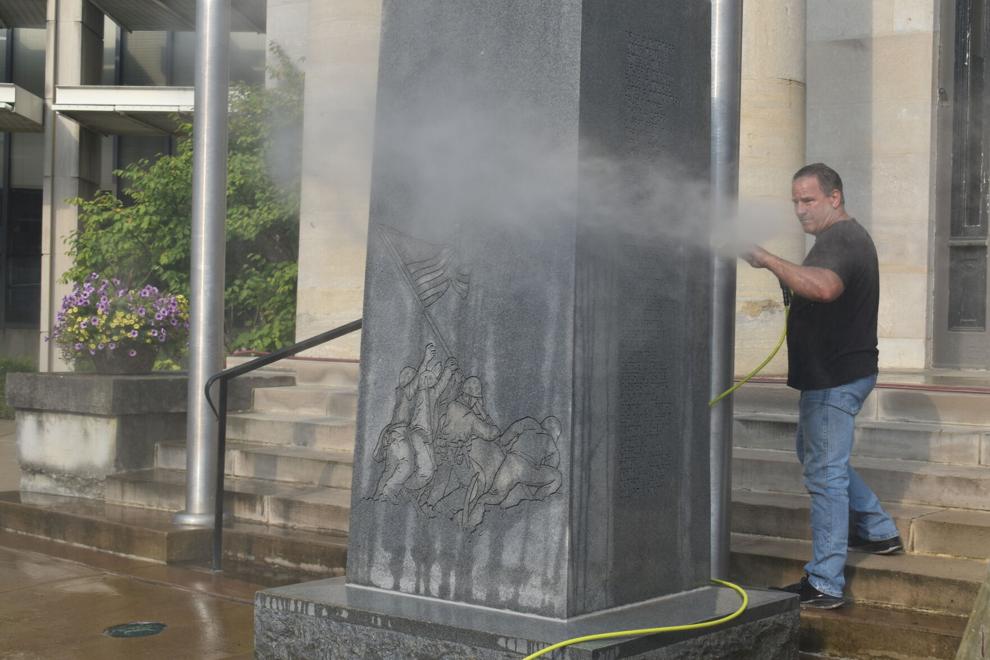 "My morning ritual in the summer is go to the Farmers Market and then drive around," Montgomery said. "One day I was driving past the courthouse and noticed the monument. I pulled over and got out to look at it."
What he saw was a monument dirty with soot, one that needed cleaning.
"I talked to Bernard (Green) and Mark (Skeeters) and said 'what about making this a Saturday morning project?' Everyone said sure," Montgomery said.
Montgomery also called Judge-Executive Huston Wells for permission and to be sure water would be available for the power washer.
Permission was granted, and on Saturday the American Legion, VFW Post 4075 and Elks Lodge No. 530, in cooperation with the Franklin County Fiscal Court, came together to clean the monument.
Green is the VFW post commander, and Skeeters is the exalted ruler of the Elks Lodge. Montgomery is a member of all three organizations.
"We got together and we're getting it done," Green said.
The monument contains the names of Franklin County residents who died while serving in the military in World War II, the Korean War and the Vietnam War.
The names of Franklin County residents who died during World War I aren't on the monument, but they are remembered with a plaque inside the courthouse.
"We did a little research and were able to get those names and have the plaque placed inside the courthouse," Montgomery said. The VFW paid for the plaque.
No Franklin County residents died in the line of duty during the wars in Iraq and Afghanistan.
"We had plenty to serve but fortunately no deaths," Montgomery said.
Saturday's cleanup tied in with the 20th anniversary of 9/11.
"We all agreed this was kind of a patriotic activity on 9/11," Montgomery said. "We'd like to make this an annual event on 9/11, to come together and clean this monument."