Unless legislators can lessen pension obligations for the state's health departments, residents in some counties may see cuts in services, the Kentucky health commissioner warned this week. Fortunately, thanks to advance measures — in particular, an increase in the health tax rate last year — Franklin County is prepared.
"The Franklin County Health Department has always been extremely fortunate to have the full support of our community," said Judy Mattingly, FCHD director, who told The State Journal that the department foresaw the increase in employer retirement contributions and approved a significant increase in the health tax rate on May 31, 2018.
The rate, which has allowed the health department to meet the additional expenses, was raised from 57.5 cents per $1,000 of assessed property value in 2017 to 72.5 cents last year.
"All FCHD team members have also worked diligently to decrease expenses in other areas, such as overtime, supplies and travel cost," Mattingly said.
As of July 1, health departments will see their pension obligation increase from 49.47% to 83.43% of payroll — unless the legislature intervenes in a special session. In April, Gov. Matt Bevin vetoed a bill that would give health departments a temporary reprieve.
Since then, Bevin has offered an alternative plan and stated his intention to call a special session to consider it, but the governor has struggled to secure the votes needed for passage before the looming deadline.
"The KRS employer contribution rate for quasi-agencies such as local health departments is unsustainable for many local health departments and any changes experienced in those counties are necessary to meet these costs," Mattingly said.
State Health Commissioner Dr. Jeffrey Howard warned that without relief, 64 health departments could be forced to close in the next two years after running out of reserves. Franklin County will not be among them, according to Mattingly.
"Over the past five years, FCHS has been able to add to the unrestricted reserve totals to try to meet the state-recommended minimum, which is approximately three months of operating expenses," she said. "We were able to balance the fiscal year 2020 budget without utilizing unrestricted reserves."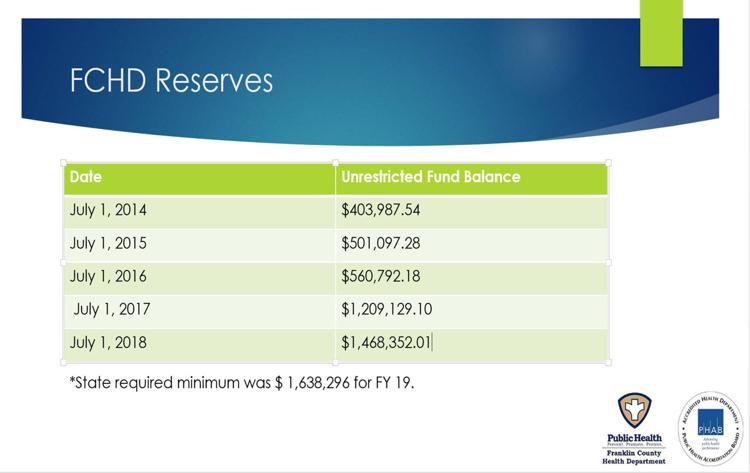 That isn't the case in neighboring Anderson County, where officials raised the health tax rate from 30 cents per $1,000 in assessed property values to 52.5 cents to pay for more than $140,000 in additional pension obligations. Without the hike, the Anderson County Health Department was faced with running out of reserves within a year.
But raising taxes isn't a popular option among elected officials in the 113 Kentucky counties that have a health tax. Only five of the 23 counties that have reported next year's tax rate — the state accepts tax resolutions through early October — have proposed an increase, according to Mike Tuggle, the state health department's assistant director for administration and financial management.
In an effort to keep local health departments sustainable, Howard announced a plan that he claims would assure the survival of and ultimately improve public health in Kentucky.
"His plan is often referred to as 'focus, prioritize and simplify' public health," Mattingly said. "Each local health department has been tasked to focus on and prioritize the services that are most important to their communities and to not duplicate services if they are available from another provider."
For example, breast and cervical cancer screenings may be available through Federal Qualified Health Centers, she said, adding Howard is allowing each community to determine its needs and whether it is able to financially sustain programs.
Locally, there are currently no plans to eliminate any programs or staff, she said.
"FCHD plans to continue business as usual in fiscal year 2020," Mattingly said.