The first time Sean Sullivan competed in the 3M Scott Firefighter Combat Challenge and the FireFit Competition in 2007, he failed.
"It was the worst thing I've ever done in my life," he said. "It took me two minutes and 42 seconds to finish the course. And when I got to the top of the staircase, I thought I was going to die."
The obstacle course simulates real firefighting conditions. In full gear, competitors climb five flights of stairs while carrying a 45-pound hose pack rolled up over their shoulder. At the top of the stairs, the hose pack is hoisted to the top of a rope and put in a box. After climbing back down the stairs, competitors have a series of other tasks to complete, including "rescuing" a 6-foot tall, 175-pound dummy.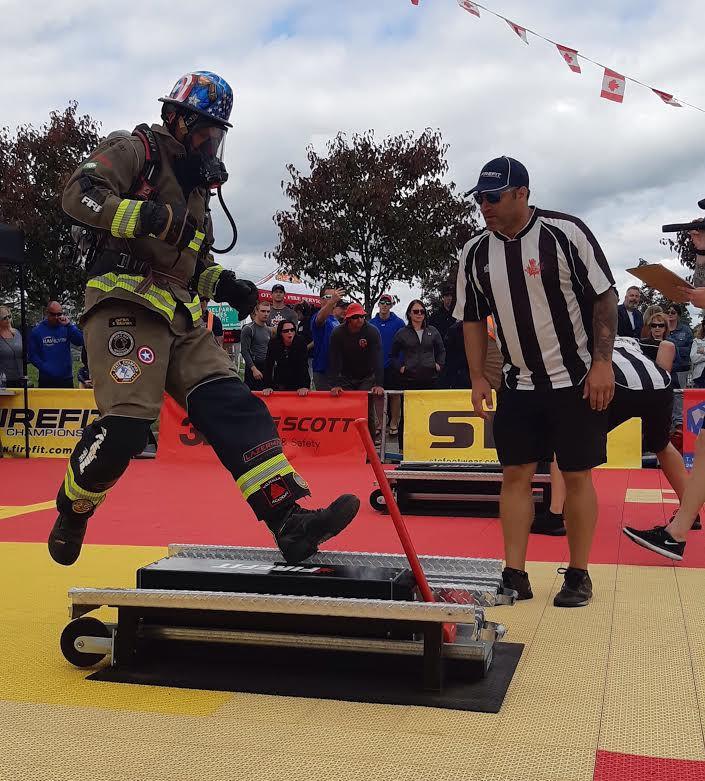 The world record for the competition is one minute and 10 seconds.
Although Sullivan was not as prepared as he had hoped for that first competition, he kept trying. Now, the 45-year-old is a record-breaking world champion with personal record times of one minute and 31 seconds and one minute and 26 seconds.
Sullivan is also a master sergeant in the Air Force Reserves and retired captain with Frankfort Fire and EMS. He enlisted and began training as a firefighter for the Air Force Reserves in 1994 and became a firefighter in Frankfort in 1997. He retired from Frankfort Fire and EMS in 2017.
When he isn't working with the 445th Civil Engineering Squadron at the Wright-Patterson Air Force base in Dayton, Ohio, or training for his next competition, Sullivan is a stay-at-home-father to his three children: Jaiden, Maddie and Kaleb. 
Between competitions and the Air Force Reserves, Sullivan has traveled all over the world, including Canada, England, Germany, France, Qatar, Kuwait and Iraq.
The last 12 years of hard work and setting goals paid off when he won his first FireFit Competition World Championship in the chief's division in September in Ontario, Canada.
In the Firefighter Combat Challenge World Championship in October, Sullivan became a World Champion in the Over 45 Tandem Competition in Montgomery, Alabama. Sullivan won the tandem competition with Tom Clasen of the Waukegan Fire Department in Illinois. They're also National Champions in this same challenge.
Sullivan trains on his own here in Frankfort by running the steps at the Capitol building and with a team from Lexington. Sullivan is sponsored by Lakeland Fire.
What's next for Sullivan? He's not sure.
"I always said if I got a world championship ring I'd retire. Well, now I don't know if I want to retire," Sullivan said.
Sullivan has suffered some injuries over the years, including a torn rotator cuff and bicep. He's also dedicated to his family. All of those things he will consider as he decides whether to keep competing.
Sullivan said he cannot thank his wife, Mary "MJ" Sullivan, and their children, Lakeland Fire and the 445th Civil Engineering Squadron enough for their support.