Franklin County has a new celebrity on its tax rolls.
A limited liability company formed by University of Kentucky Athletics Director Mitch Barnhart and his wife, Connie, paid $1.4 million for 222 acres on Leestown Road east of the Frankfort city limits, according to Franklin County Property Valuation Administrator's Office records.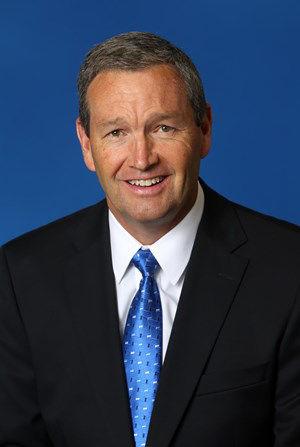 Barnhart, when contacted by The State Journal, confirmed the purchase in a written statement.
"Kentucky has become home for our family these last 17 years," he wrote. "We were looking for a place where we could see ourselves long term and that's exactly what we are blessed to have found.
"We're excited to join a new community and looking forward to making new friends on this next phase of our Bluegrass journey."
The property covers 222.79 acres and includes a one-story brick single family house and a barn. On its back end, the land is fronted on three sides by Elkhorn Creek. 
Frankfort real estate developer Frank Haydon, the property's previous owner, said the land has about a mile of creek frontage in all.
"It's beautiful," he said.
Haydon's G&F Farms LLC purchased the property for $795,000 in 2016, according to PVA records. The sale to Blue Crosses LLC, Barnhart's company, occurred in July.
Barnhart came to Kentucky in 2002 when he was hired as UK's athletics director, the same position he held at Oregon State University from 1998-2002. He's currently the longest-tenured athletics director in the Southeastern Conference.
In April 2018, Barnhart signed a contract extension which will keep him at UK until at least 2023. Barnhart's base salary is $925,000 annually, and he could make more than $1.1 million by 2023 with an option for 2024.