Madgel Cleveland loves gardening and education, but the most important thing in her life is her family.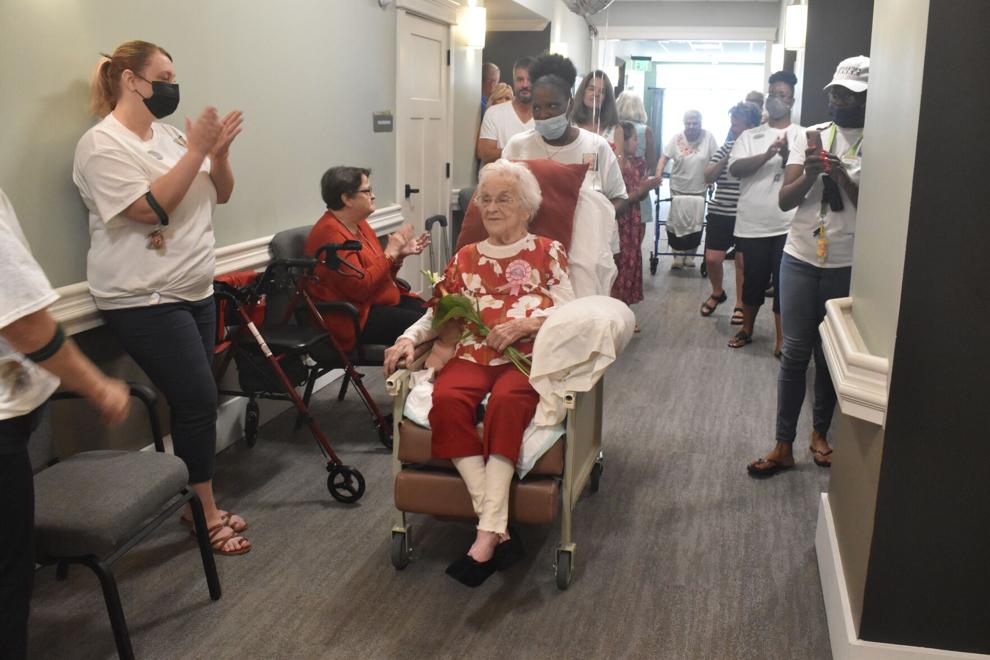 On Friday her children, grandchildren, great-grandchildren and friends gathered for her 101st birthday celebration at Dominion Senior Living of Frankfort.
"My children are wonderful," Cleveland said. "They're just really good. They wouldn't ever be bad."
Cleveland was born July 10, 1920, in Churdan, Iowa, and grew up on a farm. She met her husband, Roger, at Iowa State University.
Roger Cleveland sold insurance to large companies, and the family lived in Iowa, Indiana and Illinois before making Kentucky its home.
"Dad wanted to settle in Kentucky because it had four seasons," Caroline Collins, one of the couple's daughters, said.
The Clevelands had eight children, and they moved with their five youngest children from Louisville to Frankfort in 1966. The three older children were in college at the time.
Madgel Cleveland continued her education, earning a bachelor's degree from Kentucky State University in 1969 and a master's degree in social work from the University of Kentucky.
She was part of the first graduating class at the master's level in social work at UK.
After graduate school, she helped write the grant to start the social work degree program at KSU, and she taught there.
"Education is very important to us," said Cathy Catlett, one of the Clevelands' daughters.
Seven of the Clevelands' children earned bachelor's degrees, and several went on to receive master's degrees.
Madgel Cleveland was active in one of Frankfort's garden clubs, and while living at home kept sweets on hand for her family.
"She loves her family," Rhonda Brooks said. Brooks, a certified nursing assistant at Dominion, has taken care of Cleveland for five years and currently stays with her during the day.
"She can name all her children in order by age," Brooks said. "She's the sweetest lady. She's the oldest one here, and everyone babies her, the residents and staff."
Brooks said Cleveland doesn't complain, something her family said has been a trait of hers for years.
"She's the greatest grandma I've ever known," said Tony Cleveland, one of her grandsons. "I have a memory that's not a great one, but it turned out good."
Years ago an addition was being put on the Clevelands' house with a garage at the end of it. A new driveway was about to be poured, and it had been dug out and prepared with wires and bars.
Madgel Cleveland went outside to get the mail one day and got her feet tangled in the wires.
"She falls on her face, and I take off running to her," Tony Cleveland said. "She pops up off the ground, says a few choice words, went around the house and came back and said she's fine."
"When someone's complaining she's always saying 'buck up,'" Dickie Collins, Caroline's husband, said.
"And she's so sweet at the same time," Caroline Collins said.
Caroline Collins said her mother is an avid shopper.
"Mom loves to shop," she said, "and every time she shops she has to buy something, some little treasure."
Cleveland's family has expanded to 21 grandchildren and 21 great-grandchildren, and many were at Dominion Friday.
"It's the closeness of the whole Cleveland family," said Emily Cleveland, Tony's wife. "It's just wonderful being around all that love."