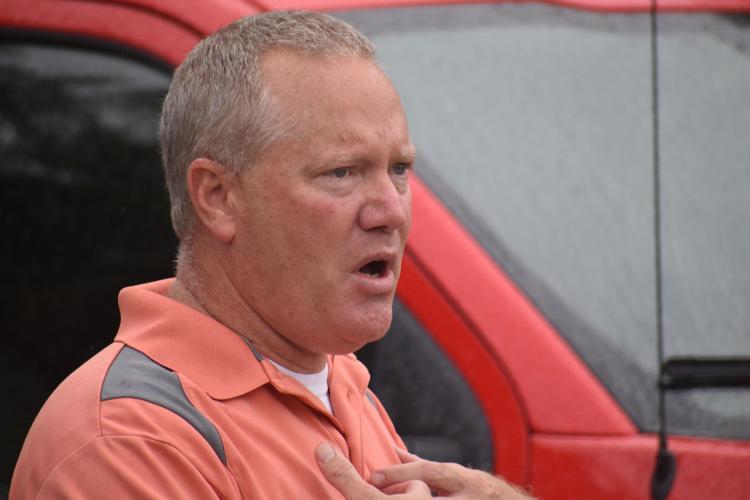 What appears to be one of the long-awaited justifications for the firing of former City Manager Keith Parker has surfaced, as The State Journal obtained a personnel complaint filed against Parker just before his Aug. 10 dismissal.
The complaint was filed Aug. 3 by a then-employee in the city's Information Technology (IT) Department. In the complaint, the employee claims that Parker made her uncomfortable and afraid of losing her job after a phone call and a meeting between the two in late July. 
The employee later filed a "problem resolution," asking to stay in her department, to not be put in a similar situation again and for the city to look into bringing on something like an ombudsman.
Mayor Bill May, who voted along with Commissioners Eric Whisman and John Sower to fire Parker, said that "the document speaks for itself." 
May added that he couldn't say anything about what happened but signaled that it was one of the previously hinted-at reasons for the commission's 3-2 vote to fire Parker "without cause." He said he had heard about the complaint just a couple days after it was filed.
"This needs to get out there in the interest of openness and transparency," May said "… Having not been able to talk about this is very frustrating."
Parker, in a response to The State Journal, questioned the timing of that complaint relative to his firing and compared it to the previous complaint against him by a landscaping company and sent to Sower.
He called the newly surfaced complaint "innocuous" and said that he contacted the employee at the time because he had heard from a third party that she was already fearful for her job and wanted to do more within the IT department. He said it's an action that, as a manager, he'd do again.
The State Journal elected not to publish the name of the IT employee, who left for a different job the day after Parker was fired, according to Parker.
IT Director Bobby Ripy confirmed to The State Journal that he signed off on the employee's complaint. He offered no further comment.
All four city commissioners elected not to comment on the complaint, with Commissioners Scott Tippett, Sower and Whisman citing its sensitive nature as a personnel matter.
Waldridge said she had not seen the complaint. Waldridge has been a vocal defender of Parker in commission meetings since his dismissal.
Content of the complaint
The employee said in the complaint that Parker first called her just before 6 p.m. on July 28 and asked her how things were going. He later said that he didn't think anyone in the IT Department was happy and that he was going to "fix it," according to the complaint.
She wrote that Parker wanted to move her out of the department because it was an "awkward" situation, and started to "brainstorm" where he could move her. 
She wrote that he told her that if she moved they would have to make it look like "a good plan," because the commission, particularly Whisman, would question everything he did.
"I voiced to him that I was nervous and confused," she wrote. "Then the conversation shifted away from me and on to his anger, frustration, and the work performance of the IT Director, which was uncomfortable to hear."
That same day, Aug. 3, the employee filed a "problem resolution," asking that she no longer be put in a similar position, she stay in the IT Department, that she not be used "as a pawn," and that the city develop a system for handling such situations.
She met with Human Resources Director Kathy Fields and City Attorney Laura Ross, who in documenting the situation noted that complaints against the city manager were rare.
According to another followup written by Ross, Fields delivered the employee's complaint to Parker on Aug. 6, a Thursday. Parker would have had until Aug. 11 to respond to her complaint, but he was fired on Aug. 10.
But on Aug. 15, when both Parker and the IT employee were no longer on staff, Parker wrote a response to Ross.
"It is starting to look like there was a concerted effort by the Commission to trump up charges on the City Manager," Parker wrote. "... As City Manager, I have a right and duty to supervise all city personnel and ensure all departments are being managed appropriately and running smoothly."
He said that his actions with her were in response to another employee saying that she had come into that employee's office upset and worried about her job.
On Aug. 18, Ross followed up with the employee regarding a conversation that morning to clarify two facts that Ross labeled "important."
Ross said that the employee had relayed to her and Fields that she did not share her complaint form with any commissioners and that "nothing in (her) complaint form suggested that (she) wanted any personnel action taken against the former City Manager."
Much later, the complaint appears to have been made a public record on Oct. 12 by Parker's replacement, interim City Manager Tom Russell, as well as Ross and Fields.
"We have determined that there is no need for any action to be taken against the previous City Manager (Keith Parker)," they wrote. "... Reason being neither person is still gainfully employed by the City. We consider this issue closed and this statement will be added to the appropriate files."
Parker's response
Parker has told The State Journal repeatedly that the city commissioners who voted to fire him — May, Whisman, and Sower — as well as Scott Tippett, who voted against it, have been trying to "trump up" reasons for his dismissal.
He considers this to be an example of that effort. 
"I have been a supervisor at the City of Frankfort since March of 2016," Parker said. "And I had two complaints, one personnel and one contractor, filed against me just before the commission fired me without cause."
He said that the "bigger story" is that city commissioners were involved in both of those complaints. He referenced Sower's connection to the complaint previously filed by McClain's Mowing Service, and he also said he heard that Tippett met with the employee after Parker's meeting with her.
"I was told the employee that filed that complaint reached out to Commissioner Tippett after I met with them," Parker said. "I wonder if the release of this innocuous complaint was coordinated by the mayor or commission to help their case. Why drag IT employees into a decision that was decided well in advance of this complaint?"
Tippett allegedly told Bradshaw and Parker before the Aug. 10 meeting that May "had three votes" to fire Parker.
Now, Parker also says he had another conversation with Tippett prior to his firing and after his conversations with the IT employee in which Tippett told him to leave Bobby Ripy, the IT director, alone.
"He was familiar with some of the issues and he told me Bobby was well liked by several members of the commission and the mayor is trying to get him (Tippett) to come along with them to fire me," Parker said. "I advised him that I hadn't taken any personnel action against Bobby and all I have done is asked him to make some changes to help improve IT. How can I do my job if when I ask a department head (Ripy) to do something and they don't like it, they run to the commission?"
Previously, Tippett told The State Journal that his vote against firing Parker "speaks volumes."
Parker also disagreed with some of the facts in the IT employee's complaint. He said that he believes the recollection of the initial phone call to be true, but he disputed parts of the account of the in-person meeting.
He said that the part of the complaint where the employee says she voiced to him that she was "nervous and confused" about his discussion isn't true. 
On the comment about having to make the employee's potential move look like "a good plan," Parker said that he meant it to protect both Bobby Ripy and the employee.
"That was a protection for her and Bobby," Parker said. "If I move her away from IT, it either looks like she or Bobby is a bad employee."
Overall, Parker said that he was "caught completely off guard" by the employee's complaint, and she was a good friend of his.
"I have to say I am truly stunned by (the employee's) statements and recollection of our meeting, as nothing in our conversations indicated she had these concerns," Parker wrote in his response to Ross on Aug. 15. "... I hope she will get a chance to read my response and maybe it will explain why I initiated the meeting. In the end, my actions were necessary because I was concerned about an employee feeling insecure about their employment and I feel a complaint saying I caused that fear after the fact is unjust."