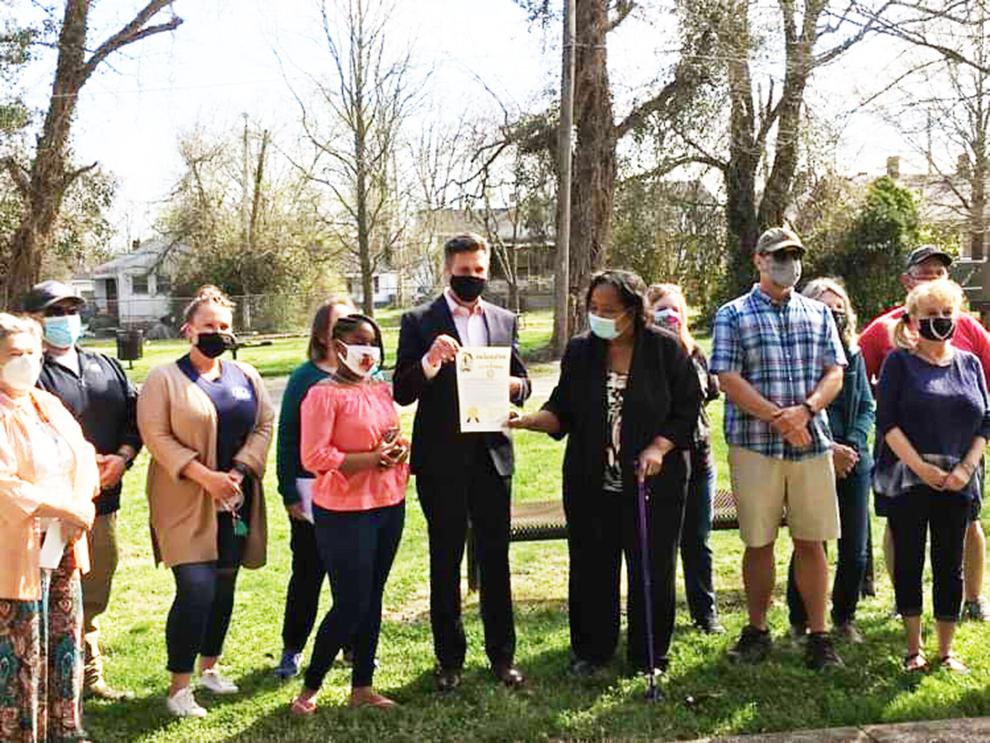 While enjoying spring sunshine at Dolly Graham Park, the Frankfort Earth Day Coalition gathered Thursday to applaud Mayor Layne Wilkerson's proclamation of April 18–24 as Earth Week in Frankfort.
The 2021 Earth Day Coalition, convened by Together Frankfort, includes 10 organizations representing not only local and statewide environmental, community and outdoor recreation groups but national social justice organizations. Together Frankfort Chair Barbara Hadley Smith and South Frankfort Neighborhood Association President David Stumbo welcomed everyone to the proclamation signing and encouraged citizens to participate in 2021 Earth Day activities.
Second Street eighth-grader Larissa Bush read the proclamation, which recognized virtual Earth Week programs coming up at Kentucky State University's Environmental Education Center, ongoing art programs connecting art with nature at Josephine Sculpture Park, and Earth Day cleanup events. Reading from the proclamation, Bush emphasized that April 22, 2021, marks the 51st anniversary of Earth Day, established in 1970 when 20 million Americans called for greater protections of the land, air and water resources.
Together Frankfort member Lynn Cruz described Earth Day opportunities, as well as those planned for Frankfort's parks.
The city of Frankfort's Parks, Recreation and Historic Sites officials have provided technical assistance and planning advice to the coalition to organize "Celebrate City Parks Trail Walks on Earth Day." On Thursday, April 22, from 3-5 p.m., citizens can participate in a guided trail walk scheduled for four of Frankfort's eight city parks: Cove Spring Wetlands Trail; Dolly Graham and Fantasy Forest; Leslie Morris Park at Fort Hill; and River View Park.