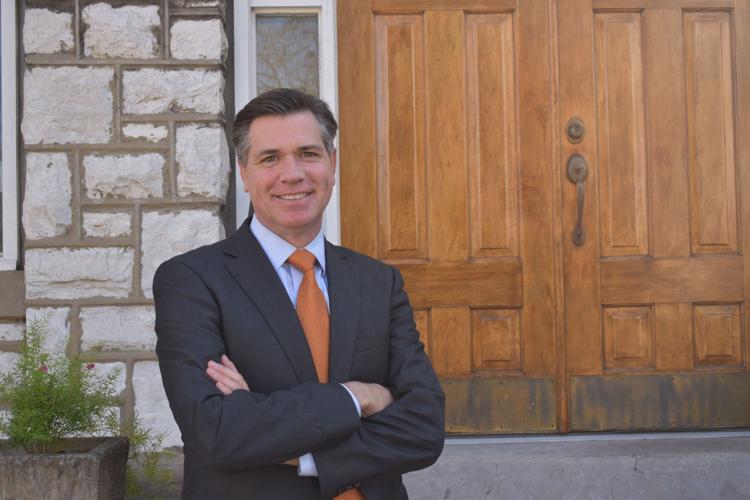 Editor's note: After the dust settled on the Nov. 3 general election, in which Layne Wilkerson bested Tommy Haynes by one percentage point to become Frankfort's mayor, The State Journal's Austin Horn sat down with Wilkerson for an interview that touched on several issues facing Frankfort.
Below is part 1 of that interview. Part 2 will be published later this week. Questions and answers have been edited and condensed for clarity. 
Q: My first question for you is very hard-hitting: What do you like to do for fun?
A lot of my free time is spent with my three daughters with all their activities. So a lot of our nighttime schedules revolve around that. Other than that, when there's not a pandemic, I like to travel. I also love concerts and music. I've got a lot of music books here. Those are the big things I miss: going to concerts and traveling.
Q: Who's your favorite musician or musical artists?
I'm old school, and I'm a child of the '70s. I grew up listening to Beatles, Stones. You know, what I would call a radio rock. The Beatles and the Stones are the biggies, and then David Bowie and Elton John — stuff like that.
I don't really get into the newer stuff. When I was growing up, I listened to a lot of hip-hop. Back in the day, KSU for homecoming would bring in the biggest acts at the Convention Center — Public Enemy, MC Hammer, Too Short, Boogie Down Productions. I was front row in high school when I went down and saw Public Enemy. There were two or three years in a row when I was in high school where they had the biggest acts. 
Q: You said that you've spoken with the current mayor a couple of times and the current commissioners. Have you spoken with everybody, including the incoming commissioners?
Incoming commissioners, yes. We've at least had congratulatory conversations, and we're making plans to talk more. We want to make sure we're on the same page. We're working on getting a transition team for myself to help with things I need to be considering.
With the incoming commissioners, I think they're all people I can work with. Knowing what their priorities are and what they want to get accomplished, we'll try to make those happen. Hopefully, there are a few decisions at the start where we can get some consensus.
The things that everybody says everybody agrees, saying, those are the things we'll try to attack. Yeah. And then also smaller things, too. Now there's the big things, the big decisions we're about to make, the smart things to do, I would like to do some low-hanging fruit stuff where we can do — decisions we can make that are things that we can do that are smaller. I think we should tackle just to get a series of, I like to get a series of smaller wins. Those accumulate, and they add up. I think it builds momentum too. And I think if we build momentum, if there's a lot of agreement on those smaller things, it just allows us to do bigger things.
Obviously, we're going to have some big decisions. There are things that are gonna come up that we don't even know about today.
Q: Currently, we're under an emergency order. It could technically end when Bill May leaves because he's the one who called it. If so, are are you going issue another emergency order? 
I'm still looking at that. That's one of the things I'm gonna visit with them (the current administration) about next week, and get their opinion on. The virus is still going to be here. But I will rely on the emergency management. I will rely on them heavily to see what they think.
Q: If you do issue it, do you plan on using it in some of the ways that we've seen already such as more control over the agenda, more control over public comments, and spending? 
I don't want to say always or never, but I think between those three things, agenda, yes, probably. Let's think that would be agenda, public comments, spending in that order, things I would want to look at. 
Spending, generally speaking, I would want to have the support of the commission on something like that. Particularly starting out, it builds goodwill. I think it's just I would want any major spending like that to have the support of the full commission.
Q: A natural segue there is Boxcar PR. Do you plan on using a similar service? I understand the contract is already up.
I don't plan on it. Some of that potential crisis has passed, with what we were seeing this summer. There were a couple weeks in the summer where there was a lot of stuff going on in and around the capital. I want to make sure our staff is well-trained on that stuff — crisis management and communications.
Q: You mentioned earlier that you were talking to commissioners about things they'd like to see done at the end of their two years. If you could make sure that one thing was complete at the end of your four years, what would that one thing be? 
It has to be Parcels B and C. I would say the Downtown Master Plan in general, but that's a big one, and there are lots of parts there. I think Parcels B and C done to our satisfaction is huge — getting something there that we want, that we expect.
A long-term goal is to increase the population of Frankfort. I don't want people to hear that and think "more congestion, more traffic, higher prices," but we do have to have population growth.  
Q. I've got to ask about city manager. You earlier said that you would not want the current commission to hire a city manager. Is that a position that you stand by? Are there any caveats to that, in terms of them taking some kind of intermediate step, or is your position you want things to stay as they currently are until you take over in January?
I don't get the sense that they are looking to do anything. I'd rather things stay the same until the new commission takes over. I entertain the possibility that they could go ahead and start the process to start advertising the position. They shouldn't decide who gets it.
Whoever the new city manager is needs to be decided by us because we're the ones who are going to have to work with the new city manager. I would rather us go into the new administration the same way things are right now just for the easier transition. As far as the timeline, I want to talk with the new commission and see.
Q: Something that you mentioned a few times in your campaign was "The Three Bs": Benson Valley, Buttimer Hill, and Bellepoint. What can you or the city do in terms of improving those neighborhoods and enacting whatever vision you might have for them? And what is that vision?
For one, helping resolve the Broadway Bridge. That's a financial and economic decision, I think. If it were free, if we could take over that bridge with no cost, I don't think anybody would disagree with that. It depends on what that price is and how much of that can be paid for by other people other than our taxpayers.
I do think that there is an amount — I don't know how much it is — that the city could make some investment towards it, because I think it's an investment. I do think that that side of the bridge there's a lot of potential. Buttimer Hill and epoint, there's so much great housing stock over there, and it's so close to downtown. They're great neighborhoods and there's a lot of opportunity there, and they're on the river. With Benson Valley I'm not sure what you could actually build back there, but with the marina there, there could be more opportunity to have access to the water.  
I think it also connects the walking trails. It would be great if you could cross over the Broadway Bridge and get back to do it. For now, you'd have to go Taylor Avenue, which is not ideal. So I would love for that to happen — Broadway Bridge in some capacity. It would help Benson Valley and really promote the neighborhoods of Bellepoint and Buttimer Hill.
Then promoting the neighborhoods, that's part of the incentive toolkit that I've talked about. If we could help with the cost, that'd be great. The problem is people have their own vacant lots but when you have to pay a developer, you can't get in rent what the price would be in terms of costs.
There's an economic value gap and the city can help close that. That's something I'm very keen to learn more about, find what other cities have done. I think a lot is just copying the best ideas out there.
Q: Is there any city out there in particular that you think is worth copying?
It's bits and pieces from everywhere. I like what Covington has done on some of their shotgun houses, like their neighborhood development. Louisville's land bank program, I would copy that.
Owensboro I would love to not exactly copy, but with their riverfront development I think that they've done a good job in terms of making a place where kids can go play. That's important.
Q: Another 'B' is the budget. Is there anything in particular, either a particular line item or a category of expense, that you would like to cut?
Not necessarily. And a lot of it is, you know, the majority is salaries and staff. Particularly during a pandemic, that's not something you want to cut. I'm not looking to do anything major like that.
But I have looked at the budget and gone over it with experts to just understand all the line items. There's still a lot to learn there. I'd rather raise the revenue and have more of a growth mindset than a fixed mindset. Instead of cutting, I'd rather raise the revenue from growing bigger.
Q: Going back to Parcels B and C, is there a percentage, in terms of this TIF (Tax Increment Financing) negotiation, that you're looking for in terms of city commitment, or even a dollar number? 
I would just say that I'm supportive of a TIF if it's not going to beholden the city to some long-term financial obligations.
Q: Have you read the Commonwealth Economics report that CRM Companies has provided?
I have a copy of it. And I've looked over it. And I've also heard the stories out of Paducah that they had the same, you know, same group in their report. And there's some question whether or not the numbers are too rosy. I could probably safely say that whatever they said we're gonna bring in, it's probably gonna be lower than that. I don't know if it's gonna be as bad as what some other groups predict. It's probably gonna be in the middle. I don't know exactly what to expect there.
But I know right now what we're getting out of that space and it's nothing. We've already lost what was there. Now we have what we have. Now that we can start all over, I would rather have residential downtown — walkable neighborhoods, incremental development. I don't like things being built up at once because they tend to age all at once just like the civic center. But that's what we have.
I'm not questioning their (Commonwealth Economics') numbers, I just know that another city has questioned their numbers. I'm going in with the expectation that they'd be lower. We have to be conservative. But again, what we're getting now is zero.