Thursday's special-called meeting of the Frankfort City Commission yielded no answers as to what city leaders discussed or the reason why the meeting was called in the first place.
On Wednesday, Mayor Layne Wilkerson announced the virtual meeting. The agenda included an executive session "which may lead to the discipline or dismissal of a commissioner."
According to the meeting notice, "the purpose of this meeting is to discuss allegations of misconduct by a sitting member of the Board of Commissioners."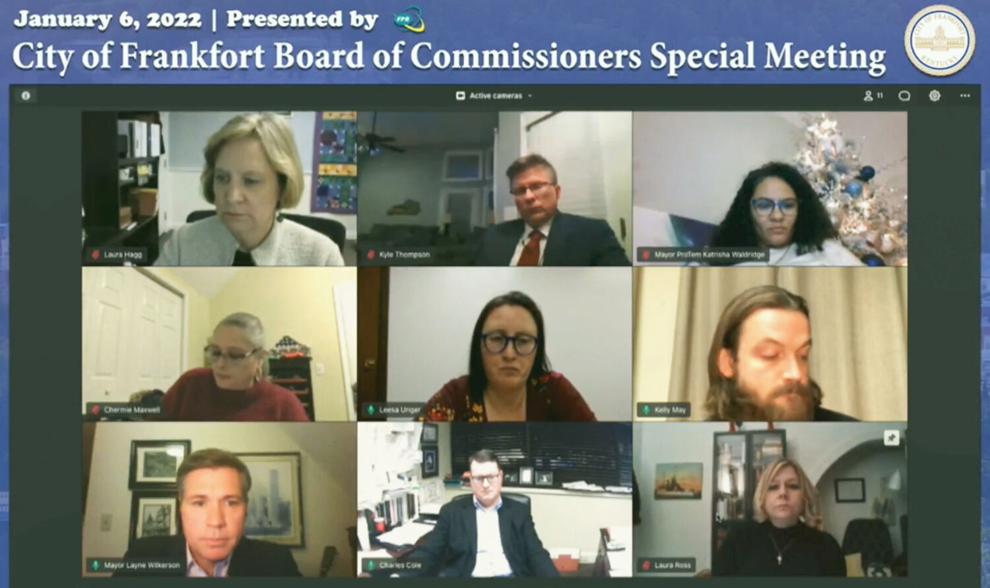 In addition to Wilkerson, all city commission members — Mayor Pro Tem Katrisha Waldrige, Kelly May, Kyle Thompson and Leesa Unger — were present. It still remains uncertain which commissioner's conduct was being discussed.
After the meeting was called to order the commission went into executive session to discuss the matter.
Per the agenda, any action was to be taken once leaders returned to open session. However, when city leaders reconvened following the nearly two-hour executive session on Thursday, Wilkerson said that the discussion would continue in a closed session following Monday's regularly scheduled meeting set for 5 p.m.
When the meeting began, all commission members, City Manager Laura Hagg, City Solicitor Laura Ross and City Clerk Chermie Maxwell were present. However, when city leaders returned from executive session, Charles Cole, an attorney for Sturgill Turner Barker Moloney PLLC, of Lexington, was also present.
Cole specializes in government services and municipal law and provides legal counsel to numerous Kentucky cities, counties, law enforcement agencies and other governmental and quasi-governmental entities. According to the law firm's website, Cole is knowledgeable in the areas of law that affect public entities on a daily basis, including personnel and employment issues, statutory and civil rights, annexation and land use, risk management, administrative law, and open records and open meetings laws.
In a statement released Friday afternoon, Ross said the city was made aware of alleged misconduct relating to a City Commission member on Dec. 19.
"City staff immediately took action to inform the Board of Commissioners during executive session at the Dec. 20, 2021 voting meeting and to proceed according to due process with an investigation of the allegations," she told The State Journal.
She added that Thursday's meeting followed all protocols of any special-called meeting of the Board, with appropriate notice, specific agenda and meeting protocol.
"The Board of Commissioners followed the legal process required by KRS 83A.040(9) for consideration of allegations of misconduct, incapacity, or willful neglect of official duties as a member of the Board of Commissioners," Ross stated.
"Any future action will continue to follow due process and be discussed again in closed session, per KRS 61.810(1)(f), with any official action taking place in open session."
Ross went on to add that the city holds its staff and elected officials "to the highest standards of conduct" and "will do everything in its power to maintain those standards."
"Therefore, the City takes allegations of misconduct extremely seriously and will always act swiftly to address allegations and ensure due process for all involved," the city solicitor said, adding that the city remains committed to serving the best interest of the citizens of the city in all matters.
She also stated any additional information regarding this issue will be released as it becomes available.
An agenda for Monday's meeting had not yet been made available before press time on Friday. It will be broadcast on Frankfort Plant Board Cable 10 and on Facebook at www.facebook.com/CityofFrankfortKY/.
On Monday, Hagg sent an email update to city staff on the search for a new police chief in order "to address some rumors that have been circulating." She did not disclose what the rumors are or if they were the reason for Thursday's special-called meeting.
In the email, Hagg stated that the search has been paused due to a legal matter outside of the police department.
"We need to address this legal matter first and then we will resume the process for hiring our next police chief," Hagg wrote.
She also said that FPD Assistant Police Chiefs Lynn Aubrey and Derrick Napier will continue to lead the department, per police department policy, as they have done in former FPD Chief Charles Adams' absence.
"I am fully confident in their abilities to lead the police department during our search for a new police chief," she wrote.
"I appreciate everyone working hard to keep the city running safely and efficiently."