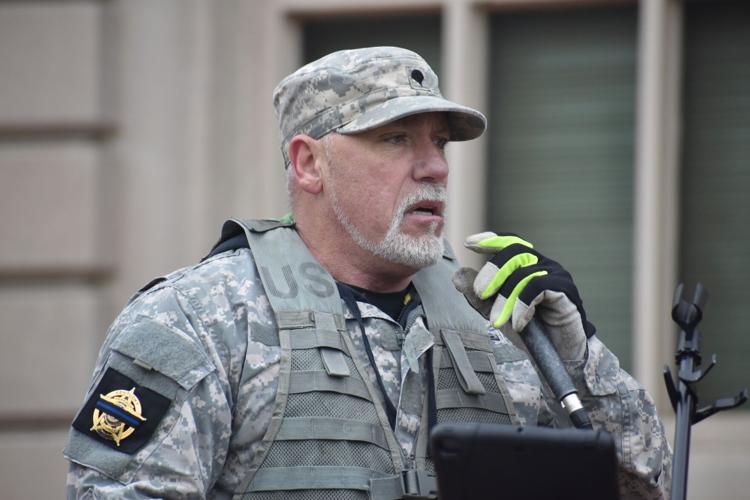 Kim Zimmerman said she made it all the way to the steps of the U.S. Capitol on Wednesday as part of the pro-Trump mob that infiltrated the building while Congress was certifying the results of the presidential election.
"It was good," Zimmerman said. "All the speakers were very powerful."
When asked whether she approved of those who stormed the building, the Fort Thomas native demurred and said she thinks "that many were antifa."
No such attempted rush on the Kentucky Capitol happened in Frankfort on Saturday as Zimmerman congregated with over 100 other protesters to express grievances over the election as well as other issues. The nearly three-hour event remained peaceful throughout.
The gathering took place during a rare Saturday session for the state legislature.
Zimmerman said her reason for attending the rally was mostly to object to Gov. Andy Beshear's use of executive orders to limit the spread of COVID-19.
She and others at the rally, including some of its speakers, repeated debunked claims about widespread voter fraud in the 2020 presidential election, which saw President-elect Joe Biden defeat President Donald Trump.
Some in attendance said that the rally was also meant to advocate for citizens' Second Amendment right to bear arms. Around half of those in attendance were armed, many with assault rifles. Several appeared to be affiliated with militia groups, with the Kentucky State Militia flag flying behind the speakers.
Several men armed with rifles, toting walkie-talkies and, in one case, a set of zip-ties appeared to be guarding the perimeter of the event. A number of attendees also wore patches with the insignia of the Kentucky 3 Percenters, a paramilitary group with ties to the hanging in effigy of Beshear this summer.
One attendee, Craig Jones, stressed that the protest was peaceful. Jones, armed with an assault rifle himself, distanced Saturday's event from what happened on Wednesday.
"None of us here agree with what happened there," Jones said. "If they had stopped at the doors, I'd have been in full support, but you don't go in there. That's hallowed ground."
Matt Ward — who showed up with targets strapped to his front and back, a bullhorn with the words "only you can prevent socialism" emblazoned, and a holstered banana — expressed support for Wednesday's riot.
"What happened in Washington D.C., was not a big deal compared to burn, loot and murder all summer," Ward, of Lexington, said. "… Compared to that, it's nonsense to call that a big deal. There comes a certain time when these types of behaviors are appropriate."
Ward also repeated baseless claims of voter fraud.
Some at the rally, including Patricia Oliver of London, collected donations of food and money. Oliver said the effort would go toward feeding those in need.
Speakers at the event included three candidates for public office, both future and past.
Johnny Rice, who said that he is running for governor in 2023, covered a range of issues over several speeches. He decried Beshear's executive orders as well as his handling of unemployment insurance, called for more help for the state's poor population, and sharply criticized Biden.
Rhonda Palazzo, a Republican who lost her 2020 bid for the U.S. House of Representatives against Rep. John Yarmuth, D-Ky., spoke in opposition to the results of 2020's general election. She said that Biden wouldn't take office on Jan. 20, his scheduled inauguration date, and quoted several foreboding passages from a website that contains "The Trump Prophecies."
"Rake the enemy over coals for the end-time battle ... stomp the enemy's head with bliss," Palazzo said.
James Toller, who ran as a Libertarian in state House District 78, also spoke.
Rice, who some in attendance said coordinated the event, repeatedly referred to supposed false reports of the protest turning into a statehouse version of what happened on Wednesday in Washington.
He said that he foresees a time for war and that his group could "take" the Capitol building if it wanted to.
"I want everybody to know the patriots have come to Frankfort, Kentucky, not to overthrow the Capitol as they are putting on Facebook right now," Rice said. "... If we want the Capitol, by God we'll take it, but that ain't what we're here for.
"We are peaceful people. We are here to protest a wrong that has been done to us each and every day. There is a time for peace and a time for war. I believe we're headed to it, but it's got to happen at its own time."
The event ended with some in attendance walking a lap around the Capitol building in honor of Ashli Babbit, who was shot by Capitol Police in Washington while attempting to move further into the building.
Beshear sent out a tweet on Saturday admonishing the rally.
"Three days after domestic terrorists attacked our U.S. Capitol, there was a militia rally in Frankfort," Beshear wrote. "They brought zip ties. We will not be intimidated. We will not be bullied. America is counting on the real patriots. Those who condemn hate and terror when they see it."