Editor's Note: This article was updated Monday, 1:06 p.m. to reflect that SB 63 did not call for strictly hand-counting ballots.
State Sen. Adrienne Southworth, R-Lawrenceburg, wants to go back to using only paper ballots and hand-counting them for Kentucky elections.
But much of the purported evidence supporting her argument, which Southworth and Steve Knipper shared at the lawmaker's "Restore Election Integrity" event at Paul Sawyier Public Library on Tuesday night, amounts to what election experts called misinformation, falsehoods and unproven conspiracy theories.
The presentation largely split into two parts — one, a policy argument against the use of voting machines led mostly by Southworth, who represents Franklin County in the state Senate; two, a repackaging of several disproven or unfounded claims related to fraud in recent American elections by Knipper.
State election officials and an election law expert at the University of Kentucky say that no proof of any such fraud in Kentucky has surfaced, and that they disagree with the argument for using only paper ballots due to cost and security issues.
Knipper, who was chief of staff with Southworth under former Lt. Gov. Jenean Hampton when both were fired by then-Gov. Matt Bevin, said that he believed that former President Donald Trump was the rightful winner of the 2020 presidential election. He also said that he thought the 2019 Kentucky gubernatorial election was stolen from Bevin.
Neither has been proven. Southworth, when asked if she believed that Trump and Bevin won their respective elections, deflected and said that there would be "more to come" on that front.
Haley Bradburn, a spokesperson for Secretary of State Michael Adams' office, said that Knipper had not provided any evidence to law enforcement, and that if he had legitimate evidence and chose not to share it, that could be considered a crime.
"To our knowledge, Mr. Knipper has not provided evidence of any election offense to law enforcement," Bradburn said. "If he has actual evidence of fraud in a federal election, his failure to report may constitute a federal crime."
Per a Monmouth poll from earlier this summer, about a third of Americans still believe that widespread election fraud caused President Joe Biden's victory over Trump in 2020, even though there's never been evidence to support that conclusion.
Knipper and Southworth showed a video Tuesday that they touted as potential proof that the presidential election and the gubernatorial election were stolen. The video was created by Josh Merritt, a favorite source of prominent 2020 presidential election conspiracy theorists Sidney Powell and Mike Lindell.
In response to a recent defamation lawsuit, Powell defended herself by saying that "reasonable people" wouldn't believe her claims about the election. Merritt himself said last month that there was no evidence to support Lindell's claims that hackers switched votes in favor of Biden.
Merritt, once touted as a "military intelligence expert" by Powell, never worked in military intelligence and spent the majority of his time in the service as a wheeled vehicle mechanic, according to a Washington Post report.
With panache and a series of convoluted slides featuring arrows pointing to and fro between logos and boxes of text, Knipper forwarded an array of unproven claims, including that a branch of the U.S. Department of Defense created and now controls large corporations like Facebook, Google, YouTube, Amazon and Disney.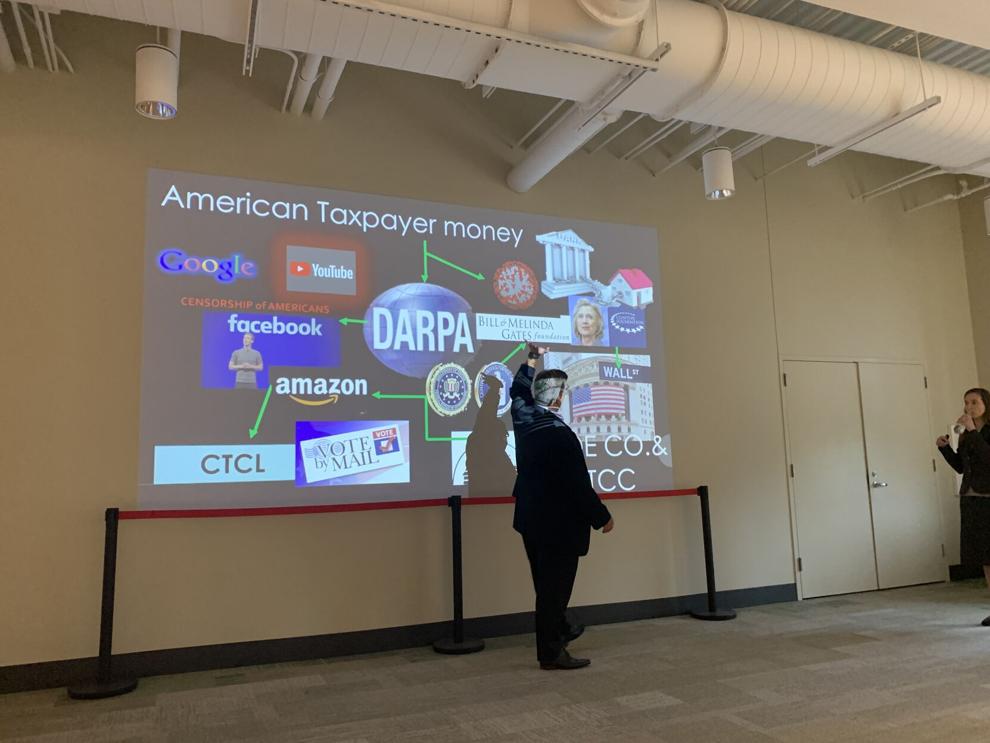 He cited conspiracy theory website Natural News — which pushes anti-vaccine messaging that experts say is false and harmful — as a source that proves that 8,129 votes in Kentucky were switched from Trump to Biden and that more than 23,000 votes were "lost." Natural News, in turn, lists an anonymous user from a website called TheDonald.win as its source. Knipper said his own calculations, along with a team of Lindell's, show that Kentucky's votes fraudulently swung by 88,231 in Biden's favor.
None of those claims have been proven. 
When asked to respond to the claims by Southworth and Knipper, Kentucky Board of Elections Chair and former U.S. Rep. Ben Chandler called them part and parcel with a "national conspiracy."
"I'm not aware of any allegation from any individual in the electoral system, and we're talking about thousands of people in the electoral system," Chandler said. "You would think if you had fraud, somebody in the electoral system would have at least alleged it."
"This is just more of the same national conspiracy that Lindell and Powell and all of these people have already been discredited for."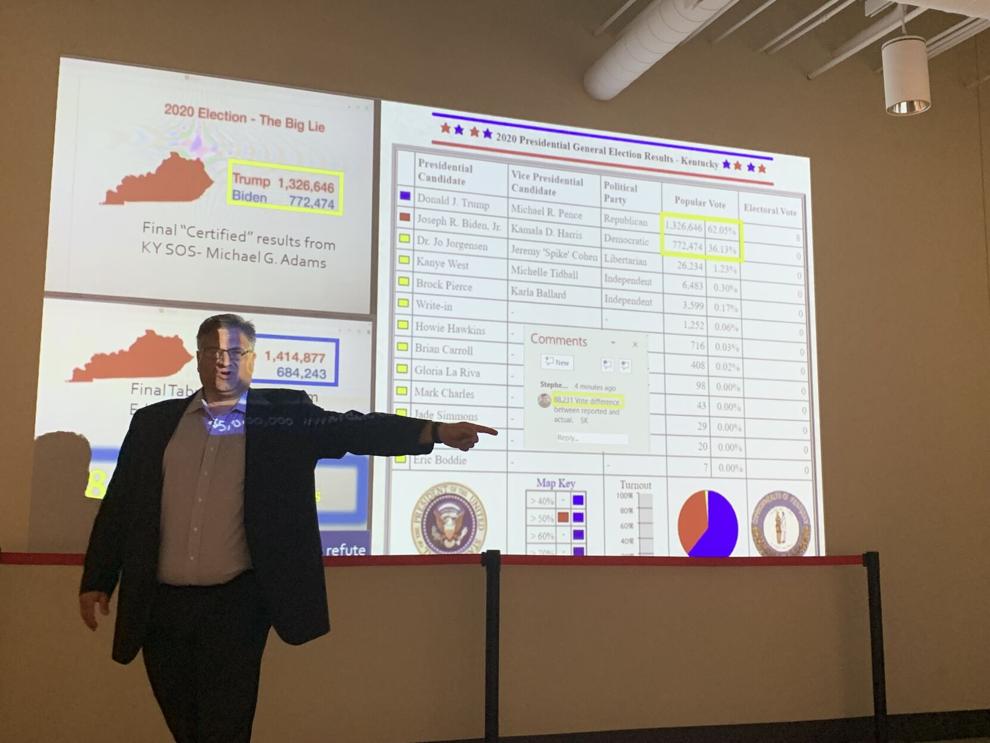 Additionally, all judicial efforts to overturn the 2020 presidential election have failed in court. 
"There's nothing that a judge has seen to show if there's election fraud," Knipper said. "That's why every one of these cases get thrown out. It's not because there's no proof. It's just because to get the proof, you have to be able to understand the software."
Knipper said at Tuesday's event that he understands the software so well that he was able to access "folders" where he saw hackers manipulate U.S. election results with messages like "change anything you want," and "have fun."
There is no evidence to support this, nor did Knipper provide proof by press time. He did, however, double down in defense of what he and Southworth presented on Tuesday night.
"I'm convinced of my intel and I've presented my material," Knipper said. "... If it looks like nothing has changed and we have a normal election in 2022, I'll publicly state I was wrong."
Southworth said Tuesday that her concerns about widespread election tampering didn't come from her background as a member of the Republican Party.
"This isn't us versus them," Southworth said. "It's the elite versus the real people."
They claimed that all presidential elections since Ronald Reagan's in 1980 have been rigged, with the exception of Trump's victory in 2016.
"2016 was supposed to be a pretty smooth process," Knipper said. "They had been perfecting this whole 'switch the votes,' and had been doing this stuff for quite a while … . When 2016 came around, Hillary Clinton was not supposed to lose, but she did."
There is no evidence to support this claim.
The pair showed a video of Knipper's 2019 interview with Bill Binney, a former technical director for the National Security Agency who last worked for the department in 2001. 
The interview mostly centered on Binney's belief that the U.S. was under significant threat from hackers, and that because of that threat the country should revert to hand-counting paper ballots.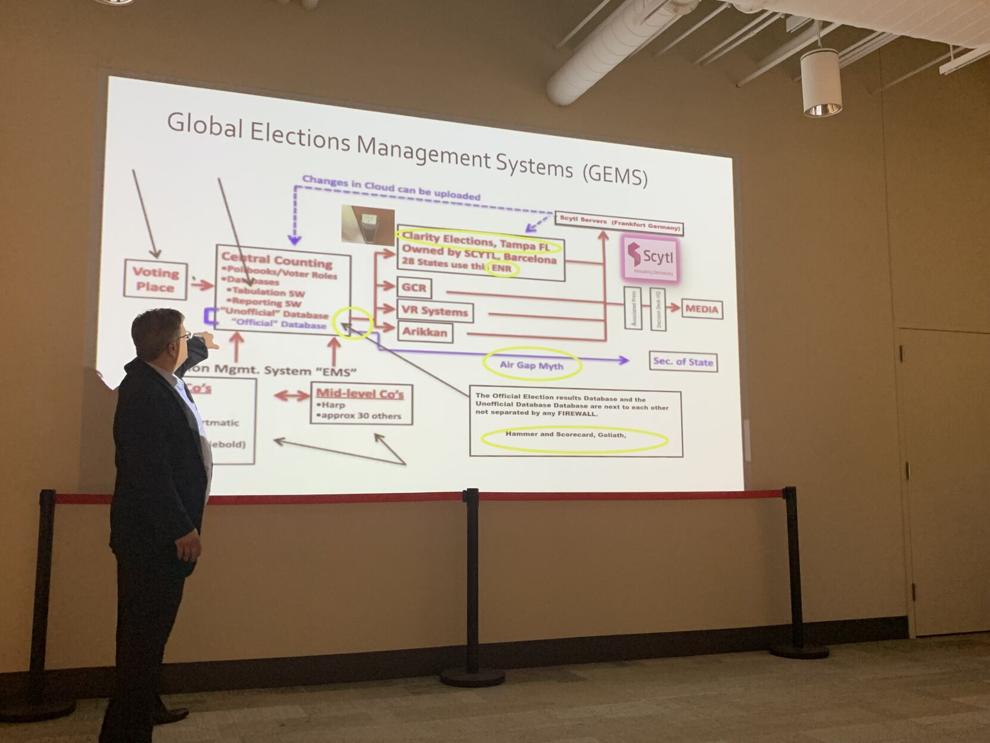 The argument for and against hand-counting; officials and experts respond
Southworth and Knipper were highly critical of Adams, particularly for his opposition to a bill that Southworth supported, SB 63. That bill would have prohibited all voting machines that have any capacity to connect to an external network, including the internet, or any other device that's capable of establishing such a connection.
SB 63 passed both the House and Senate but was vetoed by Gov. Andy Beshear at the request of Adams, the State Board of Elections and the Kentucky Association of County Clerks.
Though SB 63 did not go so far as to prohibit machine-counting of ballots, Southworth expressed a strong preference for hand-counting ballots on Tuesday.
"Sen. Southworth has advocated hand-counting all ballots rather than having machines count them," Bradburn wrote. "Because hand-counting is so susceptible to fraud, Kentucky amended its Constitution in 1940 to move away from hand-count toward machine-count. Secretary Adams is a constitutional conservative who abides by his oath of office."
Key to Southworth's and Knipper's fear is that the machines have the capacity to connect to the internet, therefore opening them to hackers. According to the governor's veto of SB 63, the voting machines do have the capacity to connect to an external network, but all ports are locked and sealed when in use for elections; though they can access an external network, they do not have the capacity to access the internet, Beshear states in the veto. 
If passed, the bill "might invalidate every voting system currently in use in Kentucky" Beshear wrote.
Bradburn added that votes are certified in public procedures, and do not access the internet. "They are certified for accuracy and security in procedures that are open to the public to attend. They plug into the wall, not the cloud."
The process also keeps a paper trail of ballots cast. That paper trail came in handy in 2020 for some high-profile hand-count audits, which confirmed the machine results.
Hand audits done in national elections like in the state of Georgia, in addition to recounts in two Wisconsin counties and one in Michigan, found no evidence of hacking, according to the Washington Post. They confirmed Biden wins in Georgia and Wisconsin and a Trump win in Michigan.
Chandler also said that a con for hand-counting all votes is the cost, and echoed Bradburn's point that it could open up state elections for more instances of fraud.
He called the current process quite simple, and scoffed at the idea that somehow a swing in votes at the scale Knipper proposed could occur based on the system's safeguards.
"It's real simple: We have 120 separate election systems," Chandler said. "They all then report their findings to the State Board of Elections. The SBE adds them up and you get a total … and they're not even connected to the internet. It's a mystery to me how any kind of conspiracy could include all 120 counties that aren't even connected to each other."
Josh Douglas, a professor and election law expert at the University of Kentucky, called Knipper's and Southworth's claims bogus.
He emphasized that Kentucky's system does have a paper trail of ballots filled out by the voters, and they are audited at random every election.
As for the claims of fraud in 2020 and 2019, he said that he believed none of them.
"There's no evidence here," Douglas said. "I can't prove that Martians didn't come and steal the 2020 election, but that doesn't make it likely that it occurred."
Knipper, when asked by a skeptical member of the crowd during a brief Q&A period why none of the nation's officials have blown the whistle on the alleged widespread fraud, said that he believes sufficient evidence will surface eventually.
Douglas called that effort an actively harmful "wild goose chase," and pointed out that the election results there had already been audited multiple times, revealing no discrepancies. NPR reported that election officials and experts characterized the Arizona effort a "disinformation blueprint."
"When that falls, you're going to see a domino effect," Knipper said. "And then all of a sudden, it's everybody in the room is going to say, 'oops.'"
Knipper's comment was followed by an exclamation from a woman in the crowd of well over 50 people.