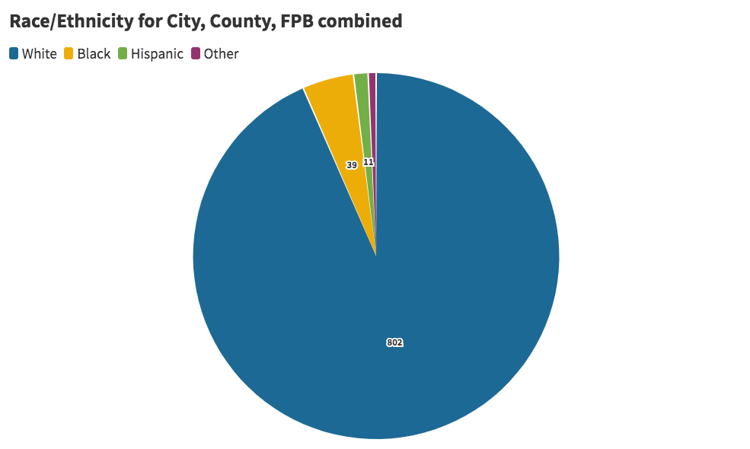 Of the combined workforces of the City of Frankfort, Franklin County and the municipal-owned Frankfort Plant Board (FPB), 93.5% are white. Only 6.5% are minorities.
Combined, these agencies have a proportion of minorities on staff equivalent to only about a third of the proportion of minorities who live in Franklin County. That 6.5% represents about a quarter of the minority population that lives within the Frankfort city limits.
Frankfort's white non-Hispanic population is 74.3% of the total population, according to the U.S. Census Bureau. Franklin County's white non-Hispanic population sits at 81.5%.
Human resource specialists for the city, county and FPB — as well as both law enforcement top officials — all agreed: They're not where they want to be in terms of staff diversity.
Many cited recent improvements, particularly in the wake of nationwide protests against racial discrimination, but all agreed that more work needs to be done in the area.
As of The State Journal's request for the racial/ethnic and gender makeup of government workforces late last month, the staff ethnic/racial makeup is as follows:
• 359 (93.5%) of the City of Frankfort's 384 employees are white. 23 employees are Black and two employees are Hispanic.
• 235 (96%) of Franklin County's 245 employees are white. Five employees are Black, four are Hispanic and one is listed as "two or more races." 
• 208 (90.8%) of the Frankfort Plant Board's 229 employees are white. Eleven employees are Black, five are Hispanic and five are listed as other races.
These kinds of imbalances are all too common, according to Dr. Kendra Smith, who authored a report on diversity in local government titled "Beyond Compliance: Recruitment and Retention of Underrepresented Populations to Achieve Higher Positions in Local Government." Smith is a researcher and consultant who works as the director for community engagement at the University of Houston's College of Medicine.
Smith also said that the imbalance can have serious consequences in the way a community is served. She cited historic unrest that took place in Ferguson, Missouri, in the wake of Michael Brown's death as a prime example of a predominantly Black community that was not served as well as it could have been by a largely white police force.
"We know that lack of representation within the local government workforce changes the way services are delivered to residents in cities," Smith said. "... Fundamentally that's a problem. That's not to say that there needs to be an even split, but there should be some diversity in a workforce."
Human resource specialists from the city, county and FPB agreed that it's an issue, and mentioned several ways that they've recently tried to address it. For many reasons, though, it's been a persistent issue.
"We've been aware for a while that the makeup of our workforce isn't as reflective of the community as we want it to be," Frankfort Human Resources Director Kathy Fields said. "That's something that across all departments we are aware of."
She said that the number of applicants has been a sticking point.
"It seems to me that a roadblock has been applicant flow," Fields said. "In 2018, I think, (non-white applicant percentage) was around 5%, but it has increased in the last few years."
She said that the city recently switched to a race-blind application system, so she doesn't have hard data on applicant race/ethnicity. She said she consulted with the city manager a few years ago and noted that those applications that do come in generally get a fair shake.
"I said that we were actually doing great when you look at candidate flow because we're right in line or beating," Fields said. "If we had 3% minority candidates and now we're at 5% or 8%, then we're doing well. So that's been our biggest obstacle is getting minority candidates to apply."
Smith said that potentially the most important piece of the puzzle is having advocates for diversity in city leadership continually press the issue.
Fields mentioned that while the city commission has encouraged staff diversity, it has never in her seven years as HR director given concrete marching orders with regards to diversity.
"It's known to be something that they desire to tackle, but at the same time it's not like they've given me a recipe or a specific directive," Fields said.
Betty Jo Readnower, human resources director for Franklin County, lauded her boss, Judge-Executive Huston Wells, for his focus on the issue. She said Wells, a former educator, has several contacts at Kentucky State University, a historically Black university.
That said, the county's efforts still lack what Smith said was a crucial part of improving staff diversity: developing a written strategic plan.
"We have been discussing it, of course, but we have not come up with a definite plan for me to give you now," Readnower said. "We've been working on it since when the judge came in office."
Though the county has a significantly higher white population than the city, and therefore serves a whiter population than the city, Readnower said that it still needs to see improvement in terms of minority hiring. Like Fields, she mentioned a qualified applicant pool as a major roadblock to getting where she wants to be.
"Looking at the numbers, no, we're not where we should be," Readnower said. "… We could improve, but if we don't get the qualified applications, our hands are tied."
Of all local agencies, the Frankfort Plant Board has the most racially and ethnically diverse staff. Some 9.2% of its employees are minorities. 
FPB Human Resources Specialist Angie Hart pointed to documents with contacts listed for people embedded in local minority communities that she and hiring managers consult to ensure that they tap into minority populations.
That document includes contacts at KSU, Thorn Hill Learning Center and the local NAACP branch.
Hart said that she's been in the HR Department at FPB for more than 20 years and that she's tracked significant improvement in both race and gender diversity.
"I would say that we are more diverse now than we were," Hart said. "When I first started, the process wasn't quite the same."
One method that she pointed out as a potential boon for diversity hiring is that the FPB undergoes a mostly blind application process; that goes for any information that could identify an application.
The process largely helped weed out cases of nepotism, but Hart said it's also been effective in addressing implicit bias.
A couple of the HR specialists pointed out recent strides that they've noticed in gender diversity on their staffs. Fields said that a point of pride in recent years has been the proliferation of female department heads.
"If we look at the city makeup 8-10 years ago, finance director, city attorney, public works director, HR director were all men," Fields said. "We've come very far in terms of gender representation."
Law enforcement
The issue of diversity in law enforcement took front stage this spring and summer after the highly publicized police killings of George Floyd and Breonna Taylor, among others.
Calls for defunding the police were heard throughout America's cities, though that demand has waned in recent months. 
Such is the case for Frankfort and Franklin County. Both Frankfort Police Chief Charles Adams and Franklin County Sheriff Chris Quire say that they're trying to address that issue. 
Sixty-seven (95.7%) of the FPD's 70-person staff is white. One employee is Black and two are Hispanic.
Quire said that he hired a Black school resource officer after the county released its data to The State Journal, but at that time 37 (94.9%) of the sheriff's 39-person staff were white.
Both Quire and Adams pointed out that the relative lack of diversity on their forces is one that they in-part inherited. Quire has been sheriff for nearly two years while Adams' tenure began just over a year ago.
Adams, who said that he is the main person who handles hiring for FPD, said he has tried hard to change his staff makeup recently. He mentioned also that the city's latest version of the citizen hiring board, which oversees the hiring process for the Frankfort Fire Department as well as FPD, is quite diverse. He also teaches a course at KSU, in part to help with minority outreach.
But he's not satisfied with the current numbers.
"There's no silver bullet for this," Adams said. "You've just got to keep trying."
The current FPD hiring process is intensive, Adams said. Applicants must undergo several interviews, a physical fitness test, background checks and even a polygraph test, among other things. 
In terms of parts of the process that have traditionally made his force whiter, Adams said that getting applications in the first place and the fitness test have weeded out the most otherwise-promising minority applicants.
One problem Quire saw was talented Black officers leaving Frankfort to seek advanced opportunities in larger municipalities. Losing talent to Louisville or Lexington isn't altogether uncommon, Quire said.
A path forward
But there's hope on the horizon for both Quire and Adams.
Quire emphasized his recent efforts in coordinating with Ed Powe of Focus on Race Relations (F.O.R.R.).
"I challenged him and said, 'Can you keep looking for qualified applicants?'" Quire said. "He's done pretty well for me in bringing me qualified people to hire."
Adams also teaches a class at KSU and his office has mentored students in the past.
One key source of optimism for Adams is the current class of 12 recruits that FPD is working through now. Four of those recruits are minority men and one is a Black woman.
The next step in the process for those 12 to continue through the process will take place next week, Adams said.
In terms of easy-to-adopt solutions to address all Frankfort-Franklin County government's relative lack of diversity, Smith forwarded several ideas.
First, she said that those at the top ought to be on board, and continually advocate.
"The mayor has to find it important, the city manager has to find it important, and it can trickle down from there," Smith said.
She also said that in drafting a written plan to address the issue, the organizations should identify someone who has the background to be able to recommend the proper next steps.
"You have to find someone, whether it be a consultant or someone within the organization, who does know how to address this," Smith said. "… It's not insurmountable."
Lastly, she pointed out the need for local governments to lean on the diversity they already have and build strong word-of-mouth networks within the community that were previously only available to white people.
"There are a lot of situations where people would love to work for the city, but they don't know how to get in," Smith said. "They don't know somebody there. It's important to understand community aspects on this as well."
Those solutions, she hopes, can help inch local leadership toward a more diverse workforce that would then be able to better serve Frankfort and Franklin County.
"Diversity is important," Quire said. "We should all talk about it. We're not going to fix the problem if we don't talk about it."