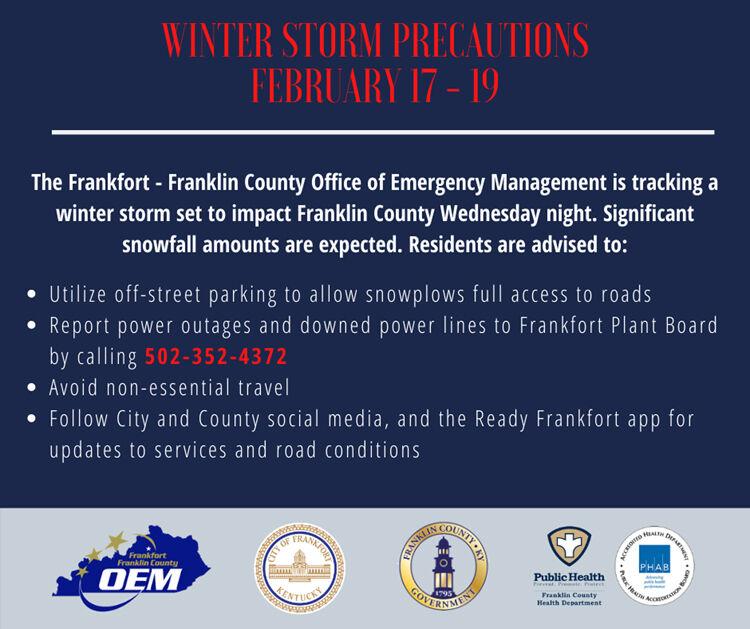 Editor's note: This story was updated at 4:48 p.m. on Feb. 17 to add information from Frankfort-Franklin County Emergency Management.
The National Weather Service in Louisville has downgraded the winter storm watch for Franklin and surrounding counties to a winter weather advisory.
The advisory will go into effect at 7 p.m. Wednesday and continue until 7 a.m. Friday.
"Multiple rounds of wintry weather are expected later today through early Friday morning. Snow accumulations greater than 4 inches will be possible across portions of southcentral Kentucky during the period with lighter snowfall accumulations expected north of the Western Kentucky and Bluegrass Parkways," the NWS said in a special weather statement.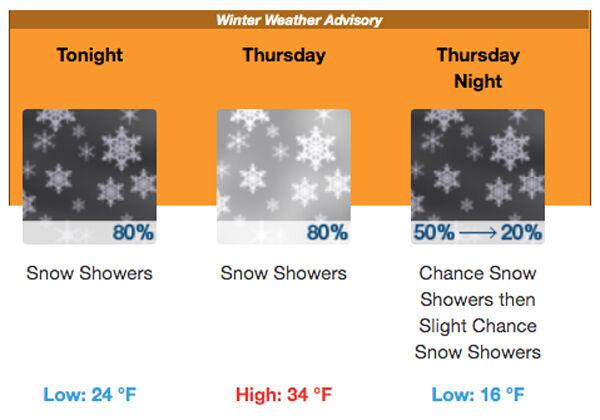 According to the forecast, snow showers are expected after 8 p.m. Wednesday with the possibility of 1-2 inches of accumulation. Overnight lows will be in the mid-20s.
There is an 80% chance of show showers before 2 p.m. Thursday with a high temperature of 34. An additional inch of snow accumulation is possible during the day and less than half an inch of snow during the overnight hours as temps dip into the mid-teens.
The National Weather Service warns that roads will be slippery during the morning and evening commutes on Thursday and urges motorists to slow down and use caution.
Shortly before 5 p.m. Wednesday Frankfort-Franklin County Emergency Management, which will continue to monitor conditions during the storm, asked drivers to avoid travel if possible.
Sunny skies will return Friday with a high around 27, but temps will plummet into the single digits overnight with a low of 6 predicted.