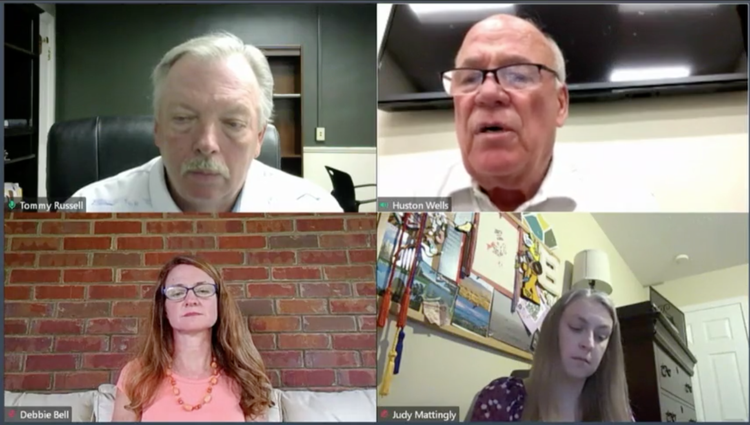 Franklin County residents are able to rent out several outdoor spaces from the county or city, but officials indicated at Monday's weekly COVID-19 briefing that not everyone has been using that service responsibly.
"We're cognizant of the number of people that can be in those facilities that we are renting," Franklin County Judge-Executive Huston Wells said. "Please do what you say you're going to do. If you're going to have a birthday party for 20 people, don't have a birthday party for 120 people."  
Emergency Management Director and interim City Manager Tom Russell also addressed the issue.
"Sometimes we have issues with people that don't always adhere by the rules," Russell said. "But we will work to make sure that everything that's said on the application is what's done."
Wells emphasized that most people have been using the facilities responsibly and said the county and the parks system will continue to rent out spaces.
Franklin County Health Department Director Judy Mattingly was also present at the meeting, bringing up several positive data points. She was quick to point out, however, that those numbers shouldn't be used as an excuse for residents to let their guard down.
The current number of active cases was relatively low, but Mattingly said that because of school reopenings — including Kentucky State University — the community could see an uptick in cases. She said the recent numbers shouldn't lull the public into a "false sense of security that we are out of this pandemic yet."
"Schools just recently started back," Mattingly said. "With that, it's two to three weeks' lag time after gatherings before we start seeing those positive cases. While I hope we don't see those, they are very likely coming."
Mattingly pointed out that as of Monday, six confirmed virus cases in the county had been identified as KSU students. She thanked the school for its testing initiative.
Mayor Bill May was not in attendance on Monday, as Russell pointed out that he was undergoing a medical procedure that morning. May was diagnosed with cancer last year. Even still, May was consistent with his messaging on mask-wearing in the community.
"The one thing he made sure I told everybody is to wear a mask," Russell said.