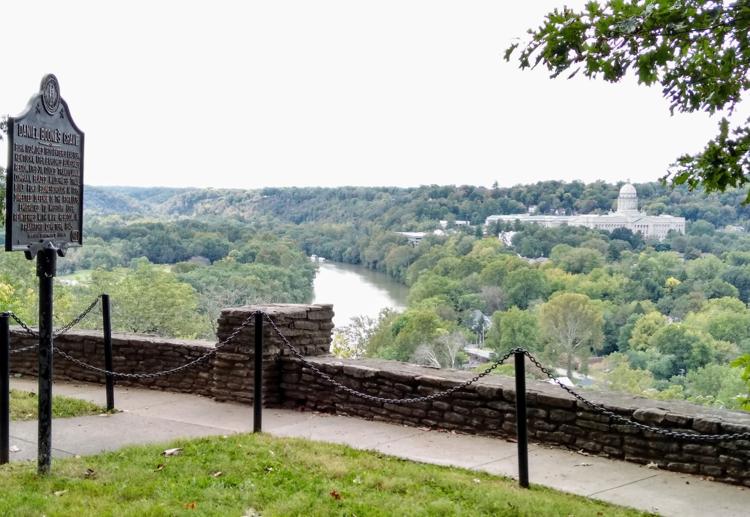 "You might say Daniel Boone is our father."
That is the opening verse of country music artist and Taylorsville native J.D. Shelburne's "Straight From Kentucky," a song that pays homage to numerous Bluegrass State icons.
For the launch of the 2020 Kentucky Visitor's Guide earlier this year, Shelburne performed the song in the Capitol Rotunda — not far from the scenic spot in Frankfort Cemetery where a monument marks Boone's remains.
But some are skeptical about whether the interred bones are actually those of the iconic explorer.
Boone, an American frontiersman most notably known for his exploration and settlement of what is now Kentucky, died 200 years ago today on Sept. 26, 1820, of natural causes at the age of 85.
He was originally laid to rest next to his wife, Rebecca, in a not-very-well-marked grave on his son Nathan's farm near present-day Marthasville, Missouri.
But in 1845, the Boones' remains were disinterred and moved to Frankfort Cemetery, which at the time was looking to become the second incorporated memorial park in the country.
Local historian Russ Hatter said the idea for the Frankfort Cemetery was that of local judge Mason Brown, who visited and noted the beauty of the Mount Auburn Cemetery in Cambridge, Massachusetts, and wanted to do the same thing here.
"And so the family said if we can come up with somebody famous it might help bring attention to our cemetery," he explained in a 2014 KET interview.
"Apparently they were in such a hurry to do this, and I wonder if it was because the state of Missouri was like, 'Why are you doing this? We should have Daniel Boone here in our state.' "
According to the Frankfort Cemetery website, the Boones' remains were moved here "with great ceremony" and reburied in a spot overlooking the Kentucky River and capital city. They were the first to be interred at the cemetery in September 1845.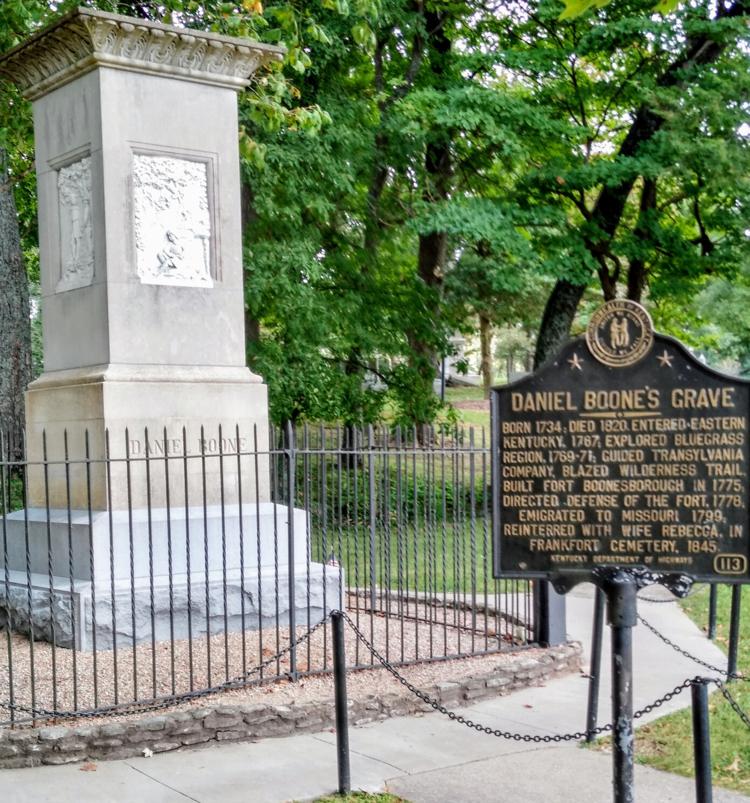 The gravesite continues to be one of the city's top tourist attractions. On Saturday, visitors from Gallatin, Jefferson, Jessamine and Grant counties were checking out the Boone plot.
A father and son made the trip from Whitley County. They had planned to stop by when they last visited Frankfort about a month ago but didn't have an opportunity.
Both were surprised that it was the 200th anniversary of Boone's death because his birth and death dates are not listed on the monument over his grave or the nearby historic marker.
The monument, which was built by John Haley in 1860, features four marble panels depicting scenes from Daniel and Rebecca's life that were added two years later. During the Civil War the panels were vandalized and only one of the original panels still exists. It is on display at Waveland State Historic Site in Lexington.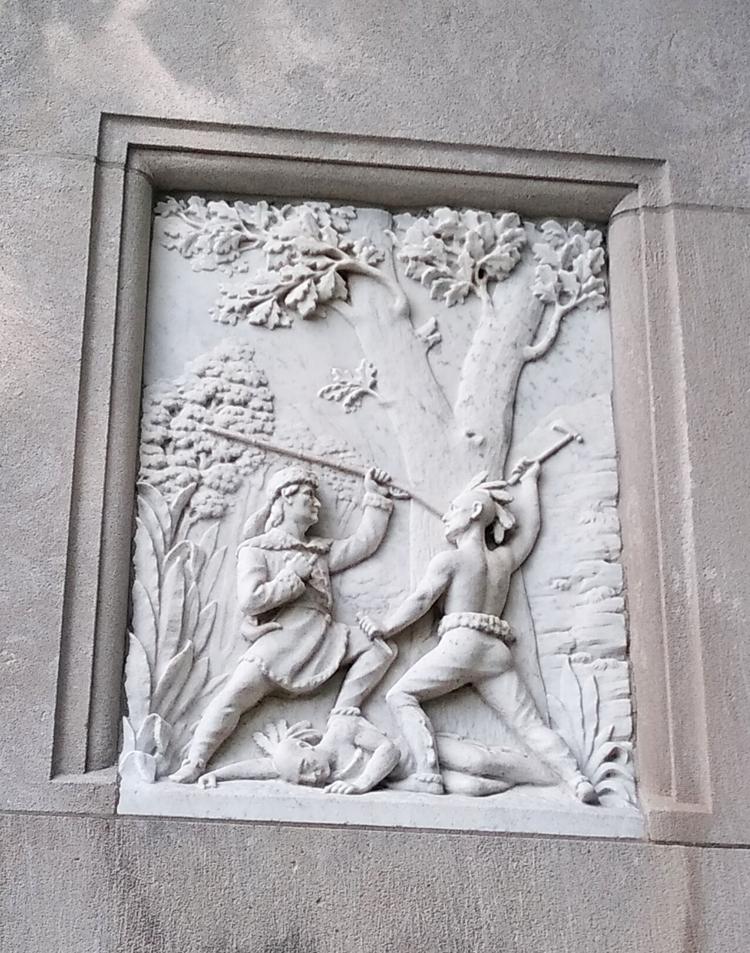 However, some, including the Friends of Daniel Boone's Burial Site in Missouri, are skeptical about whether the remains in the Frankfort Cemetery are actually the Boones'.
Black slaves had also been buried nearby, so it is possible the wrong remains were mistakenly removed from the crowded Missouri cemetery.
"It's one of those great Kentucky-Missouri mysteries and people are fascinated by it," Sara Elliott, a former curator at the Kentucky History Center and current executive director at Liberty Hall Historic Site and park manager at Waveland State Historic Site, told KET.
The controversy started with a cast made of plaster of paris of Daniel Boone's skull before he and Rebecca were reburied in Frankfort.
In the early 1980s, the Kentucky state medical examiner made the statement that he thought it might be an African American skull rather than Daniel Boone's.
"That kinda sparked an interest in whether or not they had actually exhumed Daniel Boone or was it a slave that had been buried near him," Elliott added.
A decade later Emily Craig, the then-state medical examiner who was also an anthropologist, inspected the cast and could not determine the race of the skull, only that it was male.
Today, both the Frankfort Cemetery and the Old Bryan Farm in Missouri claim to have Boone's remains.
"We do know that Daniel Boone is dead. He died in 1820. He's buried somewhere — what a beautiful place to be right here in Frankfort, Kentucky, overlooking the Kentucky River," Hatter stated.
Krystal Jackson, of Nicholasville, who was visiting the Boones' plot on Saturday, agreed.
"It's a cool thing to see and a beautiful day to be here."