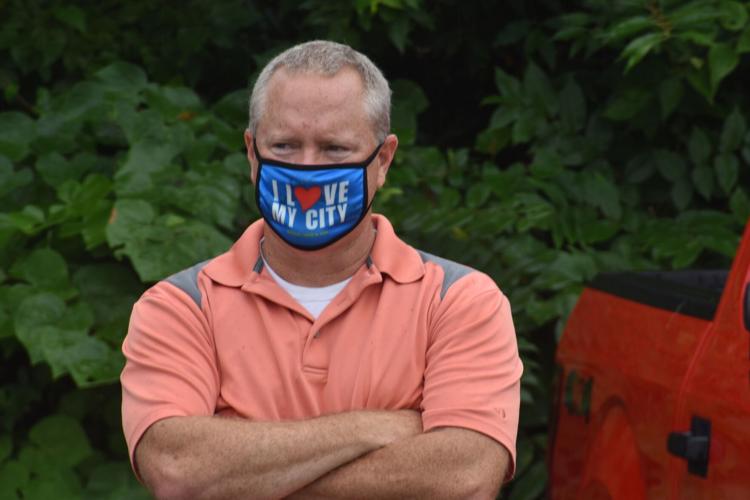 Recently fired City Manager Keith Parker alleges that the Frankfort City Commission violated the state Open Meetings Act in coordinating votes against him, agreeing with a complaint by The State Journal.
The former city manager, who served in his post for a year and a half, was fired on Aug. 10 "without cause" in a 3-2 vote. Commissioner Katrisha Waldridge, who along with Scott Tippett voted against firing Parker, also believes the commission violated the state's open meetings law.
The city rejected The State Journal's complaint on Thursday, with Mayor Bill May saying that conversations regarding Parker leading up to his dismissal were "informational and educational updates only." He added that there was no discussion of how any commissioner was going to vote on the matter. 
Parker and Waldridge disagree. State Journal Publisher Steve Stewart said Monday that May's denial of the open meetings violation will be appealed this week to the Kentucky Attorney General's Office.
In disputing May's account, Parker said Tippett tipped him off about May having "three votes" for dismissal. Parker concluded that the commission violated open meetings laws based on two phone discussions he said he had with Tippett. 
"I believe the city commission violated the open meetings law as stated by the recent complaint filed by The State Journal," Parker said. "On two separate occasions … Commissioner Tippett let me know the mayor had the votes to fire me." 
May responds
May denies having arranged any votes to fire Parker. He said that he reached out to all commissioners except Waldridge in advance of the Aug. 10 meeting and only told them that he was putting a personnel action item on the agenda that related to Parker. 
"I was talking with them about the agenda," May said. "We can do that under the law."
He said that he did not gauge commissioners' response to the item, though he noted that he "knew where Commissioner (Eric) Whisman was" on the issue. He also said that he did not share with any commissioners how other commissioners felt about Parker, and wasn't sure how Sower or Tippett would vote on the item before the meeting.
"It (the action item) was an opportunity for other commissioners to be able to share their thoughts, and for me to share my thoughts, about recent actions that may or may not have been taken by the city manager," May said. "In my head, when I put that on the agenda, I wasn't thinking it would be for a particular, specific action."
The Closed Session
But Waldridge, who was in the closed session on Aug. 10, said little discussion or "sharing" took place. She alleged that the commission's going directly to a discussion about method of dismissal without talking about his performance leads her to believe that The State Journal's Open Meetings Act complaint is valid.
"I was unaware of what was going on in that meeting for probably the first 30 minutes," Waldridge told Stewart in an interview Thursday. "No one would mention Keith's name. There was not an action brought forward. The discussion started taking place on how they were going to 'write this up.' I kept saying, 'Who are we talking about?' No one would mention his name."
"After the meeting (Aug. 10 closed session) that I sat in, I know for a fact there were meetings with other commissioners before."
The Open Meetings Act prohibits so-called rolling quorums, or individual discussions among board members designed to avoid transparency requirements.
May, in response to Waldridge's comments, said he could not comment on what took place during a closed session. He also suggested that Waldridge had violated a board vote to keep information discussed in that closed session confidential until otherwise decided by the commission.
An hour and a half after the commission went into closed session that night, they briefly returned and Whisman made the motion to keep the information confidential. Waldridge said at the time that she did not agree with that decision for transparency's sake.
"If you're willing to put something on the agenda at the last minute and have three votes before you come into the meeting for a motion, why not allow people to hear what's being said?" Waldridge said at the time. "I think it's time for transparency on this."
Waldridge was the lone "no" vote on those ground rules.
The commission then went back into closed session. When it returned, Waldridge and Tippett voted against firing Parker; May, Whisman and Commissioner John Sower voted in favor.
What Next?
In its complaint, The State Journal suggested that the city remedy its violation in part by holding a hearing regarding the reasons for Parker's firing.
May said that there was "no way" the commission would do that, citing legal concerns given the city's severance agreement with Parker.
"I've talked to an attorney about it and they just said there's no way," May said. "I will not violate the (severance) agreement."
The severance agreement calls for Parker to be paid $70,000 with benefits over the six months following his termination. In exchange, he waived "any and all due process rights," which includes a public hearing about his dismissal. It also states that Parker "releases" anyone at the City of Frankfort from "claims or causes of action" as a result of his firing.
It's unclear, however, whether that language bars the commission from holding any discussion on the matter. The severance agreement between the city and Parker, signed by both he and May, appears to solely limit Parker's right to a hearing.
Parker has stated previously that he welcomes any further public discussion about the reasons for his firing. 
"I welcome being able to address any reason they have for firing me," he said last month.
Tippett, in responding to Parker's claim that their conversations indicated that he disagreed with the open meetings complaint, defended the legality of the "votes" that were allegedly referenced in those conversations.
"I do not feel as if there was any attempt to circumvent the Open Meetings law," Tippett said in an email to The State Journal on Thursday night. "What I said, or may have said, to Mr. Parker was a casual, informal response to what I perceived to be a friendly question and was purely opinion and anecdotal in nature." 
On Friday, Tippett said that he didn't want to comment further on his discussions with Parker, but re-emphasized that he did not vote to fire him.
"I voted to retain the city manager," he said. "That speaks volumes."
Sower, who joined Whisman and May in the 3-2 vote to fire Parker, was also hesitant to comment on the matter.
"I had no intent whatsoever to violate open meetings law," Sower said.
He also pointed to a couple of different state statutes to defend the commission's conduct, including 61.810 (1), subsection F, which contains an exception for "discussions or hearings which might lead to the appointment, discipline, or dismissal of an individual employee, member, or student without restricting that employee's, member's, or student's right to a public hearing." 
That statute also says that the "exception shall not be interpreted to permit discussion of general personnel matters in secret."
Sower also cited a part of KRS 61.810 (2) that excludes discussions meant to "educate the members on specific issues."
Former Assistant Attorney General Amye Bensenhaver, a Frankfort resident and open government advocate who spent decades writing open government opinions for six attorneys general, emphasized that the mayor and commissioners involved did not deny holding a series of nonpublic less-than-quorum meetings to discuss Parker's dismissal.
"The mayor and Commissioner Sower deny an intent to circumvent the law ... but the conduct described (and acknowledged) otherwise falls within the zone of prohibited conduct," Bensenhaver said. "... KRS 61.810(1)(f) does not authorize a series of nonpublic less than quorum meetings to discuss an individual employee's discipline or dismissal. In other words, this is not a defense to the violation."
No commissioner added further explanation for Parker's firing on the record. Parker previously mentioned a complaint written by a mowing contractor that he says May tried to "sucker" Sower into reading at the Aug. 10 meeting.
Of The State Journal's appeal, May said, "I honestly don't worry about that because I know what the truth is."