In the 1980s, Penny Peavler won a State Journal high school essay contest.
The prompt: "What does America mean to you?"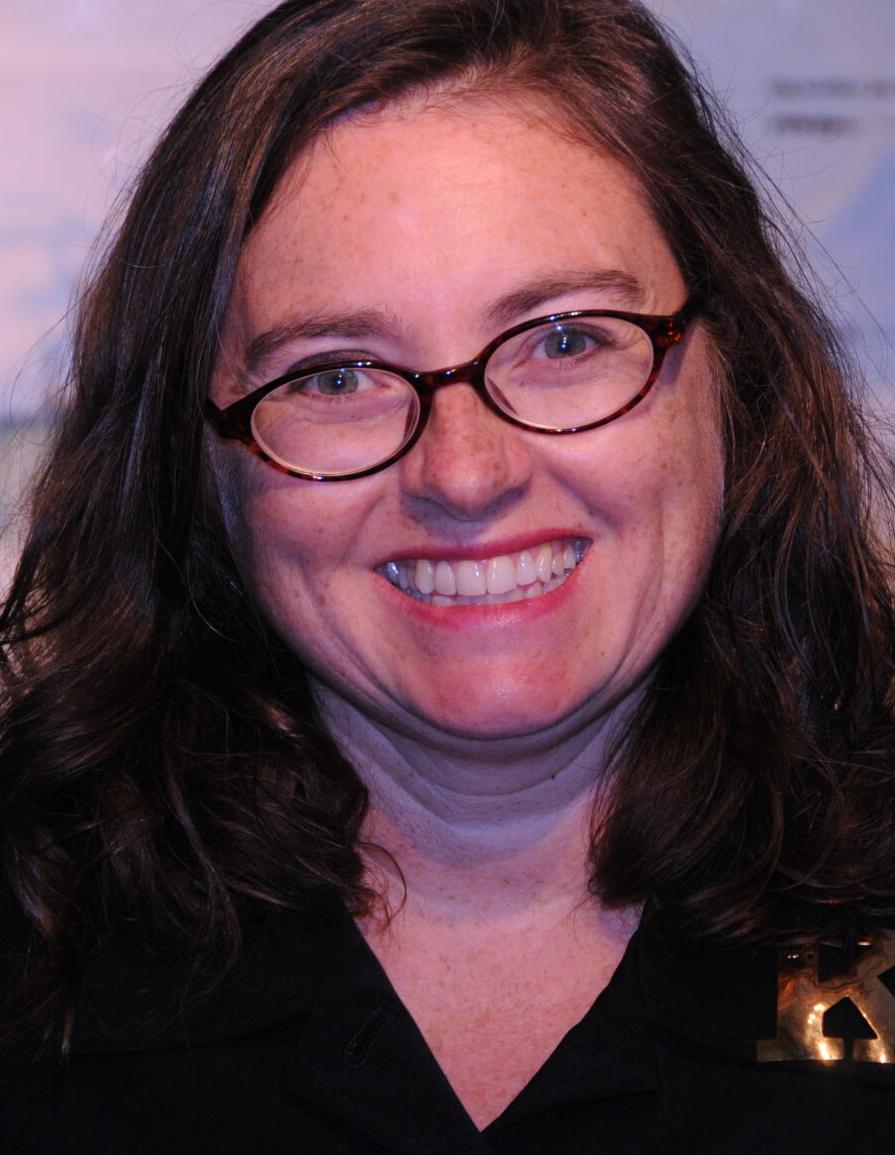 "My essay was about my community," said Peavler, who grew up in Frankfort. "It really focused on the people — and the businesses — and it really just hit on the feeling of growing up in a small town. We care about each other so much."
Now, Peavler is contributing to the community in an official capacity. She's the strategic initiatives consultant for the City of Frankfort, having started a yearlong contract with the city at the beginning of March.
Given what Frankfort meant to her growing up, she hopes to live up to expectations.
And working in Frankfort city government comes with expectations. The occupant of the city's top administrative position, city manager, has often come under fire over the years — most recently with the dismissal of former City Manager Keith Parker in 2020.
But Peavler's role as strategic initiatives consultant is a new one. She reports directly to the commission and is not in charge of any city staff.
"The thing to know is that I'm a consultant," Peavler said. "So I don't supervise any staff, I don't act on or make promises on the behalf of the city. Those are all staff roles. My role is to help look at the strategic planning for the city."
Peavler pointed out that the city has not updated its strategic plan in some time, and that updating that plan is a priority for her.
She emphasized two main functions of her role as she understands it: finding "alignment" in the priorities of the current city commission and acting as a liaison between the city and local development groups, the state, businesses and other organizations.
Asked how the formulation of a strategic plan would work, Peavler said that she would "be working with the Board of Commissioners to prioritize and focus efforts" and that she'd also be searching for new opportunities for the city.
The latest version of her draft job description said she would be tasked with "creating a 5-year strategic development plan, as well as a destination management plan."
Peavler said her main goal is helping Frankfort usher in an "economic renaissance."
She pointed to a long history in economic development and tourism in Kentucky as potential bonuses for her role in her hometown. Her professional career in Louisville has included stints in consulting, tourism and a stretch as the top executive of one of the city's most notable museums.
Background
In the arena of strategic planning, particularly with an eye toward economic development and tourism, the Frankfort native's resume is extensive. She began her career where she and her family live now: Louisville.
After attending a theme park management training program at Walt Disney World, Peavler went to work for Kentucky Kingdom as personnel director. Along with developing programs for the workers there, Peavler worked on initiatives to help attract those from surrounding communities to the park.
She said her background in tourism work would transition well to a community where tourism plays an important role.
"I've worked a lot in tourism and attractions as well as economic and community development, but those things really go hand-in-hand," Peavler said. "Often, tourism attractions are part of larger community and economic development strategies."
After Kentucky Kingdom changed ownership, Peavler started at Louisville's Speed Art Museum. She worked 12 years as the director for special projects.
She focused her efforts there in part on making the museum a regional draw.
"We thought about secondary and tertiary markets," Peavler said. "So I really studied Indianapolis, Cincinnati, Owensboro, Evansville, Henderson and looked at what would get a family to spend a weekend at the Speed (Museum)."
She said she also spent much of her efforts on ways to further engage the Louisville community.
Those included opening on weekends, a strategy for the museum's gift shop, special exhibits and more.
"This was at a period … when some of these academic institutions were working to become more community-focused institutions," Peavler said. "We thought a lot about including African Americans in the community, trying to find out how the museum could serve our community and audiences more fully. I've always been very interested in equity."
One point of pride while there was her work to secure and administer a $1 million grant to help encourage families with young children to participate in the arts.
Then came work at the Weber Group as director of brand development. There she helped craft business development and marketing plans for several companies.
Of note to a river city such as Frankfort is her involvement in Owensboro's riverfront development. She worked with a subcontractor there on the playground development, which she says "set the stage for the renaissance of downtown" Owensboro.
At the Weber Group, she also pointed to her work consulting for the city of Manteca, California, about 10 years ago. She said that since Weber's work for the city, it has bolstered its sports tourism, built the largest Bass Pro Shop in the state, and is currently building a Great Wolf Lodge indoor waterpark and hotel.
In 2015, Peavler was named the top executive of one of Louisville's biggest cultural institutions: the Frazier History Museum. She joined with one major goal, which the museum eventually accomplished in 2018.
"You can't tell the history of Kentucky without the history of bourbon," Peavler said. "I joined the Frazier Museum to negotiate the deal with the Kentucky Distillers' Association to make the Frazier and Louisville the official start of the Kentucky Bourbon Trail."
In 2019, Peavler stepped down as CEO of the museum to instead join the museum's board. She got to recommend her replacement, Andy Treinen.
Since then, she's worked as principal for her own consulting practice. She's led a feasibility study in eastern Kentucky for the Somewhere Appalachia initiative to transition a 3,000-acre surface coal mine into a world-class development for arts incubation, nature, workforce development and land conservation. 
Work on that project was put on hold due to the COVID-19 pandemic, but she looks forward to seeing its results.
For some time, Peavler said, she's felt the pull of home. Her mother, Patty Peavler, lives here and is currently the board chair for the Frankfort Cemetery.
Peavler lives on the eastern edge of Louisville, so her commute to downtown Frankfort is only about 35 minutes.
The role
Peavler has yet to log a month in her contract capacity — she was hired at a rate of $80,000 per year as a "trial period," per Mayor Layne Wilkerson — so she said she's still figuring out exactly how her position fits in the greater City of Frankfort machinery.
But that's not for lack of projects.
At Monday's city commission meeting, Peavler was assigned by Wilkerson partial responsibility for executing some of the goals outlined in Frankfort's Arts Master Plan. Peavler said that the role was right up her alley, as she has served as vice chair of the Arts Master Plan in Louisville.
On top of that, the city is weighing whether to go forward with several capital projects: investment in a state-mandated parking garage on Parcel B, the rehabilitation or replacement of Broadway Bridge, development near the riverfront at Blanton's Landing and increasing the city's walkability, among many other projects.
Peavler's goal: to try to set a coherent strategy that lays out how the city prioritizes these projects and how it might go about getting them done.
A lot of that work, she said, involves meeting with commissioners and fully understanding their priorities as representatives for the citizens of Frankfort. 
But a good deal of it involves looking back at the planning already done.
She mentioned Frankfort's downtown master plan, Holmes Street plan, WalkBike Frankfort's master plan, the riverfront redevelopment plan and more.
"There are perhaps elements of those plans that can all come together," Peavler said. "And that would be able to be bitten off in fundable chunks, if you will. And when you're trying to create alignment, you've got to understand where everybody's coming from. You've got to understand what they prioritize. And then you've got to look at a 30,000-foot view of what those things are, and figure out how to knit a strategy together that works for everybody." 
She characterized her job as one that would make the city commissioners' decisions a little easier.
"It's something that allows the commission to begin to really tackle what's in front of it," Peavler said.
One piece of "low-hanging fruit" from a planning standpoint that Peavler mentioned is the city's wayfinding master plan. She hopes to bring to the commission's attention some of the items contained in it, and also refer to other communities that have done a good job with their signage.
Workforce development and tourism will also play a major role for Peavler. She said she's met with Kentucky Capital Development Corp. President/CEO Terri Bradshaw and spoken about Frankfort's workforce landscape as it exists; she's also met with Frankfort-Franklin County Tourist Commission Executive Director Robin Antenucci about the current state of tourism.
In terms of what will be her foremost priority, Peavler wasn't sure just yet. The position itself is flexible, she said, and will largely depend on the focus of the commission to which she reports.
"I wouldn't want to really guess what's going to bubble to the top," Peavler said. "Everybody has talked about the importance of jobs, especially good jobs. So I think that that has to be paramount. And how we work together with KCDC to make sure that we're really supporting that work and helping them make sure that it's easy to do business here."
But regardless of what's first on her docket, Peavler's happy to be working for the betterment of her hometown. The sights and smells — she mentioned the bourbon mash scent that pervades downtown — comfort her, and she hopes to bring her experience in Louisville to make that comfort a reality for more people in Frankfort.
"I'm a change agent," she said. "That's the kind of person that I am. I love to be behind the scenes and I'm always for the good of the order, whatever the project is."