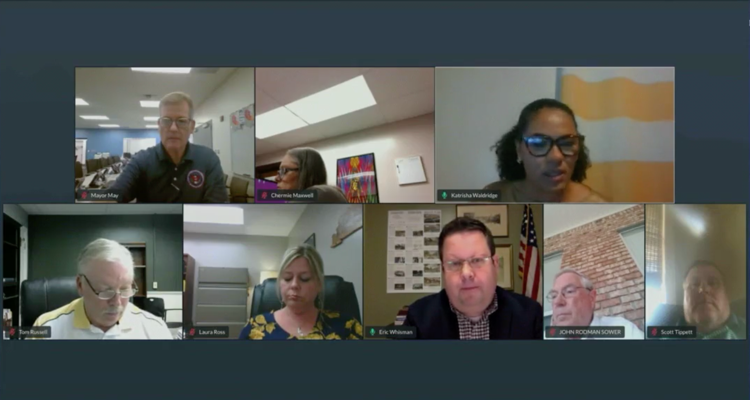 The Frankfort City Commission on Wednesday was once again consumed by the shadow of its Aug. 10 vote to fire former City Manager Keith Parker.
At a special meeting, discussion of an ethics provision that would prohibit commissioners from disclosing the contents of closed sessions sparked debates about Parker's firing, as well as what happened on the night he was fired.
Should the Frankfort City Commission amend the city's ethics code to prohibit public disclosure of closed session discussions?
She told the newspaper, which has filed an Open Meetings Act complaint against the commission, that Parker's firing seemed pre-ordained before commissioners met officially that night.
There is currently nothing in state statutes or city code explicitly forbidding commissioners from discussing closed session matters, according to City Attorney Laura Ross, though the commission did come out of closed session on Aug. 10 to vote to not disclose what was discussed at that meeting.
Waldridge, who opposed the vote to keep the discussions secret, said she believed citizens needed to know what happened anyway.
Ross did not say whether she recommended its implementation, but noted that at the board's direction she was working on a draft of an ethics code ordinance revision that could further limit a commissioner's ability to divulge discussions in closed session.
"The appropriate place to add such a provision would be in our Ethics Code – we already have a provision regarding disclosure of information to promote a personal financial interest, but nothing specific to confidential closed session items," Ross wrote. "If the BOC wants a more permanent restriction, it should be done via municipal order or preferably the Ethics Ordinance so that the process for enforcement is clear."
May said that such a provision would protect the commission.
"We talked about it and we feel like it needed to be black and white," May said. "… The thinking was it would be better to put something on a permanent basis instead of the one motion that a commissioner made at the Aug. 10 meeting."
Whisman added that he would like to see an additional provision for disallowing the sharing of closed session information via "mass communications" while the commission is in closed session.
"We had a commissioner, of course, giving a play-by-play of our communications (in closed session)," Whisman said. "I think it's an ethical concern to participate in those mass communications while we're meeting."
Waldridge took his comment to reference her commenting on the city's Facebook Live video notifying viewers of what item they were discussing. She defended that move, and also doubled down on the need for the public to be informed about the reasons for Parker's firing.
To date, none of the board members who voted to fire Parker "without cause" — May, Whisman and Commissioner John Sower — has publicly disclosed a reason for the decision. Parker has stated publicly that he welcomes any discussion regarding his firing. 
May said during Wednesday's meeting, as he has previously, that legal counsel has advised him to stay mum on the topic, and that he is concerned about violating the city's severance agreement with Parker.
"Regardless of whether somebody says they're OK with releasing information, it depends on what the contractual agreement is with the city as to whether or not that information can be waived or should be waived or should not be," May said.
The severance agreement between the city and Parker, signed by both the former city manager and May, appears to solely limit Parker's right to a hearing and directs him to drop any "causes" he may have against the commission in exchange for $70,000 and benefits. The agreement does not contain so-called non-disclosure language that is frequently used in severance agreements to prevent the parties from publicly discussing it.
May also said that Waldridge's violating the commission vote on Aug. 10 not to disclose closed session information was "a possible violation," and that it was a "deep concern going forward."
Waldridge responded that the greater concern was that the public still has not been informed of the reasons for Parker's firing.
"It doesn't concern me in that manner because it's something that our community needs to hear," Waldridge said. "There have been several things happen behind closed doors that our community should be aware of."
Waldridge also tried to read three citizen comments submitted to the board earlier on Wednesday, but May and Whisman both indicated that they didn't find them appropriate.
May said that the comments sometimes veered into subjects irrelevant to any agenda items. He noted, however, that they would be entered into the public record.
Two of the comments came from Delvin Azofeifa and Mike Fitzpatrick, co-organizers of a rally held in support of Parker after his firing and a recent "Back the Blue" pro-police event. Former Franklin County magistrate candidate Eric Northcutt also wrote the commission; all expressed displeasure with the idea of adding anything to the city's ethics code restricting members from divulging information.
"I think it is an utter embarrassment, for our city, to discuss adding an ethics provision to solely protect the Mayor and/or Commission from someone exposing potential illegal and unethical actions by the body," Northcutt wrote.
Corrected tax rate, discussion of arborist position
Commissioners also heard a reading of a corrected tax rate on real and personal property. The previously disclosed rate was 17.4 cents per $100, and it was based on a figure that overestimated the city's compensation. 
City Finance Director Alicia Boyd said that she corrected the error, making the city's new compensating rate 19.6 cents per $100. The compensating rate would generate roughly the same amount of tax revenue as last year.
Whisman pointed out that while it's not as much of a decrease, it is still a drop from last fiscal year's rate of 19.8 cents per $100.
In other business, the rest of the commission again appeared to be at odds with Waldridge — this time on the matter of hiring a city arborist, a position that has been vacant for about three years.
Interim City Manager Tom Russell brought to the commission the possibility of hiring an arborist, pointing out that while it hasn't been budgeted, the city already has a job description and a current employee interested in taking on the role.
"I like the idea that somebody wants to step up that's on staff," Russell said.
Whisman spoke in strong support of hiring an arborist, arguing that the long-term cost savings would outweigh the initial cost of a new salary. He pointed to mutliple fallen trees in parks and in residential spaces.
"This is truly a public safety issue," Whisman said. "We've had two on Wapping Street fall in recent years … . We can address those issues by maintaining those trees. We've had a significant number of issues because that position has been left vacant."
He also complained that he had brought up the idea more than once to Parker during Parker's tenure, only to have it not put in the budget.
Waldridge questioned Whisman's timing of bringing up the issue so close to the Nov. 3 election, in which she and Whisman are running for reelection, as well as the economic feasibility of it.
"I'm not opposed to having an arborist; I just think that right now, given that it's pushing mid-October and election season is right around the corner, … I think it's time to start realizing that our commission here is sort of coming to a close," she said. "I'm not saying that it's not needed, but I don't know why if it's been empty for three years it can't wait."
The rest of the commission appeared to be in favor of filling the position, with Sower saying that he wasn't going to "sit on his hands" until his term is up in December.
The commission also unanimously approved a request for $25,000 from the Franklin County Women's Shelter. The shelter is expanding operations to a building that used to be a grocery store in South Frankfort.