Editor's Note: This article was updated at 1:11 p.m. on June 6 to include remarks from Frankfort Mayor Bill May. 
Although the crowd chanted "No justice, no peace," peace was a recurring theme among those who participated in a Black Lives Matter march in Frankfort on Friday afternoon.
Shortly after 5 p.m., rally-goers, armed with masks to protect themselves from COVID-19 and signs calling for justice, equality and love, peacefully marched from the Old Capitol on West Broadway to the Capitol grounds before returning to Downtown Frankfort.
City Commissioner Katrisha Waldridge reported roughly 2,500 were in attendance while Frankfort Police Department Capt. Dustin Bowman said he heard anywhere from 1,000 to 3,000 attended the rally. 
How would you describe the state of race relations in Frankfort and Franklin County?
Bowman said he participated in the march and called it "amazing." 
"It was truly an honor to be part of that first step in solving problems that we have and issues, any trust issues, things like that with the community," he said. 
Bowman added he's proud of Frankfort and he thinks the community set an example for the state that an event like that can happen without violence. 
A group of young adults who call themselves the For the People Coalition organized the march. 
"We saw things happening outside of the city and we did not want that to happen here," said Barbara Petty, one of the organizers. "So, we just wanted to make aware of that to the community that they know they are safe. That we can come together as one — black, white, Indian, gay, trans(gender) — it doesn't matter. We can do this."
Petty was joined by her friends, Jordon Smith-Willis, Erik Jarboe, Katima McMillan, James McGraw, Patricia Freeman and Natalee Cleveland in planning the event. Waldridge also joined the group as a co-organizer. 
"Let this be a movement," Waldridge said. "Let's light a fire under our elected officials, our lawmakers to demand action for transformation. For this movement to bring justice, unity and peace, we must stick together as a community and demand better for justice and equality for all. We are a mere drop of water in a bucket individually, but together we are an ocean. We are mighty."
The names Breonna Taylor, George Floyd and Ahmaud Arbery were common among the signs and posters as well as the phrases "Black Lives Matter" and "I can't breathe."
Friday was Taylor's 27th birthday. Rally-goers were encouraged to sign a poster for Taylor's family and the crowd sang "Happy Birthday" to her twice.
On March 13, the Louisville Police Department executed a no-knock search warrant on Taylor's apartment. Gunfire erupted and eight bullets killed Taylor, according to the Louisville Courier Journal. The police were searching for two men suspected of selling drugs out of a house that was nowhere near Taylor's apartment.
According to the search warrant, police believed one of the two men had packages delivered to Taylor's residence. Taylor, an emergency room technician, dreamed of becoming a nurse and mother.
The video of a white police officer pinning Floyd, who was handcuffed, to the ground with his knee to the back of Floyd's neck went viral. For nearly nine minutes, Floyd told the officer, "I can't breathe," until he eventually lost consciousness and died.
That officer faces second-degree murder charges. Floyd leaves behind five children.
Arbery was known as an athlete who liked to stay in shape. He was 25 years old.
Within the last week, protests have erupted nationwide calling for justice for Taylor, Floyd and Arbery. The protests have also sought to draw attention to police brutality and racism.
Before marching to the Capitol grounds, the organizers and a few guest speakers spoke on the goals of the protest while reminding the crowd that black Americans have faced hundreds of years of oppression in the U.S., including slavery, segregation, racism and discrimination.
Organizers also reminded the crowd to keep each other "in check," as the goal of the rally was to remain peaceful. No violence or vandalism would be tolerated, they said.
And so they marched. Chanting Taylor, Floyd and Arbery's names, "Hands up, don't shoot," "Black lives matter," and more.
Among the marchers was Frankfort mother Sharon Buchanan. She was marching to bring awareness to her son John Brandon Lamotte's case.
Lamotte was convicted and sentenced to 11 years in prison for first-degree assault last year. Buchanan says her son is innocent and did not stab his neighbor multiple times in Frankfort in 2017.
"He was presumed guilty from the beginning," Buchanan said.
Elise Edison, a 15-year-old Georgetown resident, participated in her first Black Lives Matter march on Friday.
"Black lives matter. I believe that should be known to people," she said. "This is important because (racism) needs to stop."
Rally-goer Daniel Blithe-Jones, 29, of Frankfort, told The State Journal that he loves and cares for everyone, not just black lives.
"It ain't just black lives," he said. "I think all lives matter, honestly. Because I've grown up around both sides. Love is love."
Frankfort Mayor Bill May also participated in Friday's march, despite his cancer diagnosis, which increases his risk of contracting COVID-19.
"I need to be here," May said. "This is such an important issue that requires every voice to speak against the injustices suffered for generations. Today we are unified. We are fighting this fight together."
Marchers were met on the Capitol grounds by Gov. Andy Beshear, who let the crowd know he will do everything he can to remove a monument dedicated to Jefferson Davis, who served as president of the Confederacy, from the Capitol Rotunda.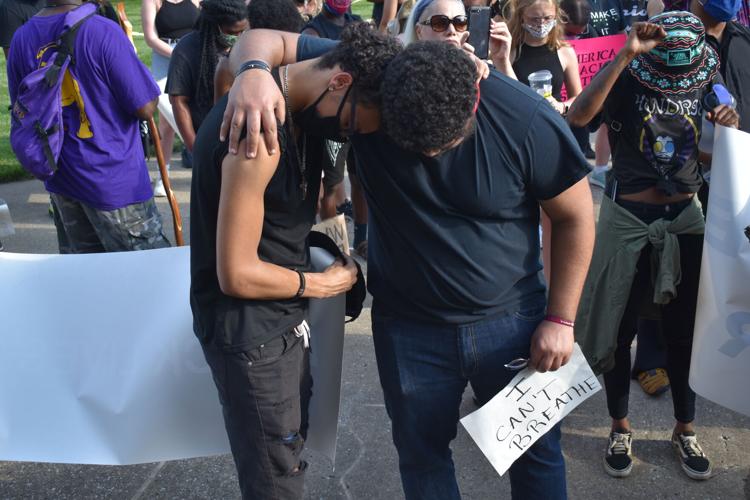 At that news, the crowd erupted in a thunderous applause.
"I will never be able to feel the depths of your frustration," Beshear said. "I will never be able to feel the depths of your fatigue. I will never be able to feel the depths of anger that's arisen from hundreds of years of slavery, segregation, Jim Crow and racism, but I hope you see someone who's listening."