It's safe to say that Franklin County is growing, according to Property Valuation Administrator Kellie Lang. 
Final total real estate assessments for 2019 in Franklin County were more than $3.1 billion, up $117 million from 2018. That's about a 4% increase. 
The 2019 anticipated tax revenue for the county is $5.9 million, about $219,000 more than last year. 
"So, is it fair to finally say that Franklin County is growing?" Magistrate Michael Mueller asked Lang during the presentation.
"I would say yes," Lang replied.
On Monday, she said that she still agrees with that sentiment.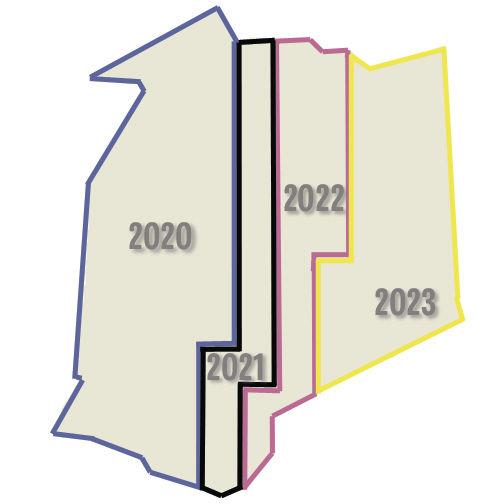 During 2019, the PVA's office assessed the eastern-most quad of the county. 
Lori Adkinson, Coldwell Banker Preferred Realty part-owner, said that one new trend that is helping the real estate market is "more building going on" the west and east side of the county. For a few years, not many homes were being built due to a bad overall economy. As new homes are built, people are increasing in the market for them, Adkinson said. 
As newer and bigger homes are built, property owners in smaller homes can move into them. The smaller houses then go up for sale, usually to first-time property owners. New local home construction creates a path to move up, Adkinson said. 
"When I actually came in in January, there were a lot of properties that hadn't been assessed since 2008," Lang told magistrates during their Oct. 3 meeting. 
When she noticed that, she set up a meeting with the state Department of Revenue, which then looked at Franklin County's assessment records and rations and saw that some properties in the eastern part of the county had not been assessed since 2008, so it was assessed during this year, she said. State law requires that property be assessed physically by a PVA every four years. 
Lang told The State Journal on Monday that the previous PVA administration had laid some of the groundwork for that assessment, such as taking photos from the field, but as for why some properties had not been assessed for almost 11 years, Lang said that she "can't speak for the previous administration." 
The Kentucky Department of Revenue staff said via spokesperson Glenn Waldrop that when the department becomes aware of a portion of a county that is not inspected in a timely manner, it requires the local PVA to put those properties first in the next quadrennial cycle and will offer any necessary assistance. 
"Since Ms. Lang has already addressed the issue, then there will be no further action from the Department of Revenue at this time," Waldrop said. 
Lang said that last year, Franklin County was able to put $20 million in new commercial property on the tax roll. 
"We have a lot of new construction going on in Franklin County and the sales are out of the roof," Lang said in the meeting. 
One distillery, which Lang did not name, has already created a new storage unit that is more than 80,000 square feet and is working on a second. The PVA's office will inspect the second building in January, depending on the weather. If finished, both will go on the tax rolls next year, which would equate to about $15 million for the 2020 tax roll. That's just one example of business growth in Franklin County, she said.
Recently her office looked at a building that was assessed at $80,000, but it sold for $170,000. Another positive sign of growth is the number of deed transfers in the county, which is at 1,600 transfers at the time of the meeting. Last year, the county had about 2,000 transfers for the year. 
The Kentucky Department of Revenue creates the property tax calendar. In the listing period, which is from Jan. 1 to March 1, the PVA's office is updating property assessments for all locations in a quad of the county. The quad assessed in a county rotates every year. 
By law, whenever a PVA makes a change in assessment, it must notify the property owner and give the owner time to contest it. 
The far east quad of the county, which Lang highlighted with a yellow outline, was the area that her office focused on in the past few months. The area includes some parts of magisterial districts 2, 3 and 4 and has 6,306 parcels. It will be up for assessment again in 2023. 
From the 2019 assessment, the PVA office sent more than 6,500 notices to property owners about changes in their assessments. From those notices, the PVA's office held 101 conferences, which is when the PVA staff meets with the property owners and then they choose to agree or disagree with the initial assessment. 
Following those conferences, only five commercial/retail property owners made an appeal to the Franklin County Board of Assessment Appeals, which all resulted in affirmation of the PVA. Four of those appeals are going to the Kentucky Claims Commission for review. 
"When we do make a change to any assessment, we will send a notice," Lang said Monday. The next rounds of notices will be sent to property owners via mail in late April. Property owners will then have the first two weeks of May to set up a conference with the PVA's office.
In the next few months, Lang said, she and her staff will be working to prepare for the next tax assessment season and is working to gather 2019 building permits and going out in the field to look at properties. The next area to be assessed will be the western-most quad, which is outlined in blue, and made of 6,615 parcels.