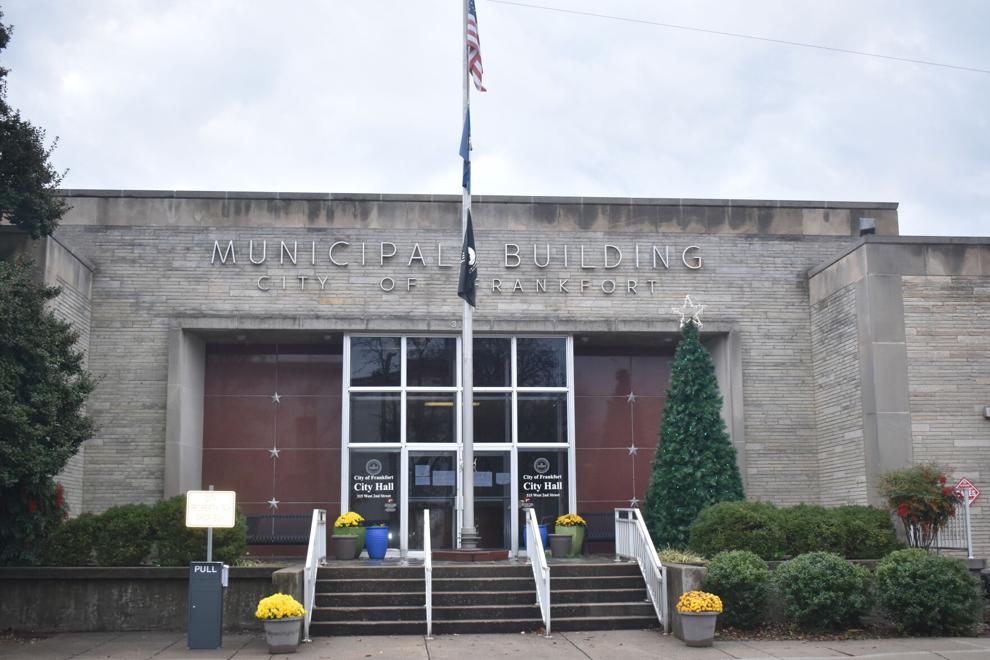 Editor's Note: This story was updated at 6:25 p.m. on Saturday to reflect that Sarah Ripy works for the Kentucky Department of Military Affairs, not the National Guard; it also has been corrected to show the latest approximations of Ripy's salaries, past and present. A previous version of this article used a calculation of Ripy's city salary based on her hourly wage that was adjusted for holidays and vacation, therefore lowering its value.
In the wake of the Frankfort City Commission's controversial firing of former City Manager Keith Parker, many citizens wondered about the reasons for the action. A recent open records request yielded a document that pointed to one potential reason, showing that a former employee filed a complaint against Parker stating that he made her fear losing her job.
Frankfort Mayor Bill May, who was one of three commission members to vote for Parker's firing, said the document "speaks for itself."
But another set of documents obtained in an open records request to the Kentucky National Guard shows that the employee, Sarah Ripy, had already been selected for a new position at the Kentucky Department of Military Affairs when she filed the complaint on Aug. 3 about fearing for her job at the city's IT Department.
Emails between department-specific and human resource officials at the Department of Military Affairs show that she was chosen on July 27 for the job she currently holds. Based on records of Ripy's last raise from the city, her annual salary was just under $56,000. Her salary at the Department of Military Affairs pays $57,600, with an expected raise to $60,480.
She initially applied for the position of geoprocessing specialist with the Department of military Affairs in late April and had her only interview on July 23.
Initially, Kentucky Department of Military Affairs Staff Attorney Katherine Fitzpatrick said that Ripy could have been notified as early as July 31 — when she passed a background check — or as late as Aug. 5. 
After initial publication of this article Kentucky National Guard Director of Public Affairs Lieutenant Colonel Stephen Martin reached out to the State Journal to clarify the timeline of Ripy's hiring. Martin said that the initial offer was made to Ripy on July 31, with the final salary offer coming on Aug. 5.
The State Journal has attempted to contact Ripy several times, including as early as Sept. 1 upon learning of the potential existence of the complaint, but has never received a response.
In previous reporting, The State Journal elected to keep Ripy's identity anonymous; city records related to her complaint, which was included in Parker's personnel file, were given with Ripy's name redacted. The Kentucky Department of Military Affairs did not redact her name from records.
City Commissioner Katrisha Waldridge, who has been the most vocal defender of Parker in the wake of his controversial firing, said she thinks Ripy's complaint was set up by the rest of the commission to tarnish Parker's name.
"I'm not one to dismiss anyone's complaints," Waldridge said. "However, in reading the information I've received, a conclusion is that this is just another antic that has been put on by these commissioners — all three commissioners and the mayor. That includes Scott Tippett."
Tippett joined Waldridge in voting against Parker's dismissal, which was approved 3-2, with May and Commissioners John Sower and Eric Whisman in favor. Tippett indicated on Wednesday that well before Ripy's complaint, or the dates of the incidents she referenced, "an employee" reached out to him about "a concern."
"What I said to her was 'there are appropriate ways to deal with this,'" Tippett said. "I had one conversation with her, and I had no clue until it got really heated, maybe just prior to a termination or just after Mr. Parker got terminated, that a grievance had been filed by an employee."
That conversation, per Tippett, happened a month or more before Parker's firing dominated City Hall discussion.
"That person reached out to me for guidance," Tippett said. "I said 'there are appropriate ways to deal with this.' It's over as far as I'm concerned. I've turned the page on the past city commission and wish the best for the future commission."
Whisman and Sower declined to comment on the record, saying they didn't want to comment on personnel matters.
Parker, in a response to the complaint written days after his firing, said he believed the complaint was being "trumped up" by the commission as a reason for firing him.
"It is starting to look like there was a concerted effort by the Commission to trump up charges on the City Manager," Parker wrote. "... As City Manager, I have a right and duty to supervise all city personnel and ensure all departments are being managed appropriately and running smoothly."
"I have been a supervisor at the City of Frankfort since March of 2016," Parker added in that response. "And I had two complaints, one personnel and one contractor, filed against me just before the commission fired me without cause."
Waldridge agreed, reiterating that she thought the complaint was set up by the other four members of the board.
"If I'm wrong on this, I'll apologize," Waldridge said. "I just think it's another antic … the common denominator is this mayor and these three commissioners.
Neither Waldridge or Thompson has said whether they plan to further pursue their complaints. Thompson could take his, which the Attorney General's Office found to show that the commission "engaged in prohibited conduct" but did not violate the law because it didn't intend to do so, to Franklin County Circuit Court. Waldridge has yet to appeal the city's rejection of her complaint to the Attorney General.
On Wednesday, Parker again acknowledged the timing of the complaint relative to his firing, and defended his actions as city manager. He said that he did not know, prior to being notified the day before his first conversation with Ripy, that she was a sister-in-law to her boss, IT Director Bobby Ripy.
"Sarah's performance was never in question and I only met with her out of concern for her situation being supervised by her brother-in-law." he said. "I was told by a co-worker that she was afraid for her job, and I addressed it the next day. I don't know what else a person would do. I thought she was uncomfortable and that's why I had to meet her."
The complaint appears to have been made a public record on Oct. 12 by Parker's replacement, interim City Manager Tom Russell, as well as City Attorney Laura Ross and Human Resources Director Kathy Fields.
Sarah Ripy submitted her formal letter of resignation to the city on Aug. 13 and started the new position at the Department of Military Affairs on Sept. 1, per City and Department of Military Affairs records.
May, who previously said that the complaint "needs to get out there in the interest of openness and transparency" and that "… having not been able to talk about this (the complaint) is very frustrating," said that he didn't know about Ripy's new job. 
He also said he wasn't sure if the new information changes any of his previous opinions.
"I don't know that it changes anything for me," May said. "I read her complaint and accepted it on its face."
He also said that he does not want to get into any potential reasons due to the city's severance agreement with Parker, in which Parker is to receive $70,000 in the six months following his firing in exchange for dropping any "causes" against the city.
"We have no desire to list any reasons because we were in compliance with the (severance) agreement," May said.