Juniper Hill Family Aquatic Center opened May 28, and many Frankfort and non-Frankfort residents are taking advantage of all the fun it has to offer.
Florida resident Laura Hillman, originally from the Shelbyville area, occasionally travels up here to visit family. Her two younger children, Landon and Lydia, love to stay active throughout the year.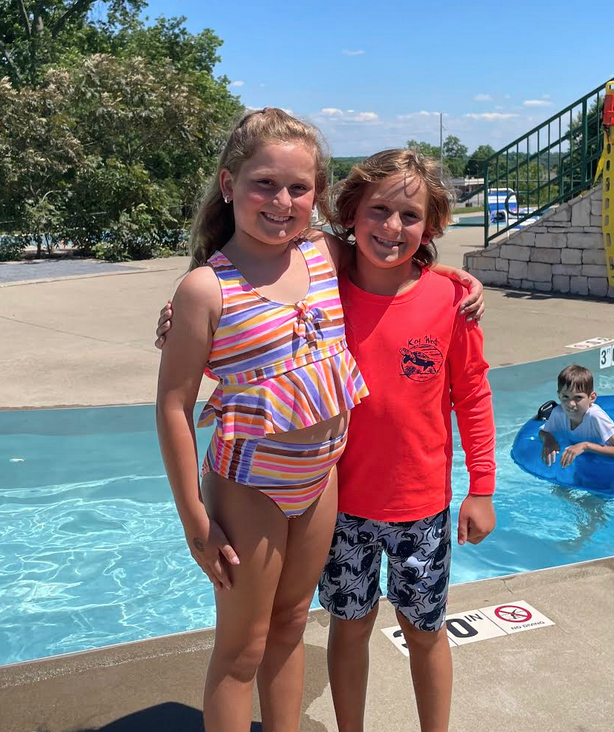 This is only the second visit the Hillman family has made to the aquatic center, but they were all excited to view the many different features the center has to offer, such as the 400-foot lazy river where guests can float around and enjoy the water and a rock wall that ascends from a portion of the pool.
Hillman noted that the rock wall is one of the coolest features she has seen in a public pool space. However, she feels there could be some slight improvements at the pool, such as adding more chairs and sunscreen stations.
"There's more people here than last year," Landon Hillman added, comparing his first-ever visit last June to Friday afternoon.
Cortney Taylor from Lawrenceburg visits the pool every week with her children and enjoys the variety in features the pool offers, such as the different play areas.
"It's easy for me to watch my son play and then my oldest is able to go [swimming] because of the two different sizes that match both of their ages," Taylor said.
Taylor noted that the pool is not only a place for children to have fun, but parents, too.
"They have the lazy river that parents can enjoy and take turns on, as well as different water
slides and pools," Taylor said.
Pool admissions worker Olivia Smith said her favorite part of her job is being able to meet new people. This is her second summer working at the pool.
"You get to meet all kinds of people and see new faces, and it's an opportunity to bond with
people you didn't know before," Smith said.
Juniper Hills Family Aquatic Center is open Monday through Saturday from 11:30 a.m.–7 p.m.
and Sunday from 12:30–7 p.m. Franklin County residents receive a $1 discount on pool