Patrick Sullivan and his faithful steed Gamilah made their way through Frankfort Wednesday on their more than 2,300 mile trip from Sacramento, California, to the Kentucky Horse Park in Georgetown. 
"We're ready to be done," Sullivan said. 
The team, which also included Gamilah's brother Hal and a truck and trailer, set off on their journey on April 16. Sullivan rides two days on one horse, then two days on the other. They ride about 20 miles a day. They plan to reach the Horse Park on Thursday.
Sullivan said the ride has been to raise awareness on how horses can help people heal. Along the way, Sullivan has stopped at 17 different non-profits that utilize horses for healing. They recently stopped at Stormhaven Youth Ranch in Shelbyville.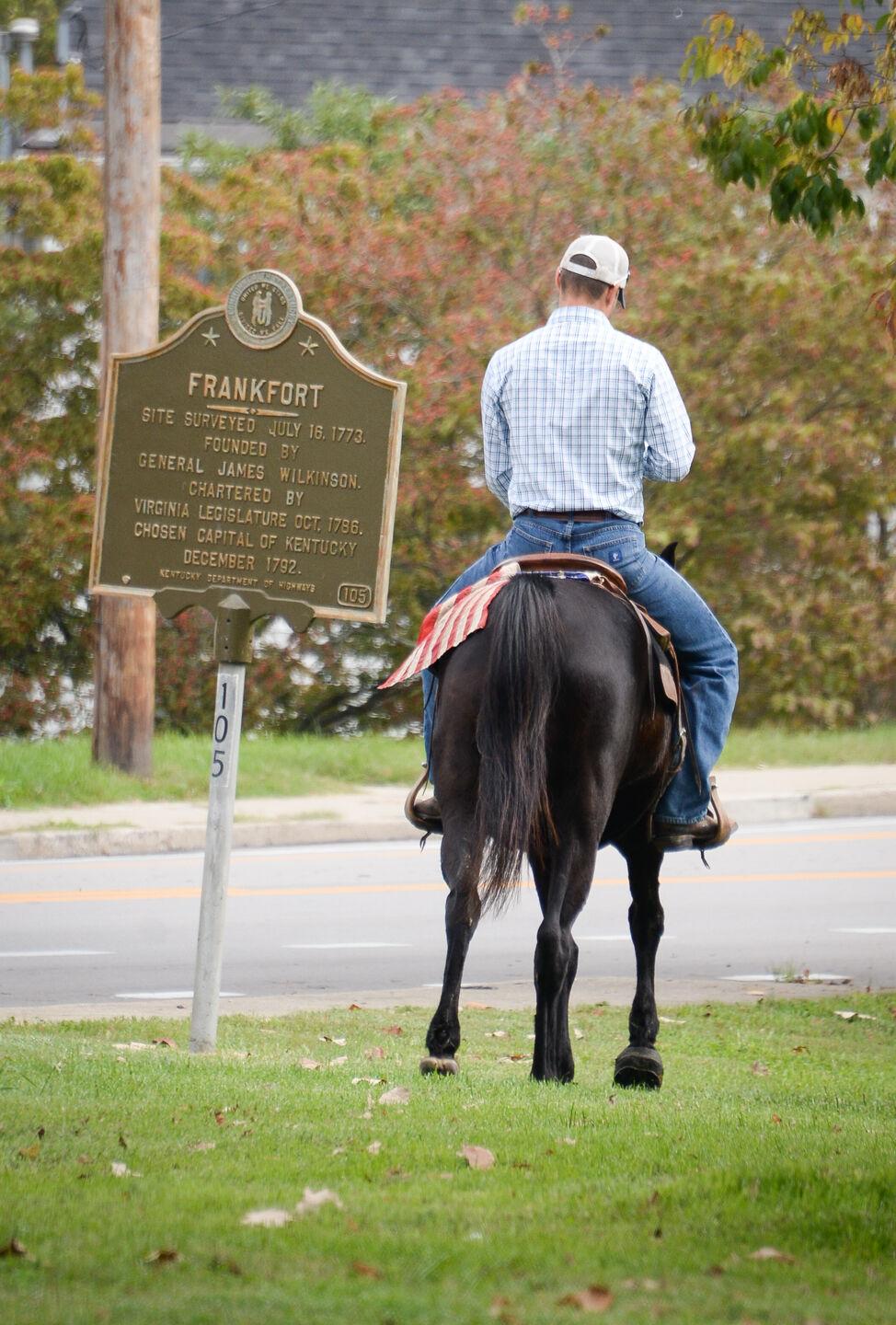 "At Stormhaven Youth Ranch we rescue horses," according to the ranch's website, www.stormhavenyr.org. "From the neglected to the abused, to the lonely and forgotten, we provide a safe haven where they can learn to trust and love again. No matter what the children are facing in their lives they can run away to a little ranch where horses and children bond, offering each other that hope and unconditional love that we all yearn for in our unstable world."
Along with non-profits, Sullivan has also stopped at jails along the way to offer horse therapy to inmates.
"I'm doing this as a way to give back and show how horses can help people," he said.
To celebrate the completion of his journey, Sullivan is planning an event at 5:30 p.m. on Oct. 22 at the Kentucky Horse Park. The celebration event will include a workshop on liberty training. 
Liberty training teaches horses to communicate without the use of ropes and bridles, Sullivan said.
"I've been teaching it along my way," he said. "Liberty is less forceful. The horse has to choose to be with you and walk with you. We're family."