To prepare her remarks for being named the Elkhorn District of the Scouts BSA (formerly the Boy Scouts of America) 2021 Franklin County Distinguished Citizen last month, Franklin District Judge Kathy Mangeot brushed up on the oath and law that each Scout promises to obey.
"…and I can tell you with absolute certainty if more young people participated in Scouting, many of our current societal problems would become obsolete," she explained.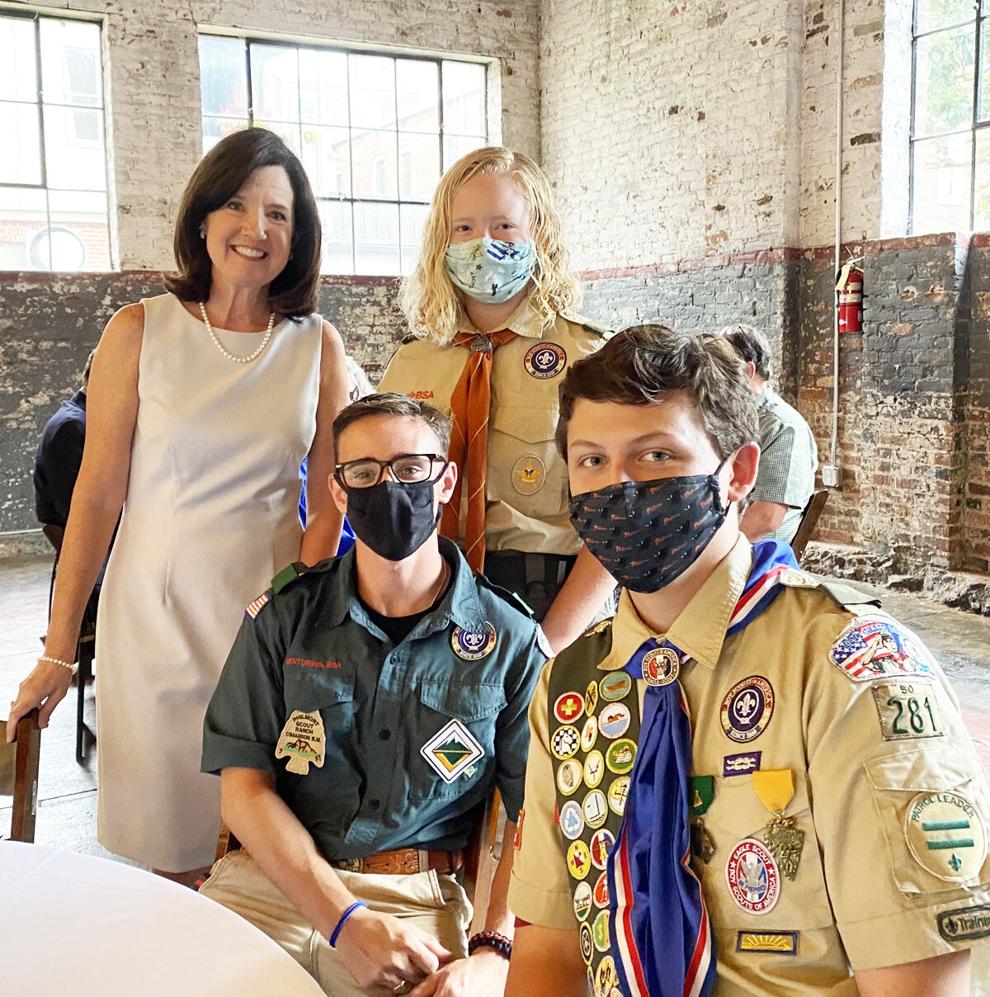 According to Scout law, a Scout is trustworthy, loyal, helpful, friendly, courteous, kind, obedient, cheerful, thrifty, brave, clean and reverent. A Scout promises to help others at all times.
In her address Mangeot said the world would be a better place if we all exhibited those characteristics and leadership skills.
"(Scouting) also teaches the importance of service and the discipline and perseverance to get any job done no matter the challenges," she added at the Sept. 21 event.
"And just as important as the service to others and to one's community, I think the Scouts love of adventure and the environment, their appreciation of diversity and their ability to set and achieve goals will make each of them natural leaders in our community and world."
The organization annually honors a local citizen who exemplifies the Scout spirit.
Mangeot, who has served on the bench for the past 15 years, has presided over numerous courts in Franklin County including civil, mental health, disability, traffic, juvenile and criminal court and has grown accustomed to seeing people at their worst.
"Some of our local citizens and neighbors are struggling just to get through their days. Many suffer from mental health issues, many have substance abuse disorders and truly a great deal of them suffer from their own personal circumstances (many times through no fault of their own) which often results in lack of purpose in life and loss of hope," she stated.
Mangeot said she has come to the realization that as a judge her job is more than simply handing out sentences and dictating consequences.
"… part of my job as a public servant is to do the best I can to provide the hope someone needs to help them get through their day and to ultimately become a more productive member of our community," she added. 
"Tempering myself based on the Scout Law will certainly help me to do just that."
Mangeot said that setting and accomplishing goals, having a purpose and hope in life makes a better community for everyone.
"So don't take these Scouting experiences and lessons for granted, rather let the lessons you're learning through Scouts serve you well throughout your lives and future careers," she explained, adding she is humbled and honored to receive the award. 
"And I challenge everyone in this room to consider being more like a Scout, by always helping other people at all times — especially those less fortunate than yourself. 
"I promise, if you accept my challenge, our local community will improve as a result!"