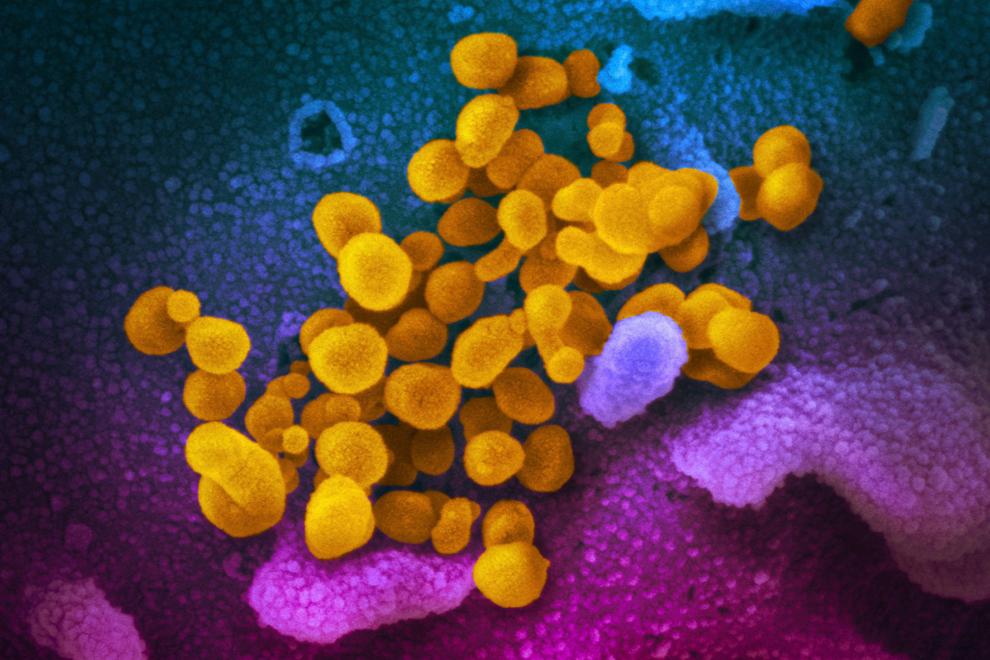 Gov. Andy Beshear said today he may order closure of large bars and restaurants if they keep drawing big crowds at they have done in advance of St. Patrick's Day. "If you go out and get in a place with 100-plus people, you frustrate those efforts" to stop spread of the virus, he said. Noting that Ohio has ordered such closures (as have other states), he said, "If we cannot show responsible practices in how we social-distance, then I will be forced to do the same."
Beshear said the other place where Kentuckians "have to be better" is avoiding runs on supplies, leaving store shelves empty. "We have to understand that we are all going to have to change our lifestyles in different, fundamental ways. . . . If we are going to change the curve in what we expect of these cases, if we are going to protect our loved ones who are out there, we have to be willing to change our practices, and everybody has to be a good teammate."
Further signaling that he will close day-care centers, Beshear said health-care workers would need exemptions. The day before, he asked the centers to make plans to close on 72 hours' notice.
Asked if he had any reports on how churches had complied with his requests to cancel services, in light of reports that many did not, Beshear didn't say, but indicated why he made the request: He said a church in Montgomery County may have helped spread the virus, and a Harrison County church was directly linked to two cases there.
The U.S. Centers for Disease Control and Prevention recommended that there be no gatherings of more than 50 people for the next eight weeks.
The number of covid-19 cases in the state has risen to 21, with new cases in Clark and Jefferson counties, after 254 tests. Beshear said at 4 p.m. Sunday that 19 more tests are in process.
Beshear said one patient is not expected to recover, but "The coronavirus is not the only factor" in that case. He declined to give details until the case is over.
"Mental health is going to be critically important in getting through this," Beshear said. "Make sure that you do things that help your mental health." The day before, a state mental-health expert gave detailed advice on that, and newspapers ran stories about helping children cope.
The governor said he has tested negative for the virus. He said he qualified for testing as a "mission-critical" person after someone at a March 7 fundraiser for the Speed Art Museum in Louisville tested positive. That person appeared to be philanthropist Christy Brown, who acknowledged Sunday that she had tested positive.
Also testing positive in Louisville was "Mary Moss Greenebaum, the leader of the Kentucky Author Forum, who also attended the Speed Ball," the Courier Journal reported. She told the paper that an initial test at the University of Louisville was negative, but "one wise doctor was skeptical enough — given my symptoms — to insist that the test be done again and it turned out positive."
U.S. Rep. John Yarmuth, D-Louisville, said he would self-quarantine for 14 days because he "was in the presence of an individual who has since tested positive for covid-19. . . . I have been tested and am awaiting results."
Centre College in Danville extended its spring break by a week and said all classes would be online for the rest of the semester.
Gov. Andy Beshear said child-care centers are being asked to create plans that would allow them to close on 72 hours' notice. "While children remain at low risk, they can carry the virus and we must do everything we can to reduce its spread and protect our most vulnerable, including our senior citizens," he said. Earlier in the week, the day after he announced that schools had been asked to make such plans, he asked schools to close, and they did. Suggesting urgency today, he said "I don't want to be the governor that waits two weeks too long."
The number of confirmed covid-19 cases in the state rose to 18. A newly identified victim in Nelson County, a 53-year-old man, is confined to his home under armed guard because he left a medical facility and refused to self-isolate after testing positive, Beshear said.
One of the 18 is "in really bad shape," Beshear said. "There is even an expectation that that individual might not make it," due to other medical factors. He declined to give the patient's county, age or even age range, citing privacy concerns. 
The governor urged citizens to stop runs on essential items at stores, saying he had heard of a young mother who had been unable to find formula for her baby. "If we are all good neighbors to each other, we will get through this," he said.
The state has asked hospitals to stop elective surgeries by close of business Wednesday, March 18. "We need all the capacity that we can to deal with the cases that we're going to see," Beshear said.
The state covid-19 hotline (800-722-5725) is getting 2,000 calls a day, and its operator, Norton Healthcare, is hiring more people to make it more responsive, Health Commissioner Steven Stack said.
Beshear said that after some difficulty with the federal government, he is sending National Guard medical units to bring home 16 Kentuckians who were on the Grand Princess cruise ship and are quarantined at Air Force bases. One of the 16 told the Courier Journal that she still hasn't been tested for the disease.
The governor said the U.S. Department of Agriculture has approved a waiver allowing schools to keep serving meals to students while schools are otherwise closed.
He said the state is trying to have half as many employees as usual working in state offices, by moving transactions with the public online or to the telephone.
Asked whether Kentuckians should go to restaurants, Beshear said, "Order takeout. . . . We want to support that restaurant industry." At the same time, "They ought to make some pretty significant changes on density," to practice social distancing needed to prevent transmission of the virus.
Beshear and Attorney General Daniel Cameron warned of potential scams, such as fake websites, social-media posts and email solicitations trying to sell products or gather personal information. "Watch out for products that claim to cure coronavirus or guarantee coronavirus prevention," they said. "Be wary of emails from con artists pretending to be the Centers for Disease Control or other public health organizations. A legitimate medical provider would never ask for sensitive information through email."
Despite Beshear's call for churches to cancel services, "Most congregations in Hopkinsville will have their regular services" tomorrow, reports Jennifer P. Brown of the Hoptown Chronicle. However, some "are changing long-standing practices, including how and when communion is served."
Legislation negotiated by House Speaker Nancy Pelosi and Treasury Secretary Steven Mnuchin, and essentially endorsed by Senate Majority Leader Mitch McConnell, would provide two weeks' sick leave at no less than two-thirds of normal pay, to encourage people who may have the virus to stay home from work. It would also expand family and medical leave and boost unemployment benefits.
The bill would have the federal government pay 80 percent of traditional Medicaid costs in Kentucky, up from 72 percent. The Courier Journal reports, "The state would gain about $620 million in additional federal money this year, according to the Center on Budget and Policy Priorities in Washington. Dustin Pugel of the Kentucky Center for Economic Policy "said that would free up state money for other needs, especially if the pandemic triggers an economic slowdown."
President Donald Trump declared a national emergency to combat covid-19. Gov. Andy Beshear said it would give Kentucky more flexiblity and hopefully more funding, but he declined to comment on how the declaration might affect Medicaid. It could enable Kentucky to quickly enroll more people in the program.  
Beshear now recommends that all community gatherings should be canceled or postponed: "We don't want to be, and you don't want to be, the community gathering that ultimately ends up spreading this."
He said those who can work at home should do so, and those who do have to go to their workplace should practice social distancing, eat at their desks and meet by telephone, and employers should stagger workers' hours: "Take as many precautions as you can."
Friday morning, Beshear recommended temporary closure of the state's 195 senior centers, which provide 8,000 meals a day to seniors, 4,800 on site and 3,200 by home delivery. He said plans are in the works to see that all who depend on these meals get them, either through home delivery or drive-by pickup. 
Asked if any Kentucky patient had died of covid-19 after being denied testing, which is in short supply nationally, Beshear said "not to our knowledge."
Tests have been conducted on 153 Kentuckians, with at least 14 positive results, including the first from Montgomery County today. Health officials said the person is in isolation at home. 
A patient with the virus is in isolation at Baptist Health Lexington, the hospital said. The first victim identified in the state, a 27-year-old Harrison County woman, was discharged from the University of Kentucky hospital.
The Washington Post did a story on Cynthiana and Harrison County, which has had six cases; The New York Times is working on one.
Beshear said the Kentucky Employers Mutual Insurance Co. will provide wage-replacement benefits for first responders and medical personnel who have been quarantined for covid-19 as a result of possible exposure at work. 
He said state boards and commissions should use video teleconferences for meetings. In such cases, agencies must provide the public with a link to access the meeting remotely. 
The state is working on guidance for coroners and funeral homes. Beshear encouraged social distancing for now, and said one option would be to hold a small funeral now and a larger gathering later. 
Gov. Andy Beshear announced that under the direction of Health Commissioner Steven Stack and others, he was recommending that all Kentucky public and private schools close for two weeks, and that if the third week is spring break, they should extend closure for a third week. He said that while children seem to be less affected, "We do believe they can spread the coronavirus just like anybody else." 
Acting Education Commissioner Kevin Brown said he has asked for a waiver to allow school districts to be federally reimbursed for food that children get from school cafeterias while schools are closed.
Districts in the state's non-traditional instruction program can use online instruction. Brown said he has asked for a waiver to allow districts that haven't been approved for the program to do likewise.
The number of Kentuckians with the coronavirus has risen by three, to 11. The state now has three testing sites: LabCorp, the University of Louisville and the state lab in Frankfort.  
Officials recommend that all people avoid crowds and use social distancing when visiting with each other, meaning that you should stay six feet apart. Stack showed data from Seattle illustrating how the covid-19 disease can be prevented by strong social distancing. He said that shows that if the state remains aggressive in its actions, and "if we do them quickly and if we don't delay," we have the best chance of "not having this disease take hold in Kentucky as badly as it could." He posted a short video saying that aggressive action is needed now to prevent a spike in cases that would overwhelm the health-care system.
Beshear said the previous recommendation against travel by people over 60 or with underlying medical conditions is "getting to where it's for everybody. Don't fly. Don't get on a cruise ship."
The Kentucky General Assembly will not meet Friday and Monday out of "an abundance of caution" and to assess future steps, legislative leaders said.
The Kentucky boys' state basketball tournament and the remaining games of the girls' tournament have been suspended indefinitely, the rest of the SEC men's tournament has been canceled, and the NCAA has canceled all spring tournaments including basketball.
Wednesday, March 11, 2020
Invoking the key principle of social distancing, Gov. Andy Beshear said Kentuckians should avoid crowds and churches should cancel their services. "I don't believe whether you go to church at this time is a test of faith," he said.
"There's going to be a lot of other steps" recommended as time goes on, Beshear said at a morning press conference.
Beshear said school superintendents will be asked to develop plans that would allow them to close schools on 72-hour notice while still providing meals and care for students.
The University of Kentucky said all classes would be online for the two weeks after next week's spring break. The University of Louisville extended its current break to March 17, and said classes would be online from March 18 through April 5. Western Kentucky University said it would extend its break through March 22, then go to online courses for the two weeks after that.
The state barred visitors at prisons and other correctional facilities, and Beshear said it would make recommend that to county jailers.
It barred "non-essential travel" by state employees are said private employers should do likewise.
State Health Commissioner Steven Stack declined to say how many Kentuckians had been denied testing, saying his epidemiologists were too busy right now to compile that number. The state says it follows federal guidelines for who can qualify for one of the limited number of tests that are available.
The World Health Organization declared covid-19 a  pandemic, with more than 118,000 cases in 114 countries, and more than 4,000 deaths worldwide. "We are deeply concerned both by the alarming levels of spread and severity, and by the alarming levels of inaction," WHO Director-General Tedros Adhanom Ghebreyesus said.
President Trump banned most travel from Europe for 30 days, beginning Friday at midnight. He said in an Oval Office speech that the U.S. has "dramatically fewer cases" than Europe, but did not acknowledge that difference may be due to limited U.S. testing for the virus. He said his administration was moving "very quickly" to provide more test kits, but gave no specifics. "We are all in this together," he said. "We must put politics aside, stop the partisanship and unify together as one nation and one family."
The state Cabinet for Health and Family Services provided a recipe for a home-cleaning product to disinfect against the coronavirus that causes covid-19: mix a gallon of water with 1/3 cup of bleach. 
Stack said it's important to remember that it can take a few days to two weeks to show symptoms of covid-19, and some will have it and have no symptoms, but still be contagious, "so you can have healthy-appearing but infected individuals spreading disease."
Beshear said, "The next month is going to be critical. That's what all of the national health experts are saying, and how we respond to this in the next month, I believe, is going to determine how long we are dealing with it, but also how severe the impacts of the coronavirus are going to be here in Kentucky." 
The governor continued to encourage those 60 and older and those who have underlying health conditions to avoid being part of large crowds, including high-school basketball tournaments.  He said those who do go should practice both social distancing and excellent hygiene. 
The NCAA announced today that all Division I men's and women's basketball tournament games will be played in arenas without fans, with only "essential staff and limited family" allowed to attend. 
As of 5 p.m. March 10, eight people in Kentucky have tested positive for covid-19, five from Harrison County, two from Fayette County and one from Jefferson. Numbers are updated here.
The five Harrison cases, are women aged 27, 54 and 67, and men 60 and 68. The Fayette cases are men 46 and 49; the Jefferson patient is a 69-year-old man. All are in isolation.
Gov. Andy Beshear said all the Harrrison cases are "linked" but he wouldn't say how.  
Beshear has directed nursing homes and other long-term care facilities to stop taking visitors, except for patients in end-of-life care. 
He has signed an executive order allowing pharmacies to refill prescriptions for non-controlled medications for up to 30 days; to temporarily operate in areas not designated on their permits; and allow pharmacists to dispense drugs as needed to treat covid-19, following state and federal guidance.
CVS Pharmacy said that it will waive charges for home delivery of prescriptions; that Aetna, a CVS Health company, will offer 90-day maintenance prescriptions; and that it will waive early-refill limits on 30-day maintenance prescriptions for all members with pharmacy benefits managed by CVS Caremark.
Berea College will end its semester Friday, March 13. Students have been asked to move out by March 14. President Lyle Roelofs said "It will not be possible to adequately assure student and employee safety in the circumstance of a case of covid-19 . . . on campus."
The University of Kentucky is surveying faculty about their readiness and resources to teach online. UK's spring break is next week.
Beshear reiterated his call for employers to be flexible in their sick-leave policy, to make sure they provide enough leave to allow their employees to stay at home while they wait for their test results and for the duration of their illness, to avoid spreading the virus.
U.S. Senate Majority Leader Mitch McConnell said in a news release, "I would urge all of my colleagues on both sides of the aisle, in both chambers, to put reflexive partisanship aside."
PROTECT YOURSELF AND OTHERS
Information about covid-19 in Kentucky can be found at 
kycovid19.ky.gov
; to ask questions about the disease, call the state hotline at 1-800-722-5725.
Signs and symptoms of covid-9 include fever, cough, shortness of breath, but many people with the coronavirus have no symptoms, or may have the virus and be contagious for several days before developing symptoms.
If you develop symptoms and have been in close contact with a person known to have covid-19, or have recently traveled from an area with an ongoing spread of coronavirus, it is recommended that you seek medical advice.
The virus is thought to spread mainly from person to person through tiny droplets produced when an infected person coughs or sneezes.
Kentucky Health News is an independent news service of the Institute for Rural Journalism and Community Issues, based in the School of Journalism and Media at the University of Kentucky, with support from the Foundation for a Healthy Kentucky.