Kentucky's gubernatorial candidates, Gov. Matt Bevin and Attorney General Andy Beshear, faced off in a terse and sometimes tense debate at the University of Kentucky Tuesday night. Here are five major exchanges. 
Bevin calls out Beshear sending his kids to private school
After Beshear outlined his plans for education and said, "We are going to have an education-first budget where we always take care of public education first,"  Bevin accused Beshear of being a fraud for touting himself as a candidate for public education but not sending his kids to public schools.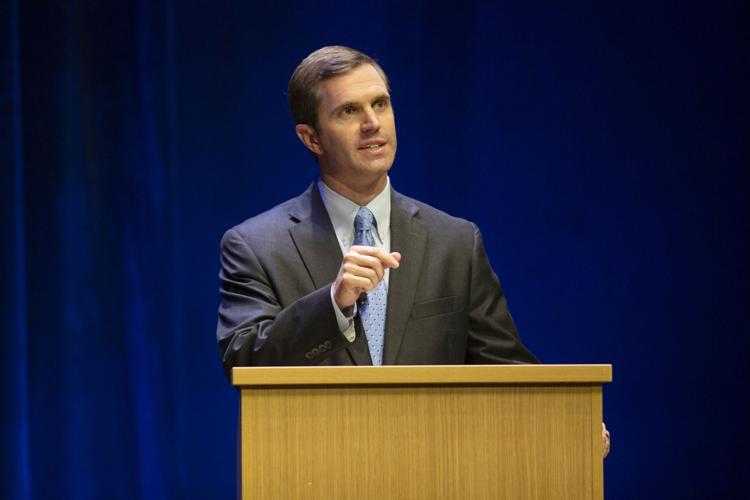 "You love public education so much that your kids go to private school, is that right?" said Bevin. 
"You're attacking my kids?" Beshear retorted. 
"No, I'm not. I'm just saying you're a fraud," said Bevin, adding that four of his nine children have attended public school.
Beshear said he and his wife "fell in love" with a school where their children attended preschool, but one is taking a test next week to enter a public middle school.
The candidates argued about abortion
They were asked about the state's role in the issue, presenting their first opportunity to debate an issue on which they have very different stances. 
"I support Roe vs. Wade," the 1973 Supreme Court decision legalizing abortion, said Beshear. "But I also support the reasonable restrictions it allows, especially on late-term procedures." 
Beshear called Bevin's stance on abortion "extreme" because it does not include exemptions for rape or incest.
Bevin replied, "I'm unapologetically pro-life, unapologetically supportive of the unborn." 
He concluded, "No one has the right to decide when an innocent person should die."
Bevin criticized Beshear for touting his lawsuits against opioid manufacturers even though he had worked with a law firm that represented Purdue Pharma, the maker of oxycontin, in a lawsuit filed by the state. 
"You and your law firm defended Purdue Pharma against Kentucky," said Bevin. 
"I wasn't involved in the Purdue Pharma settlement," said Beshear. "I wasn't even at the law firm at that time. I didn't participate in any way." 
Bevin called Beshear's defense "lies." 
A frequent talking point for Beshear in the campaign is a need to invest in agricultural technology. 
Bevin asked Beshear about what he means by "agritech." 
"Give us examples of what people are going to do in agritech," said Bevin. 
"It's everything from the science and the seed," answered Beshear, before going on to list the jobs that would fall under agritech, such as weather forecasting and technology on tractors.
Bevin replied, "You're talking about things for which people have neither training, nor are there any unions whatsoever representing the things which you mentioned." He noted that the question was about issues in workplaces. 
Bevin stressed that Kentuckians have a choice to make. He said that with him as governor, Kentucky will continue to move forward in the direction he has been leading it. He said that under Beshear, Kentucky would move backward to the way things were before, saying that Beshear is corrupt. 
"Do we want to go backward or do we want to go forward?" asked Bevin. "If I am reelected I will continue to fight for this state like I would fight for my family and I will defend the commonwealth of Kentucky on every stage, the way I defended this nation when I wore her uniform 30 years ago." 
Beshear said Bevin is corrupt. He went on to say that he wants to bring Kentuckians together.
"I want to be a governor for all Kentucky families," said Beshear. "That fights for each and every one of you, Democrats, Republicans or independents, that believes all our families should be treated with decency and respect and actually shows that example as your governor." 
The next debate between the candidates will be on Oct. 26 in Louisville. The election is Nov. 4.