Robert Barry Fleming got his start in the arts as a 6-year-old in Frankfort.
Winona Fletcher, head of the theater department at then-Kentucky State College (now Kentucky State University), asked Robert's brother to play the role of young Travis in a production of "Raisin in the Sun." His brother wasn't interested, so Robert took the role.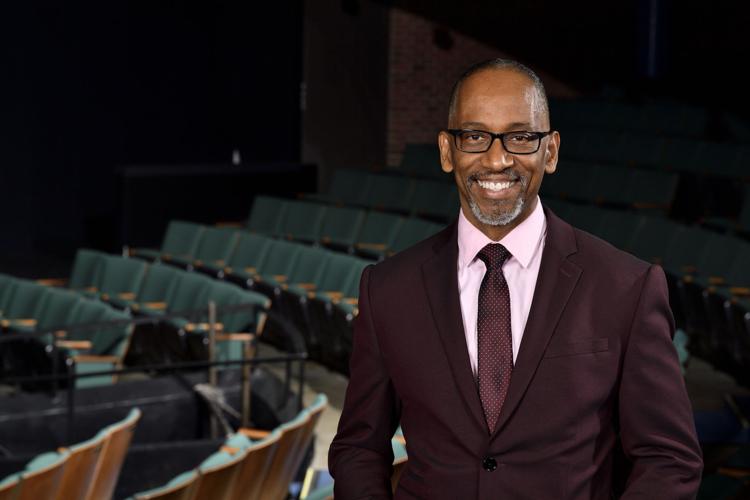 Fleming, the son of Dr. William J. Fleming Sr. and Dr. Juanita W. Fleming, attended East Elementary School, Elkhorn Jr. High School and Franklin County High School.
"I ended up getting my first theatrical experience on the stage of KSU there in Bradford Hall," Fleming said. "I felt like I really found my tribe and an outlet for expression that just had nothing that could compare to it."
It was the beginning of a journey that would take him to Los Angeles, New York, Washington, D.C., and Cleveland, among other places, and finally back to his home state. Nearly 50 years later, in June, Fleming became the new artistic director at Actors Theatre of Louisville. 
The path in between has been long and varied. 
After graduating from Temple University with a communications degree, Fleming landed a role in a national tour of the musical "Cats" in 1986, as an actor, singer and dancer. That translated into acting work in film and television. He performed in small theaters, independent films and major studio projects. Among other roles, he appeared in the 1997 Academy Award Best Picture winner "L.A. Confidential."   
Fleming soon found himself moving beyond performing into writing and directing. At one point, he had an agent, but his desire to do everything was problematic.
"I really love it all and that's been something of a challenge," Fleming said.
His agent wanted him to "pick a lane" so they could better market him.
"It's the fun of having the balance of moving from one to the other that keeps it wildly interesting and wildly exciting," he said.
Fleming has worked in many of the leading resident theaters across the country. He served as associate professor and chair of the Theatre Arts and Performance Studies Department at the University of San Diego and as director of artistic programming at Arena Stage in D.C. (2014-16). Most recently, he was associate artistic director at Cleveland Play House (2016-19).
In 2016, he visited the Humana Festival of New American Plays in Louisville. The festival is sponsored by Actors Theatre. It was the first time he'd been back to Kentucky in years, except for occasional visits with his parents in Frankfort. Fleming found that Louisville had become a compelling artistic and cultural center. 
"It planted a seed," he said.
When it became clear that Les Waters was going to step down as artistic director of Actors Theatre, Fleming thought the position might be a good fit for him. After a lengthy search process, Actors Theatre offered Fleming the job.
"This is where the path led me," he said.
All of his experience in the intervening years prepared him. "It was the diversity of that experience, the variety of multifaceted ways that I understood the art and the business of the art that made this position make so much sense."
In his new role, Fleming continues to create art but also programs plays and oversees the theater company's staff. Ensuring they have what they need to excel, Fleming develops staff and artists, "empowering small teams and hiring great people, facilitating the ability for them to create and share great art."
Fleming's work at Actors Theatre is part of his greater vision to present the stories of Kentuckians as relevant and resonant, including disenfranchised people, both urban black communities and rural white communities. 
"Often, these are constituents that didn't always see common cause because of the social construct of race, but the reality is that because of our circumstances historically, and now, we are much more aligned than we are different," Fleming said. He cites the power of narrative storytelling as a force that can help people see beyond their differences.
"When people see themselves on the stage," Fleming said, "it gives us a distance to look at ourselves because of imaginary circumstances. I think our work in the theater really gives us a chance to do that very intentionally and systematically because of the stories we tell."
Fleming hopes Actors Theatre can make a meaningful impact in encouraging less polarization, more togetherness and a shared experience for the future.
Fleming now lives in downtown Louisville and enjoys familiarizing himself with the city's people. In his new role, he works with artists, educators, scientists, lawyers and politicians, figuring out ways they can partner to promote this vision.
"When I was 17, we spent most of the time talking about how boring we thought Frankfort was, and how we couldn't wait to get out of there," Fleming said. 
Now he sees it differently. 
"I can't think of any place in the world — and I've gotten to be a lot of places in the world — that I want to be. This is exactly where I would choose and want to be, and where I know I can be of service and effect meaningful change."